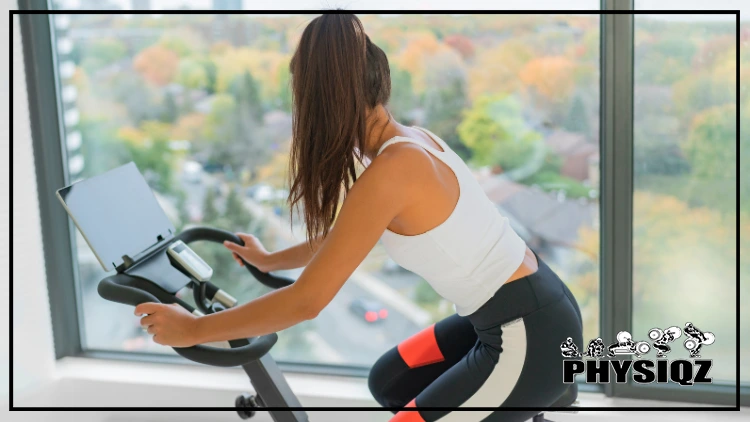 The 11 best Peloton instructors for beginners can be broken down into categories such as the easiest, most motivating, most fun and the most popular. But if you can't pick one, there's even a quiz at the bottom to help you decide and we include the best beginner instructors for each Peloton class too.
So don't let a new workout routine intimidate you and let these instructors teaching styles, versatility, and charisma guide you to a better you!
The Best Peloton Instructors for Beginners Broken Down by Category
Peloton equipment, including the bike, tread, and rowing machines, all come with the added benefit of having access to pre recorded and live workouts.
What this means is that even if beginners choose to workout from home, they can benefit from world class teachers, including the 11 best Peloton instructors for beginners, that will propel them into being a seasoned pro in no time.
The Peloton app allows users the convenience of scrolling through and choosing from hundreds of classes; but the best part is, there is zero commitment. Signing up for a particular class doesn't lock that rider into that instructor indefinitely; instead, there are limitless opportunities for beginners to sample multiple instructors to find which is best for them.
It is essential to find exercise that is enjoyable to increase the chances of sticking with it for the long haul.1 Exploring and discovering a Peloton workout plan that is motivating and fun is the key to making workouts a regular part of life.
The Easiest Peloton Teachers for Beginners
When it comes to the easiest Peloton teachers for beginners, this doesn't mean that a good workout won't be had. The instructors in this category are known for being a great fit for those just starting out with Peloton, whether on the bike or other equipment, while still teaching the basics in an understanding way and burning calories to boot.
#1 – Hannah Marie Corbin
Hannah, who has been an instructor with Peloton since its founding, is a Grade A coach for beginners. She not only teaches spin, but also stretches, Pilates, and barre and is known for focusing on the basics and maxes out at about medium intensity, which pairs well with those who are just getting into exercise.
Because of Hannah's outgoing and encouraging demeanor, even as beginners progress into more advanced classes, if they need a lower impact or more laid back ride, they may circle back to one of her rides.
This may not be the absolute best Peloton class for weight loss, but having an instructor who isn't working riders to the bone right of the bat will potentially bring newbies back for more and will definitely help shed some pounds!
#2 – Matt Wilpers
Known as a great beginner's instructor throughout the Peloton world, Matt Wilpers is the perfect guide for new riders and makes it easy for anyone who has never cycled. There is nothing worse than struggling along and trying to keep up when following along with a class, but Matt leaves nothing to the imagination when it comes to proper form.
Participants will be expertly led through every part of a workout, whether it be cycling or running, including warm up and cooldown. Matt's methodical approach is perfect for those who are looking for the reasoning behind certain actions, but his friendly and genuine approach leaves attendees feeling educated and not preached at.
Matt hosts classes from 5 minute stretching for pre and post workout to 30 and 45 minute running and cycling classes from beginner level all the way to advanced.
#3 – Christine D'Ercole
As an award winning cyclist, Christine D'Ercole is well versed on the ins and outs of cycling along with fitness in general. Although she has some 90 minute classes geared toward advanced riders, she has several specifically for beginners and those seeking low impact rides.
Like Matt Wilpers, Christine focuses on cycling form, and because of her past experiences, she can convey her instructions very clearly which makes her easy to follow. Another passion she exudes in her classes is encouraging each rider to push a little bit harder.
This doesn't mean riding at all out pace gasping for breath, but just giving a bit more that was given previously.
Depending on the time frame desired, beginners can choose from Christine's quick 10 minute climb ride, or a 30 to 60 minute low impact, theme, or interval ride and finish up with her 5 minute post ride stretch.
The Most Fun Peloton Instructors for Beginners
Let's face it; many folks new to the workout world get burnt out quickly due to exercise not being fun. While not every activity that needs to be done for health and wellness might not be exciting, at least when starting out, finding the best Peloton instructors for beginners who are entertaining and amusing will certainly make achieving a Peloton before and after story more attainable.
#4 – Tunde Oyeneyin
Who better to instruct beginners than someone who has such an inspiring beginner's story such as Tunde Oyeneyin. She may have once weighed in at 200 pounds, but she uses her weight loss and rise to beloved Peloton instructor as a means to educate and motivate others.
Because of her background and demeanor, her classes are often favorites of advanced riders, but thankfully, she has many low impact and beginner classes that are perfect for those who are new to riding.
Because Tunde understands the struggle of starting an exercise routine, her classes are made to be fun and exciting with amazing music and exceptional inspiration. Her beginning cycling classes are a fun place to start, but her strength training classes are also renowned and great in combination with the cardio classes and have the same amazing vibe.
#5 – Denis Morton
With years of fitness instruction under his belt, Denis Morton is the perfect mixture of knowledge and enthusiasm when looking for one of the best Peloton instructors for beginners. He synchronizes his workouts to the beat of the fun music he chooses which is helpful for those just starting out on the bike.
Denis leads cycling classes ranging from 20 to 45 minute theme, interval, and power zone classes as well as yoga classes to switch things up.
He injects humor and real life stories into each workout which engages participants and keeps their minds off watching the clock and has a variety of soundtracks that include Tim McGraw and The Cure, all the way to Skrillex and Rihanna; there truly is something for everyone.
The Most Motivating Instructors for Beginners on the Peloton
Finding the most motivational instructors for beginners on the Peloton can be a make or break moment for many just starting out with exercise. Studies have shown that motivation is a critical component to success when it comes to staying consistent with exercise and with health in general.2
While an instructor may not be the end all be all for whether a person sticks with working out, finding leaders who inspire and give out words of wisdom and encouragement can keep those who are struggling coming back for more, which might ultimately keep them working out for the long haul.
#6 – Robin Arzon
Robin is known by many in the Peloton community as someone who really commands an intense workout. While that is true, especially for her intermediate and advanced classes, her beginner classes are filled to the brim with encouragement and positivity.
Having dealt with a traumatic experience earlier in her life, Robin used running as recovery from that event and it later turned into something she was passionate about sharing. Motivating people to use fitness to heal is her driving factor that keeps her teaching.
She instructs a wide variety of classes that include theme and intervals on the bike, as well as hills and bootcamp that include the trade, and stretching and equipment free classes that range from 5 to 45 minutes.
#7 – Callie Gullickson
The goal of Callie's sessions is to make everyone who joins feel like they belong. Regardless of skill level, she wants riders and participants to feel comfortable and self assured as they take part in her classes.
Not only does she host Peloton rides, but as a dancer turned fitness instructor, she also excels at teaching Barre and other strength classes. Callie focuses on a realistic approach to life and knows that the more fun a workout is, the more likely people will be to participate.
#8 – Jenn Sherman
As a longtime fan of cycling who eventually became a popular teacher, Jenn was hired as the first cycling instructor at Peloton. Ever since then, she's transferred her skill and knowledge to all participants of her classes that have never waned in popularity.
She oversees a multitude of low impact and theme classes anywhere from 10 minutes to 60 minutes, plus a pre and post ride stretch. During her sessions, Jenn exudes confidence which immediately transfers to all those participating and her music mixes are top notch, leaving riders with a sense of accomplishment at the finish line.
#9 – Olivia Amato
As a jack of all trades, Olivia Amato not only teaches cycling, but also tread and strength training, so anyone looking for a motivation boost can earn one regardless of which class they choose.
Bootcamps, runs, and strength are all made challenging for those joining in, but Olivia won't just be calling shots at the front; she is an active participant pushing herself as well to prove it can be done.
The Most Popular Peloton Instructors for Beginners
The best Peloton instructors for beginners listed above are all top notch, but the next two are some of the most talked about and popular instructors that most beginners (and beyond) adore. They earned this title by being a conglomeration of motivation, beginner friendly, and fun, and are overall well-rounded.
#10 – Ally Love
Although Ally was hired by Peloton to be a spin instructor, she has grown quite a following based on her positive and motivational style. Her 20 to 45 minute theme and interval workouts are filled with both upbeat music and inspirational words that leave riders feeling strong and empowered.
It should be no surprise that Ally garners the amount of fans she does; not only is she a fitness instructor, but the CEO of a women's fitness brand and a Brooklyn Nets host.3 She is well versed in speaking and working with many different types of people and her charisma and openness draws in crowds.
#11 – Cody Rigsby
Anyone who has heard of Peloton has most likely heard of Cody Rigsby. While his style might not be for every person out there, most riders (beginners in particular) can't get enough of Cody. A majority of his rides are interval or theme, but he also has classes that have a live DJ.
Cody's classes range from 20 to 45 minutes, but many times looking at the clock won't even be a temptation because this workout genuinely feels like exercising with a friend. Not only is he funny and upbeat, he motivates through tough segments and pushes riders when they need the push, which leaves participants feeling accomplished at the end of each ride.
Best Peloton Teachers for Beginners by Class
While many classes were briefly mentioned above, because Peloton has such a wide variety of offerings, below are listed the most popular class categories with a synopsis of each along with a recommended beginning instructor for each class. Once a class is decided on, it is easy to search for using the spyglass feature on the Peloton app as shown in the video.
Strength
A Peloton strength before and after can be achieved by taking advantage of classes that utilize a mix of free weights and resistance bands to work different muscle groups. Callie Gullickson has 2 full body strength workouts that are just 20 minutes long; the perfect time frame and intensity for beginners.
Running
Whether indoors on a treadmill or outdoors on the pavement, Peloton has many running classes that focus on intervals, endurance or training. As a beginner, taking Olivia Amato's interval or HIIT (High Intensity Interval Training) 20 to 30 minutes classes are recommended.4
Cycling
From themed rides with spunky music to super intense Tabata rides using full power, cycling has something for everyone. Cody Rigsby is a go to for beginners and his lively themed and interval rides are perfect for those just starting out and will make them want to come back for more.
Yoga
While fast paced cardio centered workouts are essential for health, the stretching and strength gained through yoga can be beneficial for fitness goals as well. Denis Morton is perfect for beginners because of his calming presence and clear instruction.
Bike Bootcamp
Instead of one off classes or a mix and match of several different rides, participating in a bike bootcamp class which combines cycling and strength has a defined beginning and end that allows participants to track their progress and see their gains.
While boot camp classes are not typically taken by newbies, as soon as a beginner feels ready, a Jess Sims bike bootcamp is full of encouragement and support.
Barre
A combination of repetitive movements and holds using a ballet barre is ideal for strengthening core muscles along with arms and legs.5 Former dancer Hannah Corbin is a shoe-in as an instructor for beginning barre classes and will guide the class through each movement with ease.
Walking and Hiking
If running is too high impact or fast paced, Peloton offers several indoor walking and outdoor walking and hiking classes. In fact, walking is an incredible way to get the heart pumping and is one of the easiest ways to add movement into the day.6
While Olivia Amato is an ideal running coach, she also wins the spot for best walking instructor for beginners by keeping things fast paced but engaging.
How To Choose the Best Peloton Instructor For You
Even with a list of the best peloton instructors for beginners, it still might be hard to choose between the 11 listed above. Trial and error, in other words "sampling" a class is always a popular option.
Exercise still counts regardless of whether a session is enjoyable and the process of testing classes can still help users get closer to achieving Peloton before and after weight loss or other fitness goals.
Peloton also provides a quiz for those new users as an additional way of finding an instructor that fits criteria for those who have specific goals or requirements.
See What the Peloton Quiz Says About the Best Peloton Instructors for Beginners
As mentioned above, Peloton has a quiz available on their website that can match beginning user's preferences with classes and instructors. The 5 questions compile the following information:
Favorite types of workouts
Level of experience
Motivational music preference
Workout length
Available equipment7
The answers to the questions will then populate the final page with recommendations from Peloton on which specific classes to take along with their instructors.
When it comes down to it, Peloton really does show that working out can be accessible to all fitness levels. The best Peloton instructors for beginners are all talented leaders and regardless of which one is picked, participants will get a stellar workout while being inspired and treated with respect.
Frequently Asked Questions About Best Peloton Instructors for Beginners
Is Peloton Good for Beginners?
The Peloton Bike is an excellent piece of exercise equipment for beginners and can lead most users into becoming a cycling body transformation female or male before and after success story. Not only is cycling a low impact sport that will be easy on joints, such as knees and hips, Peloton's app with an endless variety of classes gives guidance during rides and allows riders to adjust resistance as needed.
If the Peloton bike is off the table, the Tread and Row machine are an option, as well as following the various strength and cardio workouts available on the app that require no equipment.
What Should I Know Before Riding My Peloton?
Before diving into one of the above classes, make sure to consult a physician to ensure no health conditions will affect exercise. Once approved for riding, take advantage of all Peloton's resources that can set up a user for success such as pairing a smartwatch, discovering Power Zones, connecting with friends, and taking advantage of classes on the app on a phone or tablet.
1National Library of Medicine. (2020, May 8). Exercise and Physical Fitness. MedlinePlus. Retrieved November 28, 2022, from <https://medlineplus.gov/exerciseandphysicalfitness.html>
2Teixeira, P. J. (2012, June 22). Exercise, physical activity, and self-determination theory: A systematic review. NCBI. Retrieved November 28, 2022, from <https://www.ncbi.nlm.nih.gov/pmc/articles/PMC3441783/>
3McNeal, S. (2022, March 24). Peloton's Ally Love Wants You To Feel Good. BuzzFeed News. Retrieved November 28, 2022, from <https://www.buzzfeednews.com/article/stephaniemcneal/ally-love-squad-peloton>
4Ito, S. (2019, July 26). High-intensity interval training for health benefits and care of cardiac diseases – The key to an efficient exercise protocol. NCBI. Retrieved November 28, 2022, from <https://www.ncbi.nlm.nih.gov/pmc/articles/PMC6763680/>
5Healthy SD. (2022). Fitness Trends: Barre Workouts. HealthySD.gov. Retrieved November 28, 2022, from <https://healthysd.gov/fitness-trends-barre-workouts/>
6Centers for Disease Control and Prevention. (2022, June 3). Walking | Physical Activity. CDC. Retrieved November 28, 2022, from <https://www.cdc.gov/physicalactivity/walking/index.htm>
7Peloton. (n.d.). Peloton® | Find Your Class Match. Peloton. Retrieved November 28, 2022, from <https://www.onepeloton.com/first-class>