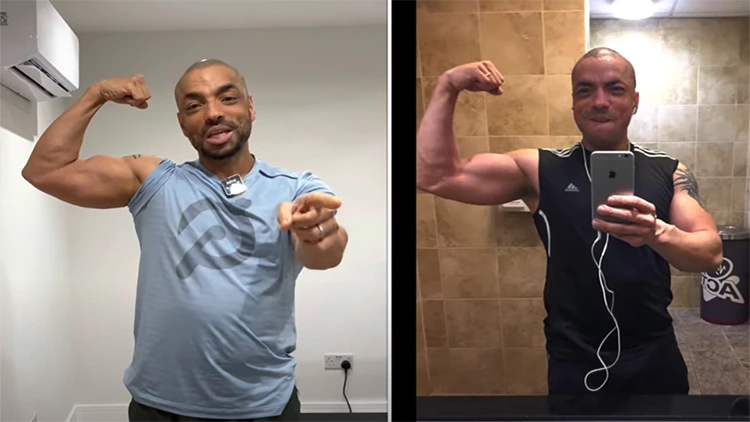 Peloton strength before and after pictures, results, and success stories can show the potential of working hard using this fantastic device and classes that have taken the fitness world by storm.6
As you can see by Julien's, Valeria's and Leah's progress above and below, Peloton can truly change your physique for good.
While the best peloton class for weight loss is debatable, Peloton's strength training programs have proven time and time again that results can be obtained in just a matter of weeks. While some users may see more results than others, these results after just 44 days provide a glimpse of what's possible.
Does Peloton Strength Work? Are Peloton Strength Classes and Workouts Effective?
Peloton strength absolutely works, and peloton strength classes and workouts are very effective on paper, but this will all depend on you and how much you are willing to put into it.
The results of individuals who have delved into the program speak volumes. The common adage goes: a picture is worth more than a thousand words—the before and after pics of those who have participated or still are in the program should convince any naysayer.
Peloton Strength Before and After Pictures + Stories
Seeing the peloton before and after pictures of those who have dedicated themselves to peloton strength, believed in it, and put in the effort to match their goals is all that is needed. The proof is in the pudding, and it's easy for anyone to make claims of success of a weight loss program that may have been in.
Peloton is about people pushing each other to help them realize their goals of living healthier and more fulfilling lives.
Steve Julien's Before & After Body Transformation With Peloton Strength
Steve Julien is a 47-year-old male who reminisced on what his arms and body looked like when he was 41 years old from an old Facebook photo, and this was what got him on the journey with the peloton. He weighed 172.5 pounds in the photo taken when he was 41.
While he still had arms that were defined, his torso was a different kettle of fish altogether, and he had a lot of belly fat. He embarked on a 100 20-minute workout regimen split between cardio (on the bike and the tread) and the other half consisting of strength, yoga, and pilates classes ranging over 5 weeks. He did the workouts consecutively, doing a 20-minute peloton strength followed by 20-minute cardio.
He did not follow any eating plan because, from experience, he never really followed up on workouts with a proper diet—thus, he maintained his old eating habits. He did, however, strive to maintain around 2000 calories a day on weekdays and 2500 calories on the weekends—based on his height, weight, age, and activity level. His goal was not to lose weight quickly because he did not want to have a relapse from putting on weight.
His training goal was achieved at just over 90 workouts and had started at 181.5 pounds and reached 171.5 pounds, as shown by his peloton strength before and after shots that showed that the best peloton class for weight loss was the peloton strength. His goal was to lose a pound a week. Not only has he lost weight, but he gets better quality sleep due to being tired from activity, drinks less alcohol, and has developed a repulse for fatty foods.
His exercise became enjoyable and habitual, making him want to do it even more. It was important to him to maintain a progressive overload workout plan as he did not want to lose muscle and fat but to maintain and build on the muscle. To achieve his results, he partook in 29 strength workouts, 4 power walks, 8 yoga sessions, 14 runs, and 37 bike rides to achieve 1 month of exercise bike results.
The content of workouts on the peloton was massive, which kept him interested, and he had an overall performance improvement in all his exercises. As can be seen above, he has gained more muscle from the photo that inspired him to get into the peloton, accomplishing a peloton body transformation.
Valeria's Peloton Strength Before and After Results
Valeria rode her peloton bike every day for 30 days and incorporated peloton strength in her cardio workout to diversify her workouts. She would strive to ride her bike for 30 minutes, and on the days that she wasn't able to do the ride by being busy, she would reduce it to a 20, 15, or 10-minute ride. She did not change her diet to obtain a cycling body transformation.
She did her peloton strength workouts on Mondays, Wednesdays, and Fridays. She divided workouts based on muscle groups—focusing on legs on Mondays, arms on Wednesdays, and her abs on Fridays. She felt most motivated on Monday and did the most challenging body part, the legs, on Mondays.
Her Monday workouts consisted of the same exercises: weighted squats, weighted hip dips, and weighted calf raise. She increased her weight by 5 pounds each week, starting with 10 pounds in the first week and topping at 25 pounds in the last week. She would do 3 sets of 20 reps for each workout and add 5 reps to each set weekly.
On Wednesday, her workouts were less structured, and she strove to include a peloton ride focused on arm workouts. After this, she would have an instructor-led workout class or ride the peloton alone. Fridays saw her doing an unstructured exercise when focusing on the abdominals.
Valeria found the core workouts challenging to do in terms of their technicalities. The other 4 days of the week were just for cycling in her goal to achieve stationary bike weight loss before and after changes.
She feels like she has toned up, but she recognizes that to see more changes, she has to put more effort into the regimen by altering her diet to achieve peloton before and after weight loss results. Valeria has crushed your core peloton before and after pictures.
Leah Ingram's Peloton Strength Before and After Success
Leah Ingram, like many people, got into Peloton in 2016 for the spin bike to do some cardio to lose weight and get fit. Leah initially had chosen not to participate in the fitness routine, which included strength and stretching—which is typical for most people who bought in.
When she first signed on to the peloton total strength program, strength training was only touched upon in the bikes with the arms being targeted. In 2018, Andy Speer was brought in for the peloton strength class dubbed 'Total Strength with Andy' and helped her get into gear.
Leah embarked on a peloton workout plan joining the 4 day workout split training program introduced in 2022, which targeted different body types on different days. She increased the 3-pound weights that came with the bike and acquired 5, 8, and 10-pound weights. Leah joined a Facebook group called 'hardcore on the floor" with over 250,000 people, which took her training to another level.
The classes range from 5 to 45 minutes, leaving her glutes and hamstrings sore.
After starting the power zone challenge, Leah began to notice changes in the shape of her peloton before and after legs, and her fitness level improved overall. Her performance on the bike increased, realizing an 80-day peloton before and after the makeover.
How Long Does it Take to Lose Weight From Peloton Strength?
Depending on the individual's goals and the intensity of the workout, many generally start to notice differences in their weight, evidenced by the peloton strength before and after pictures seeing strength training results. For the most part, most peloton users include either the bike or treadmill for their workouts— which is combined training translating into weight loss and increased lean body mass.1
What Weights, Bands and Equipment Are Needed for Peloton Strength?
Peloton recommends a number of weights, bands, and a myriad of equipment to allow subscribers to effectively and efficiently complete the peloton strength classes.
Resistance bands—the rubber and aluminum bands come in 3 types—heavy, medium, and light to match resistance intensity. They can be added to supplement or replace the cycling weights.
Workout or yoga mat— a two-sided mat is ideal here, with one side to be used for the main exercises and the other side that is softer for stretching.
Peloton bike weights—these weights will allow the strength classes to be integrated into the biking classes.
Heart rate monitor—a monitor that straps to the chest are ideal for obtaining correct heart rate readings and is also linked to the bike to analyze performance in real-time.
Peloton bike mat—the bike mat is different from another mat since it gives support to the actual peloton bike and protects your floor from sweat generated.
Weights—peloton has special weights for its program, ranging from 5-30 pounds, with a 5-pound difference between weights.
Foam roller—the peloton strength classes will make the body sore. The foam roller will allow individuals to address any knots from the tightness of exhausted muscles and reduce pain.2
Do You Need a Bike or Just a Subscription to Get Peloton Strength Before and After Results?
No, you do not need a bike to get peloton strength before and after results. Peloton has an app that can be used without a bike.
All that is required is a paid subscription—the app membership is set at $12.99, giving the user access to thousands of live classes and some that are on-demand, including peloton strength. The app can be accessed via smartphone, tablet, television, and online from a browser.
Is Peloton Good for Strength Training?
For the most part, the peloton is good for strength training even if it's not super specific. Weight lifters that are accustomed to barbell work or heavy compound movements such as back squats and deadlifts or those who partake in a 5 day powerbuilding split may not find this effective.
The reason is obviously due to low weight, which tops out at 30 pounds and thus cannot be relied on to develop raw strength. It's similar to asking "are smith machines bad" in developing brute strength because it's not necessarily designed for that, but smith machines and Peloton Strength has has their place in strength routines.
However, peloton strength does remain strength and/ or resistance training at its core. What it lacks in weight, it makes up for in the number of available exercises and the intensity of exercises that can be compressed in a small time frame.
Andy Speer's peloton strength program is very popular and can help participants bulk up quickly obtaining a peloton before and after 1 month transformation. The class is 30 minutes long and set at 3 times a week, increasing to 4; the program effectively targets both the upper and lower body.
The strength training program strengthens participants by increasing muscle mass, identifying weaknesses, building stronger bones, making it easier to burn fat, and improving overall athletic performance that carries over to the bike or tread.3
Lower body exercises include weighted squats to maintain a proper squat bar path, deadlifts (and emphasize where you should feel deadlifts), lunges, and core exercises, while upper body workouts will consist of tricep extensions and shoulder presses. In addition to this, there are warm-up classes to prepare the body for workouts.
The classes always push the participants to achieve reps in reserve (RIR). What is RIR in lifting? It is a technique to quantify the intensity of a workout by defining the number of reps that can be performed before failure—this pushes participants to achieve their training goals, making peloton strength a viable option to provide a workout plan for skinny guys to build muscle fast.
Peloton Strength Training Results & Review After 44 Days
When someone actively engages in peloton strength training, the results are immediately noticed after 44 days of its use, especially in most cases when combined with the bike and other classes. Regular users should expect to see weight loss in the range of 10-20 pounds after 3 months. This could be higher depending on the individual and with proper nutrition.
Users should strive for at least 2-3 strength training sessions and at least 150 minutes weekly to get desired results.4 They will also need to maintain a calorie deficit to expedite results—weight loss is over 70% diet and the rest is exercise.
Not only will there be changes on the physical plane—pronounced weight loss and increase in lean mass, other changes will become apparent.
Improved self-esteem and mood—users will notice they are more relaxed, have greater self-esteem, and just generally in a better mood and less stressed; this is due to the release of endorphins in the bloodstream, which are a kind of happy hormone.5 The instructors and energy surrounding the classes add to this as well.
Toned physique—users do end up seeing toned glutes, hamstrings, and quads and should see differences after 44 days have elapsed.
Increased athletic performance—due to increased muscle mass gained from working both the upper and body, there will be an increase in athletic performance; individuals will be able to cycle and run faster and with more endurance.
Increased core strength—peloton strength exercises very much engage the core as it is the foundation for all other movements. A strong core will make for efficient exercising leading to better results.
Peloton strength classes have a host of excellent instructors who guide and motivate peloton users to achieve their goals.
Jess Sims—Jess instructs boot camps and is ideal for beginners and full-body workouts. She has a flash 15 class lasting 15 minutes, a full-body muscle workout that is popular.
Adrian Williams—Adrian is ideal for those with some strength training background and has excellent playlists, intense workouts, and humor.
Andy Speers—with a funny personality, Andy is one of the more popular instructors and teaches peloton strength boot camp. His programs are geared to those with prior strength training experiences and can help address those who wonder, 'why does my forearm hurt when I curl' since the arms are targeted in his classes.
Olivia Amato—Olivia has challenging classes, and enjoys playlists, specializes in core classes in the 5,10, and 15-minute range, and is best for intermediate trainers.
Ben Alldis—Ben is popular for his Brit's bike rides but has strength classes targeting the intermediate class. He has full-body workouts with and without weights.
Robin Arzón—Robin teaches intermediate and advanced classes and has full body workout classes specializing in core strength. She also has a new postnatal core class and is 10 minutes to support those who have just completed pregnancy.
Selena Samuela—Known for effective lower body workouts, Selena is geared to the intermediate class of trainees but also does full body workouts. Her workouts include one-legged deadlifts, side, reverse lunges, and clam shells. Her programs allow for a squat and deadlift same-day regimen and can be done from the comfort of one's own home.
Hannah Corbin—Hannah specializes in barre classes and workouts that use resistance bands. Her barre classes are between 10 and 45 minutes long and are ideal for beginners; many do not require weights.
Emma Lovewell—Emma is great for beginners and intermediates and is best known for the crush you core program that is 4 weeks long, which improves core strength. She also has some pilates classes.
When being inducted into the peloton strength before and after the program and for those new strength training, the peloton offers a peloton beginner strength program instructed by Olivia Amato and Matty Maggiacomo for 6 weeks. Participants earn a bronze badge after 22 classes, a silver badge for 30 classes, and a gold badge upon completion of 38 classes. The peloton workout schedule has a total of 42 classes and is 10 and 30 minutes long.
It's up to you to put in the effort to change your body and get remarkable peloton strength before and after transformation while having fun and improving the quality of your life considerably and get strength training results after 44 Days!
1Medicine, N. L. (2019, January 7). Comparative effectiveness of aerobic, resistance, and combined training on cardiovascular disease risk factors: A randomized controlled trial. Retrieved 2022, from <https://www.ncbi.nlm.nih.gov/pmc/articles/PMC6322789/>
2Medicine, N. L. (2015, November 10). THE EFFECTS OF SELF‐MYOFASCIAL RELEASE USING A FOAM ROLL OR ROLLER MASSAGER ON JOINT RANGE OF MOTION, MUSCLE RECOVERY, AND PERFORMANCE: A SYSTEMATIC REVIEW. Retrieved 2022, from <https://www.ncbi.nlm.nih.gov/pmc/articles/PMC4637917/>
3Health, N. I. (2020, March). Maintain Your Muscle. Retrieved 2022, from <https://newsinhealth.nih.gov/2020/03/maintain-your-muscle>
4Medicine, N. L. (2019, May). An Overview of Current Physical Activity Recommendations in Primary Care. Retrieved 2022, from <https://www.ncbi.nlm.nih.gov/pmc/articles/PMC6536904/>
5Medicine, N. L. (1984, March 1). Endorphins and exercise. Retrieved 2022, from <https://pubmed.ncbi.nlm.nih.gov/6091217/>
6PELOTON WEIGHT LOSS RESULTS!! | STEP BY STEP GUIDE | BIKE, TREAD AND APP!" YouTube, 26 February 2021. Accessed 30 March 2023. <http://www.youtube.com/watch?v=hajCEajFBx4>
7Fit Feb: I Rode My Peloton Bike For 30 Days!" YouTube, 5 March 2021. Accessed 30 March 2023. <https://www.youtube.com/watch?v=bMTfYrXPsig>
8studioroman. Canva. Accessed 11 April 2023. <https://www.canva.com/photos/MAEUI9TqGJ4-woman-puts-a-timer-on-her-phone-and-monitors-the-progress-of-her-workout-on-the-fitness-app-/>