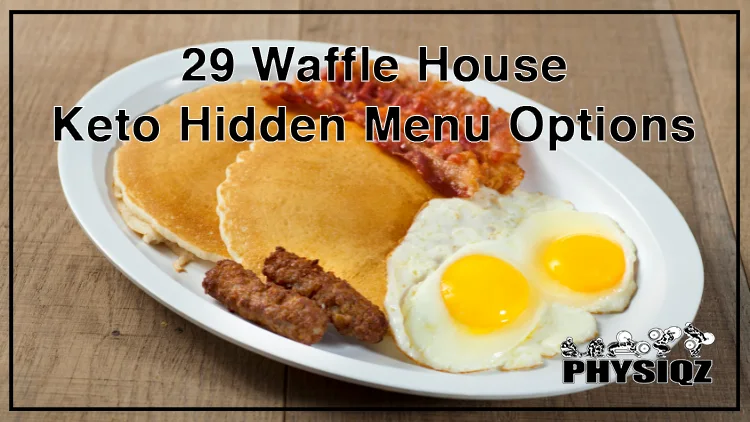 Knowing the full range of keto options at Waffle House is a good way to make eating there an easier, more enjoyable experience.7 While the famous waffles that the chain offers are rich in carbs, that's not all that Waffle House has a reputation for.
The egg breakfasts, omelets, and steaks that it offers are phenomenal, and luckily they're all compatible with a ketogenic diet.1 But don't just stop at discovering the secret keto menu at Waffle House, find out which options are the tastiest as well.
Is Waffle House Keto Approved? Is Waffle House Keto-Friendly?
Keto is a low carb diet that aims to cut carbohydrate intake to the bare minimum.2,3 In doing so, people aim to trigger nutritional ketosis for weight management and various other potential health benefits.4,5 That low-carb requirement rules out waffles, hashbrowns and anything else that mostly consists of carb-rich foods like potatoes, wheat, or sugar.6
For the keto diet, 20 carbs in a single meal and 50 carbs throughout the day are the absolute maximum, although it's best to eat less than 15 carbs per meal. While most options at Waffle House aren't keto-friendly, there are still dozens of low-carb options available at the chain to choose from.
Waffle House is keto friendly, but only when a person exercises due diligence and makes sure they know what items are on the Waffle house menu of keto-approved foods.
Keeping It Keto: Waffle House Low Carb Menu & Food Options
There are 28 options at Waffle House that have a low enough carb count that they can be part of a keto diet. Most of these foods have virtually no carbs, but a few are only barely keto friendly. For instance, the city ham has 7g of carbs. This is keto-friendly on its own, but eating the city ham as a side for an omelet with three or four grilled vegetable add-ons could be too many carbs for one meal.
That said, all that it takes is a bit of awareness to enjoy the delicious keto options that are available at Waffle House. The item at the top of each list is the best-tasting Waffle House keto option in the category, with the second-best coming after and so on.
Keto Breakfast Options at Waffle House
Most breakfast options at Waffle House come with several options of sides, some of which are too carb-rich. Avoiding the toast, waffles, and hashbrowns helps keep a Waffle House breakfast keto, however.
1. Build-Your-Own Omelet Breakfast: Choose between different fillings and add-ons to make a custom omelet breakfast. All options are keto as long as there's no toast, grits, or hashbrowns to increase the carb count. This breakfast combines the excellent taste of a Waffle House omelet with plenty of customization options, which is what makes it the number one best keto breakfast at the restaurant.
2. Cheesesteak Omelet Breakfast: Without add-ons, this satisfying meal has 53g of fat, 33g protein, and a measly 3g of carbs. Even adding grilled tomatoes, grilled mushrooms, and sautéed onions keeps it within range to be a keto breakfast.
3. Fiesta Omelet Breakfast: Another flavorful omelet, but with a total of 11g net carbs. That's few enough for keto, but any more than add-ons might result in too many carbs for one meal.
4. T-Bone and Eggs: Just 3g of carbs in an extremely filling, 1,200 calorie meal.
5. Steak and Eggs: A much lighter, but still satisfying alternative to the T-bone steak and eggs. It still has 3g net carbs, but in a 660g meal overall.
6. Meat Lover's Chicken and Eggs: Two scrambled eggs and two pieces of grilled chicken in a light, protein-rich breakfast with 3g net carbs.
7. Meat Lover's Pork Chop and Eggs: With three pork chops and two eggs, this many people would be unable to eat this 1,200 calorie meal. However, the tiny 3g net carbs that it contains won't push anyone out of ketosis.
8. Ham and Cheese Omelet Breakfast: Compared to the standard cheese omelet breakfast, this has almost twice the net carbs. However, that still only leaves it at 5g net carbs, a figure that's well within the bounds of a keto breakfast. The extra two grams of carbs are a small price to pay for the flavor that the ham brings to the omelet.
9. Cheese Omelet Breakfast: A simple cheese omelet with as little as 3g carbs. While it's one of the simpler breakfasts available at Waffle House, that's not always a bad thing.
10. Cheese 'N Eggs: A light, simple breakfast of two scrambled eggs with cheese. There are only 2g carbs in the entire meal, with the rest of the 280 calories coming from protein and fat.
11. Two-Egg Breakfast: The basic starting point for all of the different egg breakfasts that Waffle House has to offer. While it's plain on its own, it pairs well with the list of keto-approved sides at Waffle House.
Low-Carb Waffle House Sides
Sides at Waffle House are mainly available as complements to the breakfast options. Different kinds of toast and hashbrowns make up about half of all of the sides at the chain, and these are all too high-carb to eat while on keto.
12. City Ham: The sweet and savory flavor of Waffle House city ham make it a guilty pleasure, but not too guilty since it only has 7g of carbs. It's a suitable side for most low-carb breakfasts, lunches, and dinners at Waffle House.
13. Country Ham: A delicious, zero-carb alternative to the city ham.
14. Bacon: Waffle House bacon comes in regular or large sizes, and both add virtually no carbs to the main meal.
15. Sausage: Choose between regular or large-sized sausage, either choice adds less than 2g of carbs to the meal overall.
16. Tomatoes: Bring a fresh, summer like taste to the main dish with only 1g net carbs extra.
17. Grits and Cheese Grits: At 15g of net carbs, these grits almost have too many carbs for a single keto meal. However, they're acceptable either on their own or next to a low carb main dish.
Keto-Friendly Salads, Lunch, and Dinner Options
According to the Waffle House nutritional menu, all of its lunch and dinner options are too carb-heavy to be keto. That's not entirely true, though. The various steak, chicken, and pork chop meals at Waffle House are all keto if chosen as an entree.
18. Steak Entree: The steak dinners that Waffle House offers come with a high amount of carbs, but that's because of the side dishes that come with them. Ordering just the steak is one way to enjoy Waffle House keto eating.
19. Chicken Entree: Just like the steak entree, ordering the grilled chicken as an entree cuts out all of the sources of carbs from the meal. This is a simple, delicious platter of Waffle House grilled chicken.
20. Pork Chop Entree: While the Waffle House pork chop dinner lists a high carb count, none of these carbs come from the pork chops. Ordering just the pork chops is a way to enjoy eating at Waffle House.
21. Burger Without Bun: There's no official Waffle House policy on offering keto-style hamburgers. That is to say, a burger wrapped in a piece of lettuce or delivered on a plate without bread. Staff will often be accommodating to this kind of request, but have a backup order in mind just in case.
22. Grilled Chicken Salad: The Waffle House grilled chicken salad offers modest portions, but it's tasty and fairly filling as well. Only 5g net carbs.
23. Garden Salad: A simple salad that makes a good side to a steak or omelet with 5g net carbs.
Keto-Approved Waffle House Drinks
Most of the drinks at Waffle House are sugary sodas or sweet tea, and a single cup of any of them wouldn't be keto-friendly. Despite that, there are three low-carb drinks available at Waffle House and another three zero carb drinks. While six beverage options isn't a great number, it has its bases covered with soda, coffee, hot tea, and iced tea.
24. Dark Roast Coffee: This and the other Waffle House coffee options have 1g of carbs, which is well within what's acceptable for keto. In particular, the dark roast coffee that's available at the chain is surprisingly good and offers a rich, satisfying taste.
25. Alice's Iced Tea (Unsweet): Alice's Iced Tea is a cool, refreshing choice even without added sugar. It pairs well with the salads and lighter egg breakfasts that are available at Waffle House. The drink is carb-free, as well.
26. Diet Coke: Diet coke has 0g of sugar or carbs, but it still scratches the itch for a soda.
27. Regular Coffee: A standard coffee with more caffeine and a milder, lighter taste as compared to the dark roast. Just like the dark roast, there's only 1g of carbs in Waffle House's unsweetened regular coffee, which makes it keto-approved.
28. Hot Tea: Hot, unsweetened tea is a zero-carb drink that's ideal for keto. Besides that, it's also a good way to wake up in the morning and a natural pairing with Waffle House's low-carb breakfasts.
29. Decaf Coffee: Waffle House's decaf coffee has the same 1g of carbs as the dark roast and regular, but without the caffeine. It's a good choice for anyone who enjoys the taste of coffee or wants something to drink with their meal, but likes to keep their caffeine consumption in check.
Keto Approved Example Orders at Waffle House: With Meals and Sides
Here are some of the best keto-approved orders that someone can place at Waffle House. While their size and macros vary, they're all nutritious options that don't go above 6g of net carbs.
Two Egg Breakfast with Sliced Tomatoes and Large Bacon, With Hot Tea, Hold the Toast
Waffle House's line of egg breakfasts come with three categories of side dishes. While there's no keto toast available in the first category, it's still possible to get two low-carb side dishes from the remaining categories. The sliced tomatoes are the only keto-friendly option in their category, but the final group has numerous low-carb meat options. Waffle House offers excellent bacon which only contributes 1g of carbs to the final meal.
Calories

: 330

Net Carbs

: 3g

Protein

: 21g

Fat

: 26g
Cheesesteak Omelet with Grilled Mushrooms, Sliced Tomatoes, and Dark Roast Coffee
The Waffle House cheesesteak omelet is a hefty, satisfying meal with plenty of protein and fat to keep anyone satisfied. While the grilled mushrooms add two net carbs, they also bring some fiber to the table and add a welcome earthy touch. The strong taste of dark roast coffee is a satisfying pairing with this bulky omelet.
Calories

: 650

Net Carbs

: 6g

Protein

: 35g

Fat

: 53g
Grilled Chicken Salad With Alice's Iced Tea (Unsweet)
When someone is wondering "can you be in ketosis and still not lose weight?" it's usually because they're not in a calorie deficit. A calorie deficit is necessary to lose weight, and part of why keto works is that makes it easier to hit that calorie deficit and feel good too.
Thanks to the low calorie count and filling protein content of the Waffle House grilled chicken salad, it can be a great way to cut calories and help lose weight on keto. The light, pleasant taste of iced tea makes for an excellent complement, as well.
Calories

: 175

Net Carbs

: 5g

Protein

: 31g

Fat

: 2.5g
How To Make Waffle House Keto-Friendly
For starters, placing any of the above orders at Waffle House is a quick and easy way to enjoy Waffle House keto food. However, there are plenty of other keto combinations available at the popular chain. The key is to avoid wheat, starchy foods, or anything with much added sugar.
That means the waffles, toast, and sandwiches are a no-go while eggs and the different steaks that Waffle House offers are all good. Grits and cheese grits are right on the edge, as their 16g of carbs is right on the boundary of what's acceptable for a single keto meal.
Breakfast Restaurants Instead of Waffle House That Have a Low Carb (Keto) Menu
Waffle House has an impressive range of low-carb breakfasts, but it's not the only chain competing in this area. Places like IHOP, Starbucks, and Tropical Smoothie offer a diverse range of low-carb foods and keto-friendly ways to start the day.
These range from light snacks to imposing omelets, and they're all worth trying.
IHOP
While IHOP's pancakes are just as carb-heavy as the waffles at Waffle House, that's not all that the company has to offer. The avocado, bacon, and cheese omelet in particular is a wonderful breakfast that tastes incredibly indulgent despite having just 6g of carbs.
On top of that, it's rich in healthy fats from the avocado and has a high protein count. That's not the only keto option available at IHOP, but it is one of the best.
Tropical Smoothie
When it comes to breakfast places for low-carb eating, consider Tropical Smoothie. Keto options at the famous smoothie bar are practically endless, which means more ways to keep your diet fresh and interesting.
Starbucks
Besides low-carb Starbucks drinks, the omnipresent cafe chain regularly adds new healthy breakfast foods and snacks to the menu. This includes a variety of egg-based low carb options, which are a great, keto-approved way to start the day.
Besides these keto-friendly breakfast joints, consider some other options like:
Some of the most iconic Waffle House foods aren't compatible with keto, but that doesn't mean giving up on eating there and the same goes for dieters looking for Waffle House gluten free options. Anyone can enjoy the most delicious Waffle House keto meals the chain has to offer, and avoid being kicked out of ketosis if they choose wisely.
Frequently Asked Questions About Waffle House Keto Options
How Many Carbs In Waffle House Waffles?
A classic waffle at Waffle House has 55 grams of carbs, even without factoring in syrup or other toppings. Since keto limits a person to fewer than 50g of carbs a day, that single waffle on its own would be too much.
Does Waffle House Have Any Low Carb Desserts?
Unfortunately, there are no Waffle House keto dessert options to try. The four dessert options at Waffle House are small and regular-sized slices of pecan and triple chocolate pie. The options range from 32 grams of carbs for the small slice of pecan pie up to 120 grams of carbs for the regular slice of triple chocolate pie. Either way, that's simply too many carbs for a waffle house keto meal.
1Masood, W. (2022, June). Ketogenic Diet. NCBI. Accessed November 10th, from <https://www.ncbi.nlm.nih.gov/books/NBK499830/>
2Oh, R. (2022, July). Low Carbohydrate Diet. NCBI. Accessed November 10th, from <https://www.ncbi.nlm.nih.gov/books/NBK537084/>
3Brand-Miller, J. (2022). Carbohydrates–the good, the bad and the whole grain. NCBI. Accessed November 10th from <https://pubmed.ncbi.nlm.nih.gov/18296292/>
4Gershuni, V. M. (2019, September). Nutritional Ketosis for Weight Management and Reversal of Metabolic Syndrome. NCBI. Accessed November 10th, from <https://www.ncbi.nlm.nih.gov/pmc/articles/PMC6472268/>
5Crosby, L. (2021, July). Ketogenic Diets and Chronic Disease: Weighing the Benefits Against the Risks. NCBI. Accessed November 10th, from <https://www.ncbi.nlm.nih.gov/pmc/articles/PMC8322232/.>
6King, J. C. (2013, May). White Potatoes, Human Health, and Dietary Guidance. NCBI. <https://www.ncbi.nlm.nih.gov/pmc/articles/PMC3650512/>
7whitewish. Canva. Accessed 16 April 2023. <https://www.canva.com/photos/MAED5nqlAdc-pancake-egg-breakfast/>
8Tyson, Jon. "man and woman walking towards Waffle House store photo – Free Human Image on Unsplash." Unsplash, 29 November 2019. Accessed 16 April 2023. <https://unsplash.com/photos/RkfSeU8fTtw>
9pixelshot. Canva. Accessed 16 April 2023. <https://www.canva.com/photos/MAD-Q__JwPc-coffee-in-a-to-go-cup/>
10Photography By Tonelson. Canva. Accessed 16 April 2023. <https://www.canva.com/photos/MAEH46FlDIw-steak-and-eggs/>