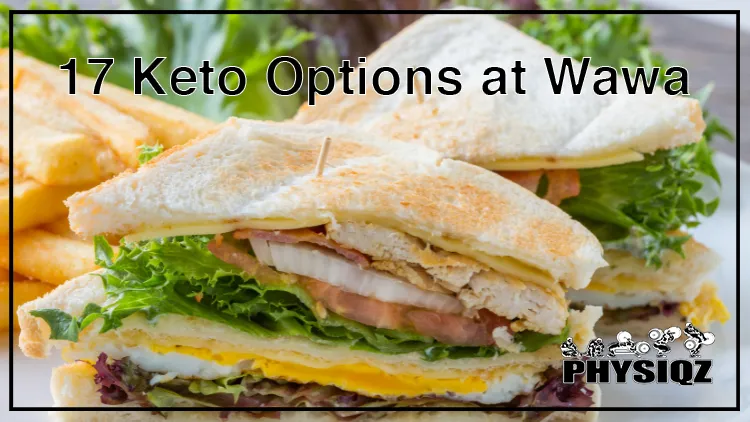 Eating keto at Wawa doesn't have to be difficult if you now what to look out for and what to order.7 To make ordering low carb meals at Wawa a breeze, simply pick one or more of the 17 top keto options below.
And if you're seeking a fuller feeling and have the carbs to spare, check out the famous snacks drink combo to get a larger variety of foods while still staying in ketosis.
A Look at Wawa Keto Friendly Options (Keto Options at Wawa)
Luckily, Wawa is a great option for those on the keto diet because of the wide variety of food options that are available. Listed throughout this article are 17 top keto choices, however, there are a ton more to choose from at Wawa. Keto diet staples like bacon, sausage, ham, and chicken are all available as well as some more unique items like the delicious chicken salad bowl, minus the croutons, onions, tomatoes, and cucumbers while eating keto at Wawa.
The secret to staying on track and keeping the body in a ketogenic state is not only asking whether a place has keto-friendly options, but it is having the knowledge of what to include in a meal to support the diet. Wawa offers many meat-based options that are high in protein and low in carbs, and not to mention, actually tasty!
Wawa or elsewhere, the list of off-limit foods is exhaustive: no bread, no pasta, no sugar, no cereal, no fruit, no starchy vegetables like potatoes or yams, and quickly turns into a headache when trying to learn the ropes on how to eat. It is a good idea to learn the basics in order to lose weight fast, and stay in ketosis or under 20-50 grams of carbs or so.2 3
In any case, there are several salad options that are heavy on the greens and light on the dressing. The salads are also customizable for each person's liking and can be keto-loaded with ingredients if requested. And do not think that sandwiches (or hoagies) are off-limits. Just omit the bread, wrap up all the ingredients in lettuce, and dive in!
Wawa also offers a variety of sugar-free desserts.4 These can be a bit tricky to find, so do not hesitate to ask a clerk to help assist with the treasure hunt of sweets! If it is a no-go on the extra calories, here are a few ways to distract those hunger pangs while avoiding sweets!
Keto Food at Wawa
Finding keto food at Wawa is surprisingly easy. They have a variety of options from hot and ready meals, to grab and go options, and food that can be requested to be made fresh and on the spot.
1) Roasted Chicken Strips (6 Piece)
The roasted chicken strips include six juicy, hot, and tender pieces of chicken. This is a go-to for keto options at Wawa because of the nutritional value and beats Chick-Fil-A's hidden carbs that are in their chicken meals.
Calories: 260
Carb: 4 grams
Fat: 6 grams
Protein: 46 grams
Take note, these nutritional facts are without sauce. If the sauce is an absolute must, aim for the high-fat sauces (such as rich and creamy ranch dressing) and use so sparingly.
2) Egg Omelet Breakfast Bowl
Eating a keto breakfast at Wawa has more variety of options than any other meal. One option includes the egg omelet breakfast bowl.
Calories: 80
Carb: 3 grams
Fat: 2.5 grams
Protein: 9 grams
Another way to increase the calories and fat content is to add extra shredded cheese, which is only 1 gram of carbs per serving.
3) Chicken Steak & Egg White Omelet
One of the other best omelet options is the chicken steak & egg white omelet. This has the highest amount of protein and low carbs. The steak is cooked to a medium-well done consistency and has the perfect amount of tenderness.
Calories: 230
Carb: 6 grams
Fat: 10 grams
Protein: 25 grams
Who would have guessed this meal came from a gas station? Eating keto at Wawa is made easy and delicious.
4) Hoagies!!! (Without Bread)
Hoagies are like tasty low calorie subs at Subway, but without the bread! The sandwich is loaded with meat, veggies and dressings, and spices. Make sure to request this beautiful and mouth-watering sandwich to be wrapped in lettuce instead of the carb-trapped bread.
Calories: 132 (without bread)
Carb: 1 gram
Fat: 3 grams
Protein: 27 grams
Wawa has become more aware of the public trends with the hype of the keto diet, making it one of the safest places to grab gas and a healthy snack!
5) Turkey BLT Salad
The bacon, lettuce, and tomato salad includes 23 grams of protein and 9 grams of carbs. To cut down some more of the carbs, ask for a light tomato or feel free to take it out completely.
Calories: 240
Carb: 9 grams
Fat: 10 grams
Protein: 23 grams
One trick keto-lovers use is to add extra fats to their meals to make sure they stay in ketosis. Some examples of this are to add extra bacon, butter, sour cream or cheese! Don't be afraid to indulge with guacamole either.
Keto Snacks at Wawa
There are a variety of keto snacks at Wawa anywhere from salty to savory. Need something crunchy? Pork rinds. Need something salty? Beef Jerky. The options fit almost every need! Wawa really does have the top keto meal and drink options around!
6) Hard-Boiled Eggs
Wawa's hard-boiled egg snack pack has low carbs, making this an excellent selection for a quick high protein snack. Each pack comes with two hard-boiled eggs and are always fresh, so do not worry about eating old eggs. If spice is needed, add some hot sauce which is located in packets near the front of the store.
Calories: 156
Carb: 1 gram
Fat: 10 grams
Protein: 13 grams
7) Avocado
For those who are more adventurous, there is always avocado, straight up. Feel free to put pepper and a little salt to make it slightly less flavor intense!
Calories: 190
Carb: 13 grams
Fat: 14 grams
Protein: 3 grams
Make sure to limit to only one avocado per day. Avocados contain substances called polyols, which are specific types of carbohydrates that have affected people that have sensitive stomachs or irritable bowel syndrome. Consuming too much in one sitting can cause some people to experience bloating, gas, or intense pain in the gut.5
8) Pork Rinds
Some hate them, some love them. Keto at Wawa means there are only so many options for snacks. Pork rinds 0 grams of carbs, making this crunchy snack a go-to if someone is craving the crunch of a chip without all of the unnecessary carbs.
9) Beef Jerky
This snack is always a good one for a grab-and-go to settle a hungry stomach and get back on the road.
Calories: 280
Carb: 6 grams
Fat: 20 grams
Protein: 10 grams
The carbs can sneak up, so be careful to not consume the entire package in one sitting. View this snack as more of a last-resort before someone gets hangry or passes out due to light-headedness from not eating enough.
10) Cheese
Delve into the assortment of cheese at the deli! Shredded sharp cheddar, shredded mozzarella, sliced cheddar and cream cheese are all available to buy as an add-on.
Calories: varies
Carb: 1 grams
Fat: 9 grams
Protein: 6 grams
Although there are pros and cons to eating cheese for weight loss, it is a great keto-food staple to run to if needing a quick snack.
11) Peanuts
Wawa sells Planters Peanuts which is a great option for grab-and-go. Be careful not to consume over five servings, as the carbohydrates will add up quickly.
Calories: 207
Carb: 6 grams
Fat: 18 grams
Protein: 9 grams
Keto Drinks at Wawa
For a gas station/convenience store, Wawa surprisingly has one of the widest varieties of drinks to choose from. Wawa has been known to have excellent coffee as well!
12) Coffee
Keto drinks at Wawa include a variety of coffees and teas, much like Starbucks, ordered through a touch screen that are handcrafted for each individual. Keto coffee drinks include cold brew, iced coffee, cappuccino, espresso shot, macchiato (hot or iced), and latte.
Just be sure to order without any extra sauces or syrups because that is where the sugar trap is! Drinking black coffee is always the safest option because it has zero calories. It is not a crime to need a little extra taste; so, if flavor is a must, just be sure to ask for sugar-free syrups!
13) Hot Cappuccino with Whipped Cream
The cappuccino drink has an espresso base with steamed milk and milk foam. It would be best to choose almond milk instead of dairy milk because the almond milk has a lower carb profile (~1.4 grams of carbs per 1 cup of milk).
14) Sugar Free Caramel Almond Milk Latte
If sugar cravings kick in, the sugar-free caramel almond milk latte is a great choice to curb that craving. It is 16oz of coffee and almond milk and a couple pumps of sugar free caramel flavor. This drink has approximately 12 grams of sugar, which is on the higher end, so it is considered a treat and okay if consumed occasionally.
15) Iced Cold Brew
Black coffee is THE BEST keto drink at Wawa because it is 0 calories. Not everyone can stomach pure coffee bean water, so the next best option would be to add some zero-calorie sweetener. Don't be afraid to add in a couple of packs of sweeteners like Stevia, which does not spike blood sugar and is low in carbs.
16) Tea
For some, coffee is not their cup of tea (no pun intended). There are a variety of tea options that are bottled and in the refrigerator section. Make sure to get the unsweetened tea that has 0 sugar. Tea can hide many carbs and cause all of that hard keto dieting to go down the drain (and frankly, tea just isn't worth ruining keto).
17) Diet Soda
Although soda is not the healthiest option, diet soda is considered keto because it is completely free of carbs and cane sugar. The sweetness is caused by artificial sweetener, which takes the carbs out of the drink.
Keto Wawa Snacks + Drink Combos
For those who want an entire combo, below are a few options of snacks and drinks to choose from. As always, be sure to read nutrition labels and watch out for hidden carbohydrates.
Chicken Lettuce Bowl and Tea
One snack and drink combo that satisfies the savory taste buds is ordering a lettuce bowl, adding chicken, grated parmesan, hard-boiled egg, shredded carrots, and tomato, and topped with ranch dressing.
Calories: 324
Carb: 9 grams
Fat: 12 grams
Protein: 45 grams
When choosing a tea, make sure it has zero grams of sugar! There are a few options of black and green teas to pick from.
Quest Protein Products and Sugar Free Gatorade (Keto at Wawa Customer Favorite)
Quest makes protein bars and chips that are considered on the "healthier" side to include only 3-6 grams of net carbs. Incorporating treats that have artificial sugars can help the keto dieter to stop eating junk food and sugar.
Some popular flavors of the bars include caramel, chocolate chunk, and birthday cake! To pair with the Quest products, there are a few sugar-free Gatorade zero's, which may be good for weight loss. and helps support the body to prevent keto flu with electrolytes.
This combo is spectacular for a quick, dense snack while on the road because of the balanced macronutrients and low glycemic index, preventing any sugar crashes. Just be sure to double-check the labels that the Gatorade is sugar free.
Hard Boiled Eggs and Black Coffee, Zero Carb Monster Energy, or Water
Grab a few packs of the hard-boiled eggs and wash them down with some coffee! This combo gives breakfast vibes and is quick and easy. One tip to make it a little zestier is to add some hot sauce, salt, and pepper to the eggs!
For those needing a huge caffeine boost, Monster has zero-carb energy drinks to prevent that afternoon crash. It goes without saying, water can be boring. If the keto diet is the road that has been decided, water will become the number 1 option at any moment.
Wawa has a plethora of waters to choose from including alkaline water to basic spring water. Learn to love water while on keto (the body is going to require a large consumption due to the amount of fats it has to break down).
Although going on the keto diet can cause some anxiety and stress while on road trips or going out to eat, there are plenty of options to try out without breaking the carb bank. Remember to read the label and keep the daily consumption of carbs under 50 grams.
Another way to educate oneself before traveling or reaching for the first thing one see when hungry is to pack snacks and research a list of items each store has beforehand. Eating Keto at Wawa has an array of options on every shelf, making Wawa one of the best places for a quick stop to curb a keto appetite.
FAQ About Keto at Wawa
Are There Keto Breakfast Options at Wawa?
Keto breakfast at Wawa is one of the best meals to eat and includes the most variety. Wawa has full breakfasts that contain less than 10 grams of carbs. The egg omelet breakfast bowl and chicken steak and egg white omelet are popular items. 
Some more simple meal options include a scrambled egg bowl, scrambled egg with sausage, steak or turkey sausage bowl, which are all packed with protein and will leave any dieter satiated.
Does Wawa Have a Keto Smoothie?
Keto smoothies are hard to come by with low carb options because a typical smoothie has a heavy fruit base. Fruit = carbs, which is something to avoid while on keto. The only smoothie that would be an option is the raspberry smoothie which contains 23 grams of carbohydrates. 
This is still a considerable amount of carbs because just one smoothie will cause someone to reach half of their allotted carbs for the day.
Are The Meatballs Keto Friendly at Wawa?
The meatballs contain a total of 21 grams of carbohydrates per serving. This meal is considered to be on the higher end of the keto spectrum, however, it is technically a "keto safe" meal, as long as the total calories consumed for the day is under 50 grams.
What Foods to Avoid at Wawa While on Keto?
Avoid foods that have a high carbohydrate or high sugar profile. Consuming foods such as sandwiches (with the bun), ice cream, most treats, bread, and foods doused with dressings or sauces could easily put a keto dieter out of ketosis.
Stick to the fats and proteins and don't be afraid of saying yes to extra cheese! Keto at Wawa is made easy, and by sticking to these tips will provide successful trips and happy bellies!
1JW;, W. (n.d.). History of the ketogenic diet. Epilepsia. Retrieved September 13, 2022, from <https://www.ncbi.nlm.nih.gov/books/NBK499830/>
2Should you try the keto diet? Harvard Health. (2020, August 31). Retrieved September 14, 2022, from <https://www.health.harvard.edu/staying-healthy/should-you-try-the-keto-diet>
3Wawa Fresh Food Menu Nutrition Information: Wawa. Wawa. (n.d.). Retrieved September 13, 2022, from <https://www.wawa.com/fresh-food/nutrition-quality-food/nutrition>
4Ahmed N;Kermanshahi B;Ghazani SM;Tait K;Tcheng M;Roma A;Callender SP;Smith RW;Tam W;Wettig SD;Rogers MA;Marangoni AG;Spagnuolo PA; (n.d.). Avocado-derived polyols for use as novel co-surfactants in low energy self-emulsifying microemulsions. Scientific reports. Retrieved September 17, 2022, <https://pubmed.ncbi.nlm.nih.gov/32221368/>
5Lambert, Christian. "Wawa sign on wall photo – Free Philadelphia Image on Unsplash." Unsplash, 23 November 2019. Accessed 12 April 2023. <https://unsplash.com/photos/NHhpQ_nJcuc>
6DustyPixel. "Ballpark Hotdog with Drink." Canva. Accessed 12 April 2023. <https://www.canva.com/photos/MAED4gHqqxo-ballpark-hotdog-with-drink/>
7smuay. "Club sandwich." Canva. Accessed 12 April 2023. <https://www.canva.com/photos/MADAXPFJUxw-club-sandwich/>