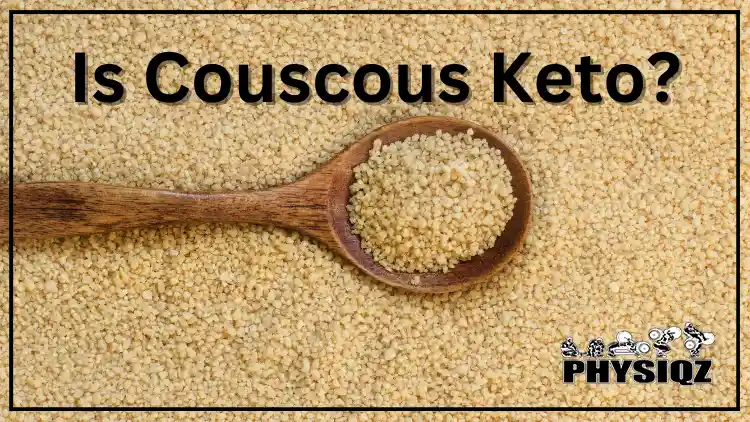 Is couscous keto friendly?
Unfortunately no, couscous is far from keto since all varieties and preparation methods are carb heavy — so try this couscous cauliflower recipe instead. Our couscous alternative recipe uses cauliflower instead and it pairs well with many dishes, can be seasoned or garnished with a multitude of flavors and spices, and is absolutely delicious when prepared correctly.
And if cauliflower isn't your thing, we'll also provide alternatives that work just as well.
Can You Eat Couscous on Keto If You're Careful? Is Couscous Keto?
Though often categorized as a grain, couscous is actually a type of pasta that's made from semolina or durum wheat flour. Unfortunately, whether made traditionally Mediterranean, using the Israeli or Moroccan variety, or any other type of couscous, the answer to is couscous keto is no–even in small amounts this pasta is far too high in carbs to be considered a keto food.
Since couscous and quinoa are often used similarly, someone curious is quinoa good for weight loss might be surprised that both quinoa and couscous have great health benefits and can aid in weight loss–they just aren't suitable for the keto diet specifically due to both having too many carbs (less than a cup could bump someone out of ketosis).
In regards to ketosis, the effect of the ketogenic diet on neurological disorders is quite impressive, as following the rules of keto may either lessen the impacts of neurological disorders such as depression, epilepsy, and migraines or could even help prevent them altogether. This also holds true for neurodegenerative diseases such as Alzheimer's and Parkinson's, so the keto diet is suggested as a helpful tool or as part of one's treatment plan.3
Further research done on the relationship between the ketogenic diet and treatment of neurological disease supported the first study's findings, concluding that adhering to daily keto carb limits and eating habits promotes greater brain health and healing in epilepsy, Alzheimer's, Parkinson's, migraines, multiple sclerosis, and other such diseases.4
How Many Carbs in Couscous?
Not all weight loss diets focus so heavily on carb content of foods and drinks, but the keto low carb diet guidelines suggest keeping within 20 to 50 grams of net carbs per day so as to ensure ketosis is maintained. Though we have noted that couscous is not a grain, it is often mistaken for one–unfortunately there are not any true keto grains aside from popcorn perhaps, as even the lowest carb grains like quinoa can still kick someone out of ketosis in just a half cup serving.
Although couscous is made from small round pellets of processed semolina or durum wheat flour, it undergoes minimal processing in comparison to many other foods; instead, how many carbs in couscous are where we run into issues for keto. Just half of a cup of couscous holds 17 grams of net carbs.
Nutritional Information for Couscous
An assessment done on the nutritional properties of couscous studied 6 different types of couscous (their control version, white, honey, smooth, organic, and algaessense varieties) and results showed that even smooth couscous–the lowest carb variety studied–still had about 43 grams of carbs per 100 gram serving, making it all the more clear that couscous is far from being keto friendly.5
Now that we have covered that the high level of carbohydrates in couscous means it is not allowed on keto, we will still go over the nutritional information, macros, and sodium for those on other weight loss diets or eating plans who may be more able to indulge in couscous as a side or main dish.
Though couscous does not have as much nutrition value as some other pastas or pasta substitutes, anyone letting the thought I will never lose weight get the best of them might benefit from incorporating couscous into their diet. This pasta from North Africa has high levels of selenium–a mineral high in antioxidants that can reduce inflammation, lower the risk of both heart disease and cancer, boost thyroid health, and promote a healthy immune system.
Couscous also has a considerable amount of protein and fiber, as well as vitamins and nutrients such as iron, vitamin B6, calcium, and magnesium. This pasta can help reduce cholesterol, inflammation, and oxidative stress in the body, ultimately decreasing the chance of cardiovascular disease.
Couscous Nutritional Value (Per 1 Cup Serving–Cooked)
36g Total Carbs
176 Calories
33.8g Net Carbs
6g Protein
2.2g Fiber
8 mg Sodium
0.3g Fat
0.2g Sugar
Low Carb Couscous Cauliflower Recipe (Homemade Couscous Keto Substitute)
Since included under the umbrella of high carb pasta varieties is couscous, keto substitutions sometimes need to be made on this diet to lower carb counts and make sure that ketosis will not be broken. Thankfully most high carb foods have plenty of low carb keto friendly alternatives to help achieve dietary goals and weight loss solutions, and you can often find these substitutions in similar flavors or textures with a little bit of time and effort.
Without any low carb keto couscous varieties, we have found that an amazing couscous keto substitute is cauliflower–with a subtle taste and a few seasonings, cauliflower can be prepared similarly to couscous, has a relatively comparable texture, and is great for when you are craving this pasta but can't accommodate the carb content.
We've created a homemade low carb couscous recipe with cauliflower for anyone who would like to try it. This couscous alternative is the perfect combination of savory, fresh, and filling and is low in calories, so those on other types of diets could enjoy this recipe too.
Cauliflower has a significant fiber content–as do most cruciferous vegetables–which promotes healthy digestion, and is high in B-vitamins and cancer-fighting antioxidants. This vegetable also has choline–an essential nutrient that aids in memory retention, muscle health and function, and regulating one's mood.
With so many great health benefits, let's get into this delicious cauliflower couscous recipe.
Ingredients:
2 Cups Cauliflower
½ Cup Cucumber
1 Tbsp Coconut Oil
1 Tsp Minced Garlic
1 Tsp Paprika
1 Tsp Parsley
½ Tsp Onion Powder
½ Tsp Chili Powder
Salt
Pepper
Serving Size: 1 Cup
Yields: 3 Servings
64 Calories Per Serving
3.6g Net Carbs
4.3g Fat
1.9g Protein
Instructions:
Step 1: Heat coconut oil in a frying pan on low with paprika, onion powder and chili powder
Step 2: While the oil and seasonings are warming, cut or break apart cauliflower florets into small pieces, then pulse in a blender or food processor until in small couscous sized pieces (be cautious not to over do this step–stop when the pieces are small, not mashed potato consistency)
Step 3: Move the cauliflower from the blender or food processor to the same pan as the aromatic oil is warming in
Step 4: Increase to medium heat and stir occasionally until the cauliflower pieces become softer and are no longer crunchy; should be warmed thoroughly and the oil and spices absorbed by the cauliflower
Step 5: Remove from heat, dump into a medium-sized bowl, and add cucumber, minced garlic, and salt and pepper to taste
Step 6: Stir well to combine all ingredients properly; enjoy or refrigerate until chilled if preferred
Tip: Pairs well with pork chops, roasted chicken, or beef; can include additional optional ingredients of tomato, eggplant, bell peppers, olives, sweet potato, or feta cheese for added flavor or variety–just be sure to count all carbs
Keto Couscous Garnishings, Spices & Flavorings
Now that we know that the answer to "is couscous keto" is no, but that there are alternatives and low carb substitutes that can be used to replicate the texture and flavor, let's cover some of the best couscous spices, seasonings, and garnishes to ensure your dish is never bland.
Try combining a few of these spices and vegetables at a time or switch up flavorings each time you make couscous alternatives to see what you like best.
Avocado
Basil
Bell Pepper
Black Pepper
Butter
Carrots
Cayenne
Celery
Chickpeas
Chili Powder
Cucumber
Dill
Garlic
Ginger
Lemon
Lime
Mustard Seed
Onion
Onion Powder
Oregano
Paprika
Parsley
Peas
Salt
Thyme
Zucchini
What Are the Best Low-Carb Couscous Alternatives?
Though couscous is not keto friendly, it is important to find alternatives for this and other high carb foods to ensure ketosis is maintained and to reap the full benefits of sticking to keto diet guidelines. The health benefits and weight loss that can come from sticking to keto foods is worth the effort of finding low carb alternatives to non-keto foods and drinks.
Furthermore, the effect of keto on cancer and cardiovascular disease is impressive and persuasive all on its own; research has shown that a low carb, high fat and protein diet may suppress oxidation and inflammation, reducing the likelihood or risk level of developing cancer or cardiovascular disease.
Ketosis seems to reduce several shared risk factors between these two medical conditions including dyslipidemia (lipid imbalance), hypertension, and obesity. Since this connection has only been studied in short term assessments, the long term efficacy is still debatable but does appear promising.7
With the potential health benefits of the ketogenic diet being abundantly clear, let's take a look at a few of the best low carb couscous alternatives aside from cauliflower that are good for keto and that can be used for sides, snacks, or even the main course.
Shirataki Noodles or Rice: Shirataki or "miracle noodles" are made from konjac flour and are a similar texture to couscous; with a very neutral taste, these noodles have zero net carbs, are keto approved, and pair well with anything since they take on the flavors of the other ingredients or seasonings.
Serving Size: 150g
Calories: 5
Total Carbs: 2g
Net Carbs: 0g
Fiber: 2g
Fat: 0g
Protein: 0g
Hearts of Palm Noodles: Made from the inner bud of certain species of palm trees, hearts of palm are very keto friendly and have a mild flavor. Though they come in various noodle types and lengths, these noodles can easily be cut down to better replicate couscous balls.
Serving Size: 95g
Calories: 25
Total Carbs: 4g
Net Carbs: 2g
Fiber: 2g
Fat: 0g
Protein: 1g
Zucchini Noodles: Zucchini noodles–or other vegetable noodles such as carrots or squash–can be easily made into noodles with a julienne peeler or spiralizer and offer plenty of health benefits and fiber, not to mention being fit for keto. Though zoodles or other veggie noodles may be a little more flavorful, they can certainly still go well with several dishes and flavorings.
Serving Size: 85g
Calories: 15
Total Carbs: 3g
Net Carbs: 2g
Fiber: 1g
Fat: 0g
Protein: 1g
Though we have established that one of the higher carb pastas that's unsuitable for the keto diet is couscous, keto friendly alternatives can be substituted in, or you can create your own low carb recipe.
Frequently Asked Questions
Is Parmesan Couscous Mix Keto Friendly?
Unfortunately the answer to "is parmesan couscous mix keto friendly" is a definite no–a mere half cup serving has 56 grams of net carbs and would instantly kick someone out of ketosis. It is best to stick with low carb alternatives such as cauliflower or another low carb pasta.
Is Pearl Couscous Keto Friendly?
For those questioning is pearl couscous keto friendly, we regret to inform you that at about 20 grams of net carbs per half cup serving, pearl couscous is not ketogenic.
Is Couscous Keto if I Make Substitutions?
Unfortunately, no–the commonly added spices, butter, and vegetables are not the issue–it is the couscous itself that has a high carb content so you would have to substitute the couscous itself, meaning that couscous is far from ketogenic. We recommend that you opt for shirataki konjac noodles, vegetable noodles, or roasted vegetables instead to lower the carb intake and maintain ketosis.
1katrinshine. Canva. Accessed 22 April 2023. <https://www.canva.com/photos/MADHLqCpxqY-couscous-with-a-spoon/>
2Mariha-kitchen. Canva. Accessed 22 April 2023. <https://www.canva.com/photos/MADCfxlnoyU-couscous/>
3Pietrzak, D., Kasperek, K., Rekawek, P., & Piatkowska-Chmiel, I. (2022, May 6). The Therapeutic Role of Ketogenic Diet in Neurological Disorders. Nutrients, 14(9), 1952. <https://www.ncbi.nlm.nih.gov/pmc/articles/PMC9102882/>
4Dynka, D., Kowalcze, K., & Paziewska, A. (2022, November 24). The Role of Ketogenic Diet in the Treatment of Neurological Diseases. Nutrients, 14(23), 5003. <https://www.ncbi.nlm.nih.gov/pmc/articles/PMC9739023/>
5Khemiri, S., Nunes, M., Bessa, R., Alves, S., Smaali, I., & Raymundo, A. (2021, December 20). Technological Feasibility of Couscous-Algae-Supplemented Formulae: Process Description, Nutritional Properties and In Vitro Digestibility. Foods, 10(12), 3159. <https://www.ncbi.nlm.nih.gov/pmc/articles/PMC8701376/>
6Clarke, Sandie. Unsplash. Accessed 22 April 2023. <https://unsplash.com/photos/lGQvuvGlp0s>
7Mohammadifard, N., Haghighatdoost, F., Rahimlou, M., Rodrigues, A., Gaskarei, M., Okhovat, P., Oliveira, C., Silveira, E., & Sarrafzadegan, N. (2022, August 25). The Effect of Ketogenic Diet on Shared Risk Factors of Cardiovascular Disease and Cancer. Nutrients, 14(17), 3499. <https://www.ncbi.nlm.nih.gov/pmc/articles/PMC9459811/>
8Daniela. "rice with green leaf vegetable on white ceramic plate photo – Free Lx factory Image on Unsplash." Unsplash, 24 February 2020. Accessed 22 April 2023. <https://unsplash.com/photos/RELOvb0rrCE>