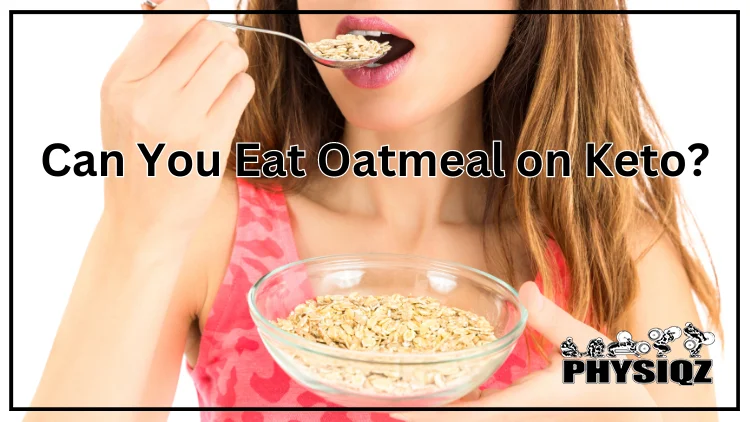 Can you eat oatmeal on keto and why, or why not?1
Unfortunately, oats of any variety are best avoided while following a keto diet because they are very high in carbohydrates.
While oatmeal is a no-go on keto, there are a variety of different keto-friendly breakfast options to try and many have a similar texture and taste.
The information goes into everything about oats, from it's carbs, nutritional information, and then we provide low-carb "oatmeal" recipes that will satisfy the craving, taste, and texture of oatmeal while also remaining low-carb and high-fiber.
Oatmeal Nutritional Information
We will look at Old Fashioned Quaker Oats for the nutritional breakdown of oatmeal since it's a commonly purchased brand.
Oatmeal is typically considered to be healthy as oats have been found to lower blood sugar levels and reduce the risk of heart disease.2
They also have more health benefits from lowering cholesterol and helping to aid in weight loss.3 It's important to review the entire nutrition facts when deciding whether or not someone should include oatmeal on their keto breakfast meal plan. The only ingredients present are whole-grain rolled oats.
Below is a breakdown of the nutrition facts. The serving size is ½ cup of dry oatmeal.
Calories

: 150

Total Fat

: 3 grams

Saturated Fat

: 0.5 grams

Trans Fat

: 0 grams

Polyunsaturated Fat

: 1 gram

Monounsaturated Fat

: 1 gram

Cholesterol

: 0 mg

Sodium

: 0 mg

Total Carbohydrate

: 27 grams

Dietary Fiber

: 4 grams

Sugar

: 1 gram

Added Sugar

: 0 grams

Protein

: 5 grams
Furthermore, ½ cup of dry oats also contains a few vitamins and minerals as listed here.
Calcium 20 mg
Iron 1.5 mg
Magnesium 40 mg
Phosphorus 130 mg
Potassium 150 mg
Thiamin 0.2 mg
Can You Eat Oatmeal on Keto? Is Oatmeal Keto Friendly?
When determining whether or not oatmeal is keto-approved it's clear to see that unfortunately per 1 serving size, there are way too many carbs, at 27 grams, to be suitable for a keto diet.
The keto diet is known for being a high-fat and low-carb meal plan, with recommendations limiting daily carbohydrate intake to between 20 and 50 grams, with some recommendations even suggesting keeping the number of carbs to no more than 20 grams.5
The ultimate goal of limiting carbs is to force the body into ketosis which leads to the development of ketone bodies and results in the body burning fat as a primary source of energy.7
Based on this information, oatmeal should definitely be avoided while on a keto diet because 1 serving exceeds the 20-50 grams of carbs typically allowed on a keto diet.
Are Any Types of Oatmeal More Keto Than Others?
Those determined to eat oatmeal may wonder if there is any difference between the various varieties of oatmeal such as old-fashioned, steel cut, ground, and instant or quick oats.
Interestingly, all of these varieties contain the same exact carb content because the only difference between them is the preparation method.Old-fashioned oats are whole oats that have been rolled into flakes. Steel-cut oats are also whole oats but these have not been rolled like the old-fashioned ones have been.
And finally, quick oats are the same exact whole oats that have just been cut into smaller pieces which helps them cook faster. Another oatmeal variety someone can buy is ground oats or oat flour.
While this flour can also be made into a porridge it is also recommended to avoid this on keto because there are 20 grams per ¼ cup of ground oats.
What Can I Substitute for Oatmeal on a Keto Diet?
To avoid the dreaded situation of "can you be in ketosis and still not lose weight", it's important to search for keto oat substitutes.
With the rise in popularity of the keto diet, more and more companies are creating keto-friendly alternatives for some favorites that are typically best avoided while on keto so there are actually some keto-friendly "oatmeals" on the market.
Here is what we found to be the best store-bought keto-friendly oatmeal alternative.
Pure Traditions Instant Keto "Oatmeal" Unsweetened: This oatmeal alternative has only 2 grams of net carbohydrates per the ½ cup serving size. Being made from a variety of nut and seed flours such as coconut, almond, pecan, and chia seeds, not only is this oatmeal keto-friendly, but it is also vegan, paleo and Non-GMO verified.
Additionally, while traditional oatmeal is a no-go for someone on the keto diet, oatmeal substitutes can be made from different flours such as almond flour and coconut flour, and a variety of seeds including flaxseed, chia seeds, and hemp seeds which make them a higher fiber and low-carb option.
Keep on reading below to see our 2 top favorite oatmeal alternative recipes that are low-carb, low-sugar, high-protein, and easy to make!
Low Carb Keto Oatmeal Alternative Recipes & Toppings
Knowing there are different ways to make oatmeal keto-friendly we found the top 2 recipes to make tasty keto oatmeal alternatives! There are even optional suggested keto toppings to make the "oatmeal" even sweeter.
Seed-Based Keto Oatmeal
This first recipe is made solely from a variety of different keto-approved seeds. Check below for a breakdown of the ingredients and instructions to make 1 serving size.
Ingredients:
2.5 tablespoons hemp hearts
1 tablespoon ground flax seeds
Small pinch of salt
½ tablespoon of sweetener of choice. For this recipe, we chose to use Monk Fruit.
2 tablespoons of heavy whipping cream
¼ cup of water
Instructions:
Mix all of the dry ingredients in a small pot.
Add the heavy whipping cream and water and cover the keto oatmeal on medium-low heat until it thickens which can take between 3-5 minutes.
Serve immediately. This keto oatmeal can be enjoyed with some tasty keto-friendly berries such as blueberries, blackberries, or strawberries. (While papaya is best enjoyed in moderation on keto, there are a variety of different fruits that could make a better, less sugary topping.)
Nutrition Facts:
Calories

: 285

Fat

: 22.8 grams

Sodium

: 310 mg

Sugar

: 0.8 grams

Carbohydrates

: 4.8 grams

Fiber

: 2.3 grams

Net Carbohydrates

: 2.5 grams

Protein

: 11.8 grams
At only 2.5 grams of net carbohydrates and almost 12 grams of protein for one serving it's clear to see that this seed-based "oatmeal" would be a hearty, low-carb breakfast that would fit nicely into a keto diet plan!
Pro tip: Even though the answer to the question is dextrose keto is a no there is a list of different keto-approved sweeteners to substitute for monk fruit in this recipe.
Keto-Approved Flour-Based "Oatmeal"
For an alternative recipe that still contains the nutrient-dense hemp seeds and flaxseed check out this recipe. The flavor profile will be a bit different due to the almond and coconut flour. The following recipe is for 1 serving size which breaks down to about 1 cup of "oatmeal"
Ingredients:
⅓ cup unsweetened almond milk (And when wondering is almond milk good for weight loss the answer is yes!)
1.5 tablespoons hemp seeds
¼ tablespoon coconut flour
1 tablespoon almond flour
½ teaspoon chia seeds
1.5 tablespoons ground flaxseed
1 tablespoon of sweetener of choice. For this recipe, we chose to use Monk Fruit.
(optional) a sprinkle of cinnamon
Instructions:
Mix all of the dry ingredients in a small pot.
Add the unsweetened almond milk (more can be added for a thinner consistency). Cook until thickened which can be between 3-5 minutes.
Serve immediately. This keto oatmeal can be sprinkled with a dash of cinnamon or keto-approved cacao powder.
Nutrition Facts:
Calories

: 216.5

Fat

: 15.4 grams

Sodium

: 58 mg

Sugar

: 1.4 grams

Carbohydrates

: 8 grams

Fiber

: 4.8 grams

Net Carbohydrates

: 3.2 grams

Protein

: 10.4 grams
Compared to the seed-based "oatmeal" there are a little more net carbohydrates at 3.2 grams a serving but even so, this could be a great oatmeal alternative for someone craving that oatmeal flavor, texture, and taste while following keto.
Additional Keto Breakfast Ideas
Knowing that traditional oatmeal is best avoided while on a keto diet, seeking keto approved breakfast alternatives is usually the next course of action.
Here are some delicious, low-carb, and high-fiber keto breakfast options to try out!
On-The-Go Option: If someone is looking for a quick, on-the-go breakfast idea try a protein shake. Not only is premier protein keto, but it also has a high amount of protein and low sugar making it a good keto option.
At only 3-5 grams of carbohydrates per 1 bottle, these could definitely fit into any keto dieter's plan and make for a quick, filling breakfast. Additionally, there are a lot of tropical smoothie keto options for a different, on-the-go option.
Bacon & Egg Muffins: Eggs are a fantastic low-carb option with a high amount of protein making them a perfect option for a keto dieter looking for a filling breakfast. Paired with bacon, these bacon and egg muffins also have a higher amount of fat which is exactly what the keto diet calls for.
Mix together 6 eggs, 2.5 tablespoons of heavy whipping, ¼ cup of cheese, and 4 slices of chopped bacon, add to muffin tins, and bake in an oven at 350 for about 20 minutes or until set.
Birch Benders Keto Pancake Mix: For someone craving a sweeter breakfast try, out the Birch Benders Keto Pancakes! This mix is available at most grocery stores and contains only 5 grams of net carbohydrates per 2 pancakes.
There are also 5 grams of fiber and 9 grams of protein so these pancakes should sustain someone throughout the morning. These can be topped with keto friendly butter brands or fruit.
Magic Spoon Grain-Free Cereal: Typically, cereals are a no-go on keto because they are high-sugar and high-carb but Magic Spoon cereal makes it possible for keto dieters to satisfy that cereal craving. These cereals are grain-free making them both gluten-free and keto-friendly.
There is no sugar and no artificial colors and sweeteners. This brand of cereal is a great keto option because there are only 4 grams of net carbohydrates per serving and almost 15 grams of protein for 1 cup serving.
With 4 different flavor varieties- fruity, frosted, cocoa, and peanut butter it's likely everyone will be able to find one they like.
Keto Breakfasts at Restaurants: Going out for breakfast can be an exciting treat but having dietary preferences and restrictions can make it a bit more challenging to find something that would fit into the meal plan. Believe it or not, there is a long list of Waffle House Keto options, so it's definitely possible to enjoy eating breakfast out while sticking to a keto plan.
Even though the answer to the question can you eat oatmeal on a keto is a no, there are a variety of tasty and easy-to-make oatmeal alternatives to keep things low-carb while satisfying the oatmeal craving and other savory and sweet breakfast ideas that are also low-carb and high-fiber and high-protein to satisfy hunger throughout the morning.
Frequently Asked Questions
Unfortunately, oat milk would be best avoided while following a keto diet because, like oatmeal, it is also high in carbs because it is made from mostly oats and water. For 1 serving size which is equal to 1 cup, there are 17 grams of net carbohydrates, way too much for someone on keto.
Is Oatmeal Good for Weight Loss?
While plain oatmeal is best avoided on a keto diet, there are some impressive health benefits making it good for weight loss. For one serving size of oatmeal, there are only 150 calories, 1 gram of sugar, 3 grams of fat, 4 grams of fiber, and 5 grams of protein making it a low-calorie, high-fiber, and protein breakfast option.
Oatmeal is considered to be a healthy grain that provides a variety of different vitamins, minerals, and fiber.
Unfortunately, grits would also be best avoided on a keto diet because, for 1 serving size of ¼ cup, there are 27 grams of net carbohydrates.
1DenizA. Canva. Accessed 26 April 2023. <https://www.canva.com/photos/MADBHEhdOBg-woman-eating-oatmeal/>
2Paudel, D., Dhungana, B., Caffe, M., & Krishnan, P. (2021). A Review of Health-Beneficial Properties of Oats. Foods, 10(11), 2591. <https://www.ncbi.nlm.nih.gov/pmc/articles/PMC8625765/>
3Li, X., Cai, X., Ma, X., Jing, L., Gu, J., Bao, L., Li, J., Xu, M., Zhang, Z., & Li, Y. (2016). Short- and Long-Term Effects of Wholegrain Oat Intake on Weight Management and Glucolipid Metabolism in Overweight Type-2 Diabetics: A Randomized Control Trial. Nutrients, 8(9), 549. <https://www.ncbi.nlm.nih.gov/pmc/articles/PMC5037534/>
4iha31. Canva. Accessed 26 April 2023. <https://www.canva.com/photos/MADQ5mUdoU4-oats-with-blueberries/>
5Masood, W., Annamaraju, P., & Uppaluri, K. R. (2022). Ketogenic Diet. StatPearls [Internet]. <https://www.ncbi.nlm.nih.gov/books/NBK499830/>
6Billion Photos. Canva. Accessed 26 April 2023. <https://www.canva.com/photos/MACk70_q798-oatmeal-breakfast-grains-isolated/>
7Batch, J. T., Lamsal, S. P., Adkins, M., Sultan, S., & Ramirez, M. N. (2020). Advantages and Disadvantages of the Ketogenic Diet: A Review Article. Cureus, 12(8). <https://www.ncbi.nlm.nih.gov/pmc/articles/PMC7480775/>
8everydayplus. Canva. Accessed 26 April 2023. <https://www.canva.com/photos/MADnTPEudj4-hemp-seeds/>
9Azurita. Canva. Accessed 26 April 2023. <https://www.canva.com/photos/MADFDoULyuM-egg-muffins-with-spinach-and-bacon/>