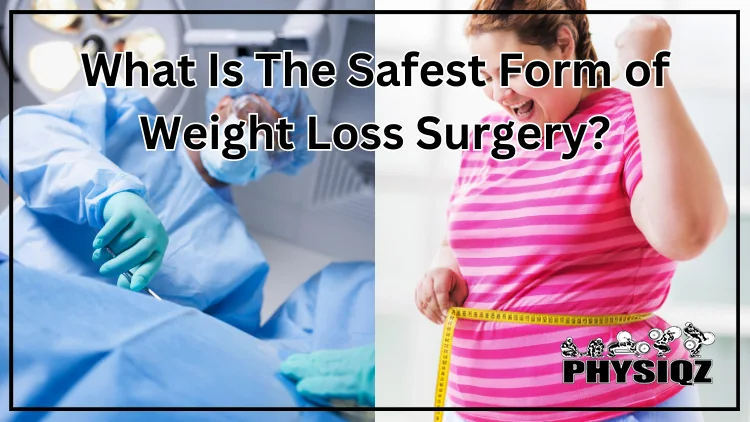 With so many types of weight loss procedures available, what is the safest form of weight loss surgery?1
Through this guide, candidates can assess the risks, invasiveness and success rates of various weight loss procedures to determine the safest surgeries available.
While this information can help you decide on which routes to consider, it is not substitution for professional medical advice because factors such as starting weight, medical conditions, risk factors, and the surgeon's preferences, expertise and experience can affect which is safest for a given individual.
With that being said, the pros, cons, and risk level of each can be found below along with a few minimally and non-invasive weight loss procedures for those wary of surgery. Lastly, we provide food for thought so you can decide which weight loss surgery is best for your given circumstances.
What Is the Safest Form of Weight Loss Surgery?
As mentioned above, what is the safest form of weight loss surgery is determined by both level of invasiveness and overall success rate.
Thankfully with modern technology, the risks of bariatric surgery in adults are minimal and quite safe, but it's still certainly advisable for all patients–especially those with obesity, type 2 diabetes or other underlying issues–to have an in-depth discussion with their surgeon to learn and weigh all risks before deciding whether or not to proceed with surgery.2
Despite most being reasonably safe, it's natural to want to know which is deemed the safest and most successful; the gastric sleeve holds the title of safest weight loss surgery with a success rate of 80-90%.
Researchers studying long-term gastric sleeve outcomes followed up with 156 adult patients with a pre-gastric sleeve average BMI of 41.5 for five years after surgery to measure success rates. The mortality rate was zero and at one year from surgery the average excess weight loss was an impressive 82% at one year and approximately 75% at the five year mark.4
Weight Loss Surgeries Risk Levels & Success Rates Compared
What is the safest form of weight loss surgery–or which is most applicable–can vary from person to person depending on their current weight, health conditions, and lifestyle. With several different stomach surgeries to choose from, we'll list and compare weight loss surgeries, explain which bariatric surgery is safest, and explain benefits and risks of each.
Although some believe weight loss surgeries are for those who are giving up on weight loss, this is certainly not the case. To qualify for bariatric surgery, patients are required to go through an intensive screening process and have their medical history assessed.
They're often not cleared for surgery until they've maintained their goal weight and healthy eating for 6 months first to ensure their commitment and increase the likelihood of long-term success.
In some cases people are approved without meeting these criteria if their weight causes a serious or life-threatening risk such as sleep apnea, heart disease, or type 2 diabetes.
Before getting into different types of weight loss surgeries, note that the reason neither liposuction nor tummy tuck (abdominoplasty) made this list is because neither are meant to be weight loss procedures, but instead are for removing excess fat or loose skin that remains once goal weight has been reached.
That being said, let's check out the options available.
Biliopancreatic Diversion (With Duodenal Switch)
A biliopancreatic diversion is more extreme than a gastric bypass; up to 70% of the stomach is removed and more of the small intestine is bypassed. If this surgery is performed with a duodenal switch it's still more drastic and involved than a gastric bypass but is less extensive than the biliopancreatic diversion alone.
Adding the duodenal switch operation decreases likelihood of malnutrition and ulcers as well.
Risk Level: High
Success Rate: Average of 73% excess weight loss (at 2 years post-op)
Recovery Time: Expect 2-3 days in the hospital, 2-3 weeks off work, and 1-2 months before being fully healed and active

Pros: May expedite weight loss more than gastric bypass while still being able to eat more (due to the pouches left in a gastric bypass being smaller than the amount of stomach left after the biliopancreatic diversion)
Cons: High risk of complications; increased likelihood of malnutrition due to too few nutrients being absorbed; increased risk of "dumping syndrome" in which food passes from the stomach to the bowel too rapidly after eating
Gastric Band (Laparoscopic Gastric Banding)
A gastric band or lap band is an adjustable and inflatable silicone band surgically placed around the upper part of the stomach to restrict the opening to the stomach and reduce food intake.
Since a high percentage of patients experienced the band moving, slipping, or deteriorating to the point of needing emergency surgery, many surgeons stopped performing this procedure due to its high risk level. Others experienced pain, negative side effects, or minimal weight loss and had it removed.
Due to the high failure rate of 40% over 5 years, this is the least successful weight loss surgery.
Risk Level: High
Success Rate: Average of 49% of excess weight loss (at 2 years post-op)
Recovery Time: Can often return to work and normal workouts within 1-4 weeks

Pros: The band can be tightened by adding saline solution or loosened by removing fluid via needle; adjustable; small incision; usually brief recovery time
Cons: Though the stomach is smaller and can't fit as much, it can be difficult to adjust mentality so patients must learn how to distract yourself from hunger or old habits to avoid stretching the stomach; high failure rate; high likelihood of complications; less weight loss success
Gastric Bypass (Also Known as Roux-en-Y)
In gastric bypass surgery, surgical-grade staples create a division within the stomach, leaving a usable pouch less than half the size of the stomach and the small intestine is separated and moved to the small pouch of the stomach by completely bypassing the lower portion of the stomach.
General anesthesia is used prior to making a long, vertical incision in the abdomen during open surgery; alternatively, in a laparoscopic bypass 6 very small incisions are made. In either case, the patient should feel fuller sooner after surgery because the stomach is much smaller and fewer calories will be absorbed due to bypassing the small intestine.6
Patients are advised to stick to a liquid diet temporarily after surgery and gradually transition back to regular foods over 6 weeks. They should begin walking and moving about within a day, with the hospital stay usually lasting 1-5 days.
Risks may include leaking from or blockage of the stomach or intestines, blood clots, infection, ulcers, and hemorrhage.
Risk Level: Moderate
Success Rate: Average of 63% of excess weight loss (at 2 years post-op)
Recovery Time: 1-5 days in the hospital followed by several weeks at home

Pros: No intestinal rerouting; lowered risk of heart disease, heart attack, type 2 diabetes, cancer, and stroke due to weight loss
Cons: Though rare, more serious risks can include heart attack or temporary decrease in lung function following surgery; low blood sugar, dumping syndrome, and malnutrition are also possible
Gastric Sleeve (Sleeve Gastrectomy)
The gastric sleeve surgery is performed laparoscopically with either several small incisions along the upper abdomen or vertically down the center of the abdomen. A majority of the left side of the stomach is removed, with the remaining portion in a narrow tube shape that holds much less.
Food will still pass through to the small intestine.
Gastric sleeve weight loss surgery is irreversible so patients should be sure about this procedure before scheduling surgery.
However, a sleeve can be a good option for those who have significant weight to lose but not enough that a gastric bypass would be applicable, those with sleep apnea or other health issues that hinder weight loss, or for those who take medications that aren't safely combined with other types of weight loss surgery.7
Complications of plastic surgery of the abdomen are fairly rare, but can happen and blood clots can be serious if not addressed immediately. To prevent clotting, patients should closely follow post-op instructions from the surgeon, wear compression around their abdomen, and be active soon after surgery (when advised it's safe to do so).8
Risk Level: Low to Moderate
Success Rate: Average of 79% of excess weight loss (at 2 years post-op)
Recovery Time: Usually one night in the hospital, resuming daily activities almost immediately, able to return to exercising normally within 2-6 weeks at most

Pros: Highest success rate; quick surgery and recovery time; decreases likelihood of type 2 diabetes, sleep apnea, hypertension, and cardiovascular disease; fewer side effects than alternatives; usually safe to use NSAID pain relievers after surgery
Cons: May instigate or worsen acid reflux, heartburn, leaking from staple line, hernia, or infection; the sleeve may grow more narrow due to scarring
Non-Invasive Weight Loss Procedures To Consider (And Ask Your Doctor About)
Now that we've covered what is the safest form of weight loss surgery, let's review non-invasive weight loss surgery options and non-surgical weight loss procedure alternatives.
It's almost always best to try to lose weight naturally prior to having surgery or any type of procedure done, so those considering any of these are highly advised to first integrate clean eating and proper nutrition into their diets, regular physical exercise if able, and healthy lifestyle choices.
Specifically, tracking calories and maintaining a deficit is recommended, as well as checking out the best time to exercise to lose belly fat or researching alternate day fasting vs OMAD to see if any of these are doable and right for you.
Joining a gym, yoga class, or rock climbing club can be fun ways to lose weight naturally, as can trying new healthy recipes or hiking nearby trails. Aim for 100 jumping jacks a day or create your own workout challenges.
If you've exhausted all options and haven't reached your weight and health goals but either don't need or want a major surgery, the following are some safer, non-invasive weight loss options.
Cryolipolysis: Also called "CoolSculpting", cryolipolysis is a nonsurgical outpatient procedure to reduce localized fat deposits that are unaffected by diet and exercise by "freezing fat" with a device. Patients remain awake throughout.
Gastric Balloon: Also called an intragastric balloon, this is a silicone saline-filled balloon placed into the stomach via the throat, which helps one feel fuller faster and decreases over-eating.
Lipolysis: Lipolysis is the breakdown of fats and lipids and can be done through injections, laser, or radiofrequency to chemically kill local fat cells; this is commonly done in the arms, thighs, chin, and other areas that collect fat deposits.
What Is the Least Invasive Weight Loss Surgery?
All types of weight loss surgeries compared, a gastric balloon is by far the least invasive. In fact, it requires no incisions since it's performed via a simple outpatient endoscopic process that takes under an hour.
This intragastric (within the stomach) balloon is a silicone balloon filled with saline that is placed in the stomach and stays there for 6 months. By limiting how much can fit in the stomach, this helps one feel fuller faster.
How To Decide Which Is Best Weight Loss Surgery for You
To decide which weight loss procedure is best, it's important to consider the long-term success rates, risk level, the pros and cons, your personals risk tolerance although most surgeries are relatively safe in todays day in age, and your overall health including but not limited to your body mass index (BMI), age, and any diseases or conditions.
If you've tried other weight loss solutions to no avail or have serious underlying health conditions that prevent you from losing weight or living to your fullest, weight loss procedures may be for you.
While familiarizing yourself with the safety various of weight loss surgeries is terrific due diligence, it's important not to jump the gun on a particular surgery just because you believe it's the best option.
However, the information above should help deduce which surgeries to bring up with a surgeon and they can help explain any other lingering questions regarding the safest form of weight loss surgery.
Frequently Asked Questions
What's the Safest Weight Loss Surgery (Safest Bariatric Surgery) and Its Success Rate?
The safest weight loss surgery (safest bariatric surgery) is the gastric sleeve (sleeve gastrectomy) with an impressive success rate of 75% at the 5 year mark.
How Dangerous or Safe Is Bariatric Surgery?
How dangerous or safe is bariatric surgery comes down to level of invasiveness, failure rate, and potential complications; gastric bypass and biliopancreatic diversion tend to be more dangerous while a gastric sleeve and gastric bypass have fewer risks.
What Is the Safest Form of Weight Loss Surgery That Leaves the Least Scarring?
The most successful weight loss surgery is the gastric sleeve, which is also deemed the safest gastric surgery; the incisions are small and can leave no scarring (if healed fully) or 4-5 small scars on the abdomen (or in some cases a longer vertical scar that should lighten with time).
1Medioimages/Photodisc. Canva. Accessed 26 April 2023. <https://www.canva.com/photos/MAC72x_gN-A-doctor-performing-surgery/>
2Arterburn, D., Telem, D., Kushner, R., & Courcoulas, A. (2020, September 1). Benefits and Risks of Bariatric Surgery in Adults: A Review. Journal of the American Medical Association, 324(9), 879-887. <https://pubmed.ncbi.nlm.nih.gov/32870301/>
3"a man holding his stomach with his hands photo – Free Person Image on Unsplash." Unsplash, 17 October 2021. Accessed 25 April 2023. <https://unsplash.com/photos/J6g_szOtMF4>
4Hoyuela, C. (2017, April 27). Five-year outcomes of laparoscopic sleeve gastrectomy as a primary procedure for morbid obesity: A prospective study. World Journal of Gastrointestinal Surgery, 9(4), 109-117. <https://www.ncbi.nlm.nih.gov/pmc/articles/PMC5406732/>
5herjua. Canva. Accessed 25 April 2023. <https://www.canva.com/photos/MADarUwLD4w-gastric-bypass-surgery/>
6Washington University Physicians. (2023). Gastric Bypass Surgery. Washington University Physicians. Retrieved March 15, 2023, from <https://weightlosssurgery.wustl.edu/services/gastric-bypass-surgery/>
7Stroud, A. (2023). Gastric Sleeve Surgery for Weight Loss. Oregon Health & Science University. Retrieved March 15, 2023, from <https://www.ohsu.edu/bariatric-services/gastric-sleeve-surgery-weight-loss>
8G., Elbaz, J., & Karcenty, B. (1999, August). [Complications of plastic surgery of the abdomen]. Annales de Chirurgie Plastique, 44(4), 497-505. <https://pubmed.ncbi.nlm.nih.gov/10550925/>
9Unsplash, 29 July 2022. Accessed 25 April 2023. <https://unsplash.com/photos/cDKQsaUoF-0>