Powerlifting Gyms in Las Vegas: Full List
Last Update: 14 August 2018
Looking for a powerlifting gym in Las Vegas? While finding fun and trouble in the city of sin doesn't take much effort, locating a proper gym to train at does. Local chains like the Las Vegas Athletic Club (LVAC) and 24 Hour Fitness cater to the mass of traditional gym-goers and are not suitable places for powerlifters to work out for several reasons:
Chalk is not allowed
The barbells are mass-ordered, have no knurling, and are improperly treated (contrast this with true powerlifting equipment like a Texas power bar or ohio power bar)
The environment is not conducive or accepting of heavy training—dropping the weights at these large gym chains is a quick way to upset patrons and alert gym staff (something we have seen happen in person at LVAC)
Beyond just these three reasons, however, they don't provide a true powerlifting atmosphere which can dramatically add to the quality of your workout. Whether you are just traveling through or looking for your next home of iron, being surrounded by other strength athletes who take training seriously is a powerful way to augment your own motivation and commitment.
What Else Makes Powerlifting Gyms in Las Vegas So Worth It?
Even if you are completely dedicated to your lifting, as most true powerlifters are, being in an environment conducive to heavy training simply puts you in the right headspace. When you stop to grab a drink you'll find others working hard in the squat rack or on the deadlift platform—instead of sitting at a curl machine, engrossed in their phone at the hope of a new flappy bird high score. It goes a long way towards crafting a culture of strength that can't help but rub off on you.
With such a lack of advertisement for the strength gyms in the valley and a weak online presence, however, finding these true gyms of steel can be tough. Luckily, as locals we have compiled an exhaustive list of the best facilities in Las Vegas, Paradise, and Henderson so that you can make the best choice depending on your individual preferences such as location and cost.
Physiqz Powerlifting and Bodybuilding Gym in Las Vegas
Up first is our very own Physiqz training center devoted to all strength sports: powerlifting, bodybuilding, strongman, olympic lifting, and more. With industrial-grade fittings, squat racks, olympic benches, and true power bars Physiqz provides an excellent option for anyone on the west side of Vegas (also known as Summerlin).
The best part?
It's absolutely free.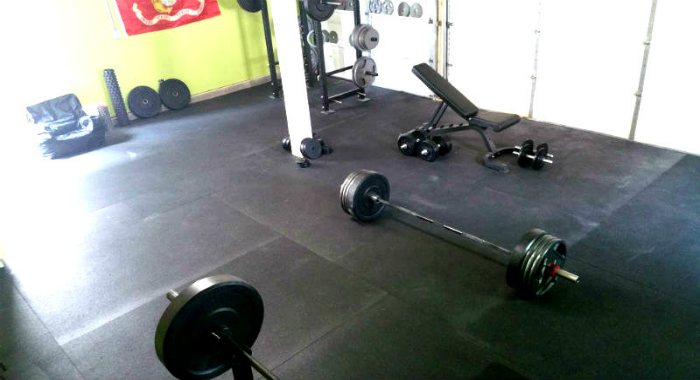 The goal of Physiqz from day one has been simple: provide the highest-quality information possible, backed by research of scientific rigor and pragmatic, real-world examples—all while keeping our site free of ads. When we decided to expand and open our own facility, it only made sense to continue this mission forward and allow free entry for anyone and everyone serious about strength training.
In order to keep our gym free, we have established an invite-only policy. To gain access, simply reach out to use from our contact page and let us know your situation. We are excited to welcome anyone serious about powerlifting and strength training. Ran and operated by USAPL competitors, we take training seriously and enjoy connecting with others who share our passion.
Furthermore, if you are interested in personalized 1-on-1 powerlifting coaching, Physiqz also has you covered. We offer a complimentary lifting session to anyone interested, with monthly rates that include powerlifting programs tailored to your specific needs, form adjustments, dietary guidelines, and more. To learn more about coaching, please send us an inquiry from our contact page.
The Lift Factory Powerlifting Gym
Located in the Northwest part of Las Vegas, the lift factory is home to "hardcore" lifers, as they explain on their about page. Created and operated by three locals sharing the same love of strength and muscle, they envisioned the gym as a place were true strength enthusiasts could come to train without the inhibitions of commercial gyms that go against the raw training environment of "underground" strength facilities.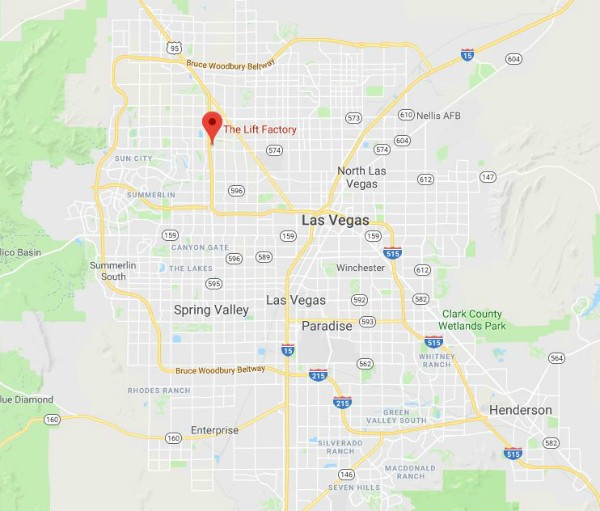 The gym owners, made up of firefighters and probation officers, give a list of things they do want you to do while training at the lift factory:
Drop weights
Jam out to loud music
Make all the noise you want
Lift with your shirt off if desired
Furthermore, they poke fun at those who go to the gym just to socialize or take photos for social media validation. They truly aim to create a Gold's Gym training atmosphere and do a great job at it.
To get an idea of what they gym looks like, take a look at this video:
This incredible atmosphere comes at a hefty price, however, with monthly memberships starting at $70. They list their full prices clearly online:
2 year membership: $39/month
1 year membership: $49/month
Monthly membership: $69/month
1 year membership paid up-front: $429
Day pass: $20
Week pass: $40
On the positive side, if you do decide to pay their prices, you will have access to the facility 24 hours a day—much more than you can say about any of the commercial gyms in the area. It is important to note that if you plan on picking up a day pass or signing up, you will need to schedule an appointment with the gym by calling or texting: 702-829-1012.
Filthy Power Gym
Located in North Las Vegas, filthy power gym is another powerlifting training center dedicated to what matters: training hard and getting results. Founded by well-known powerlifter Brandon Allen, the gym boasts monolifts and elite-level powerlifting gym equipment.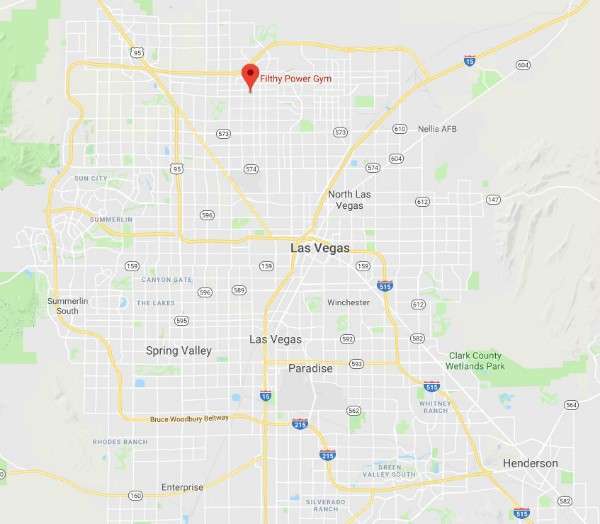 The gym was even featured in the popular magazine Muscular Development, showcasing Brandon Allen's and Andy Huang's heavy squat training session.
Memberships start at a hefty $100 per month price tag. With that said, they don't skimp out on equipment. A post on their Facebook page gives insight into specific equipment found within the facility:
2 Texas power bars
2 Texas deadlift bars
1 Ohio power bar
1 Texas squat bar
1 Olympic bar
1 Trap bar
1 Duffalo bar
1 Safety squat bar
1 Cambered bar
1 Log press
1 Close grip bar
Chains and bands
Yoke walk and prowler
As with The Lift Factory, Filthy Power Gym is open 24 hours a day, 7 days a week. If you are interested in visiting or signing up for a membership, call or text their front desk number: 702-888-2310.
Iron Addicts Gym
Yet another self-proclaimed hardcore gym, Iron Addicts located in South Las Vegas is affiliated with the CT Fletcher gym network. Their philosophy is simple and one that is appreciated by anyone serious about lifting: an "old school" environment where people can train how they want and need to train without fear of being kicked out for grunting or dropping weights.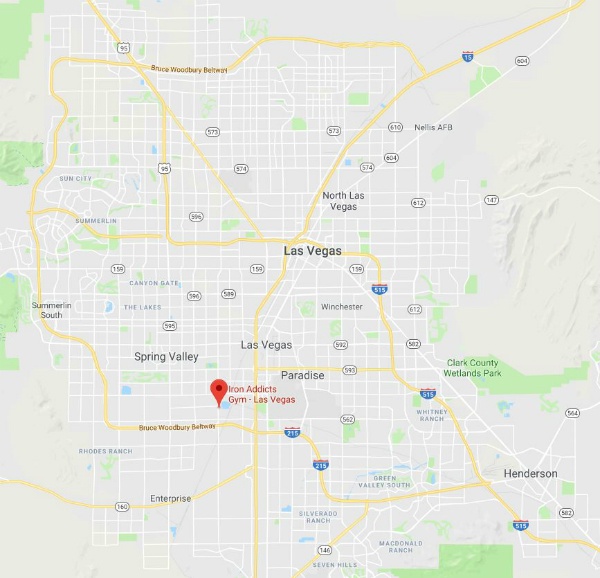 The common commercial gym practice of inhibiting gym-goers from carrying their bag with them is also shot down—they let you train with your gym bag by your side. Iron Addicts gym even goes so far as to turn away "traditional fluffers" who are only there to use their phones and carry on useless small talk between their superset of curls and Snapchat selfies.
They also have more than just high-quality gym equipment: their on-site Tendo unit is a highly-advanced velocity based training device that can provide real-time feedback of scientific rigor. If you ever imaged a machine designed specifically to evaluate your individual lifting mechanics and form—this is it.
There is also a detailed body composition machine present to provide highly-detailed feedback that goes beyond traditional BMI indexing to show you precisely where you are holding fat—and in what percentages.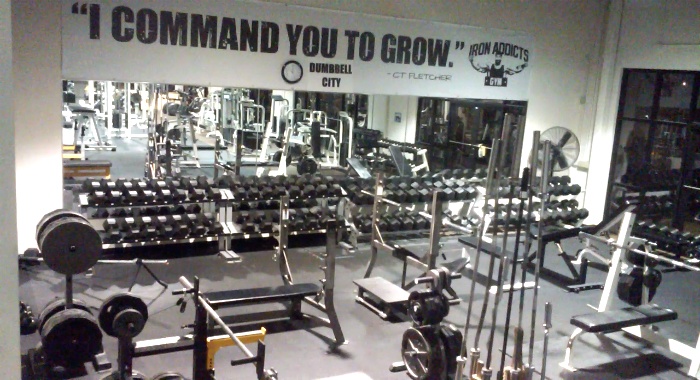 To top it off, their staff is comprised of people who are serious about strength sports, including a world-class powerlifting champion and senior national coach with over 40 years of training experience. And if pure strength is not your goal, they also cater to the general fitness crowd by providing dedicated Crossfit and cardio equipment.
While the pricing options are not listed on their site, several yelp posts confirm that a day session costs $20 while a membership costs just $25 per month with no contract. If you are interested in "testing out" a Las Vegas powerlifting gym before diving in head first, this non-contractual arrangement and reasonable price provides a clear way to do so.
Unfortunately, while the price and sign-up method are convenient, the gym is not open 24/7 and instead abides by a more traditional schedule:
Monday-Thursday: 7 a.m. to 10 p.m.
Friday: 7 a.m. to 9 p.m.
Saturday: 10 a.m. to 6 p.m.
Sunday: closed
You can contact gym staff to inquire about membership options using their front-desk number: 702-690-3041.
Average Bro's Gym by John Broz
Not exactly a powerlifting gym, Average Bro's Gym (ABG) caters specifically to olympic weightlifters in the area and is truly a one-of-a-kind training environment known for its intense atmosphere. Located in the southern part of Vegas, it is a quick drive from the strip. If you're flying into the McCarran International Airport it is a straight shot south on the famed Las Vegas boulevard.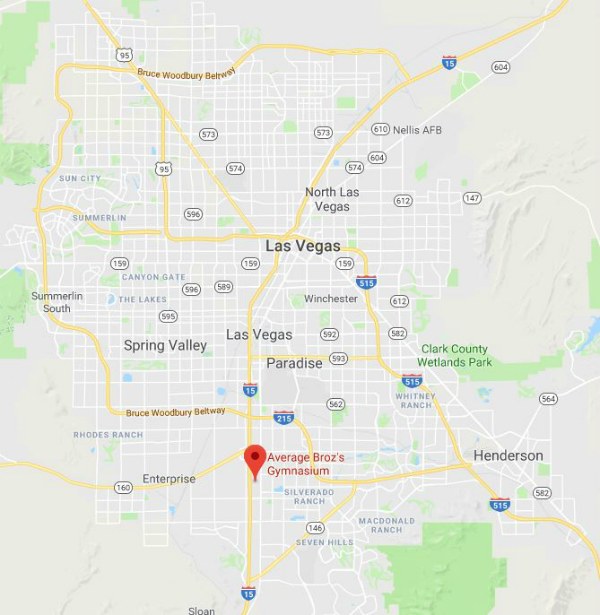 With that said, powerlifters and other strength athletes are more than welcome to train at the facility and draw from the seriously-motivating culture present.
Founded in 2007 by John Broz, the gym was founded heavily around the idea that a gym should be more than just a collection of barbells and weights—it should present a culture. According to John, "it's all about attitude." Turning away those with negativity and a poor attitude, John has sought to provide an awesome training facility to those in the area who are dedicated to training and not just motivated by ulterior reasons. To accomplish this, the gym has very clear rules established:
Be social: no music or headphones should be worn
Be respectful: do not walk on the equipment or step on the barbells and give attention to others' attempts
Remain organized: bars and their respective weights, racks, and platforms must all stay together
Protect the equipment: 5kg bumpers should be used only by themselves—use common sense
Be safe: clear all plates and weights from the lifting platform when not in use
Clean up: pick up after yourself and make sure the equipment is returned to its rightful home upon leaving
ENJOY: lift heavy weights, socialize with other athletes, learn new things, and have fun!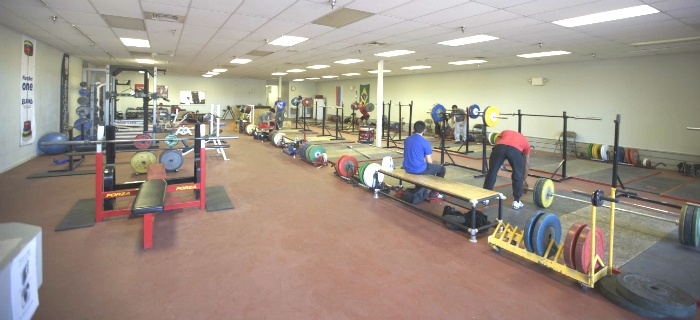 Anyone who has competed at the collegiate level or above in a strength sport can attest to these rules as the foundation of any practice. Edging one another on, fully attuned and present to the moment, provides a truly unbeatable training environment and one that has to be experienced to truly respect and appreciate.
The gym is open 365 days out of the year with times outlined on their website:
Monday-Friday: 9 a.m. to 9 p.m.
Saturday: 9 a.m. to 3 p.m.
Sunday: 9 a.m. to 1 p.m.
The price to lift definitely isn't cheap, but you get what you pay for and if you truly want a world-class lifting culture present while training, it makes sense to shell out a little extra. The pricing for a "normal" membership isn't clear on their website which is likely because they want to make sure you are a positive fit, but day passes start at $20. John Broz also offers additional services for those looking for something extra:
Intensive, week-long weightlifting seminar with accelerated coaching to improve weightlifting technique while learning from world-class coaches: $495
Personal coaching done on a 1:1 or 1:2 basis for a variety of strength sports including powerlifting and bodybuilding: $150
Body-fat testing done using an ultrasound machine which is both fast and extremely accurate: $20
Unlike the other gyms above, ABG invites anyone to show up during open gym hours. Additionally, an appointment can be scheduled if desired by calling their number: 702-530-7070.