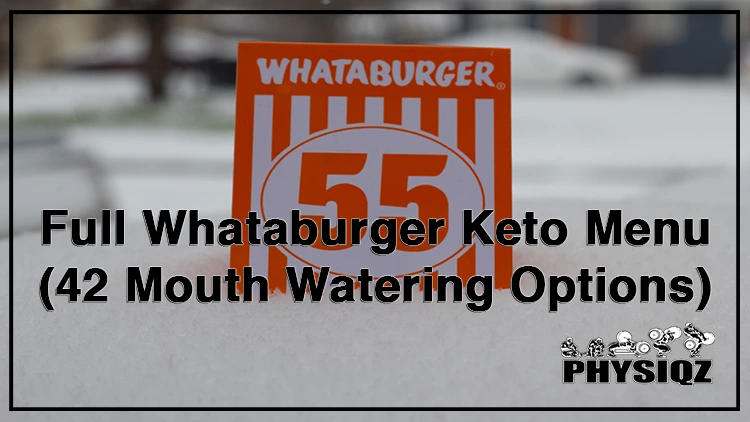 The Whataburger keto menu below contains the top 42 mouth watering breakfast, lunch and dinner options along with the amount of carbs in each.1
Along with the choices below, we'll review which items to avoid entirely, and go over some ordering tips like going without the bun, fries, and certain condiments so you can eat Whataburger without worrying about being kicked out of ketosis.
42 Whataburger Low Carb Menu Items (Everything Keto at Whataburger)
Those on the keto diet and wondering why am I only losing a pound a week might not be keeping their calories or carbs low enough to maintain both a caloric deficit and ketosis.
To help you stay within your daily carb limits, we have put together over 40 Whataburger keto menu items under 30 grams of net carbs each so you can save time in the drive thru or in line by referencing our list.
Though eating fast food too often may have negative health risks due to the relationship between ultra-processed foods and chronic diseases, it is fine to indulge once in a while; just don't overdo it when trying to lose weight because consuming ultra processed foods increases the likelihood of weight gain, obesity, depression, and overall mortality.3
That being said, check out the best go to options by Whataburger category below so you know exactly what to order and what to look forward to on your next visit.
Low Carb Breakfast Items
Even breakfast can be keto at Whataburger with these low carb mouthwatering taquitos and biscuit sandwich options that are loaded with flavor to start your day off on the right foot.
1. Taquito–Cheese & Bacon
28g Net Carbs
23g Fat
20g Protein
2. Taquito–Cheese & Chorizo
26g Net Carbs
28g Fat
19g Protein
3. Taquito–Cheese & Sausage
27g Net Carbs
26g Fat
19g Protein
4. Jalapeno Cheddar Biscuit Sandwich With Bacon
29g Net Carbs
32g Fat
19g Protein
Keto Breakfast A La Carte
If you prefer to order keto Whataburger breakfast menu items individually, we've got you covered with these a la carte biscuits, taquitos, grits and hash browns low in carbs but high in fats that are the ideal ratios for those on the keto diet.
5. Jalapeno Cheddar Biscuit
30g Net Carbs
18g Fat
6g Protein
6. Jalapeno Cheddar Biscuit With Sausage
30g Net Carbs
35g Fat
18g Protein
7. Jalapeno Cheddar Biscuit With Egg & Cheese
30g Net Carbs
28g Fat
16g Protein
8. Taquito With Bacon
28g Net Carbs
20g Fat
17g Protein
9. Taquito With Sausage
27g Net Carbs
23g Fat
16g Protein
10. Grits
21g Net Carbs
0.5g Fat
2g Protein
11. Hash Browns
19g Net Carbs
11g Fat
2g Protein
Keto Salads at Whataburger
With Whataburger salads, you can rest easy knowing you'll be able to enjoy crisp, refreshing options with or without added protein and maintain ketosis no matter which of the following you choose from.
As always, remember to keep an eye on carb counts of added dressings so they don't sneak up on you as these can be high carb culprits.
12. Cobb Salad
8g Net Carbs
21g Fat
20g Protein
13. Cobb Salad With Grilled Chicken
7g Net Carbs
23g Fat
44g Protein
14. Cobb Salad With Whatachick'n'
18g Net Carbs
31g Fat
45g Protein
15. Cobb Salad With Spicy Chicken
18g Net Carbs
32g Fat
43g Protein
16. Buffalo Ranch Chicken Salad With Grilled Chicken
9g Carbs
19g Fat
37g Protein
17. Buffalo Ranch Chicken Salad With Whatachick'n'
21g Net Carbs
27g Fat
38g Protein
18. Buffalo Ranch Chicken Salad With Spicy Chicken
20g Net Carbs
28g Fat
35g Protein
19. Garden Salad
5g Net Carbs
10g Fat
10g Protein
20. Garden Salad With Grilled Chicken
6g Net Carbs
12g Fat
34g Protein
21. Garden Salad With Whatachick'n'
17g Net Carbs
20g Fat
35g Protein
22. Garden Salad With Spicy Chicken
18g Net Carbs
21g Fat
32g Protein
Bunless Whataburgers
The main thing to be mindful of when ordering burgers while on the keto low carb diet is that no bun is the way to go.
By assessing standard hamburger bun nutrition we can see that they usually have 25g net carbs, whereas a Whataburger whole grain bun carries a massive 44g total carbs and 37g net carbs–enough to knock you out of ketosis with just the bun alone.4
That's why a bunless burger is a must at Whataburger for those in ketosis. With the bun, not a single Whataburger burger option is allowed but by skipping the added carbs, these savory burgers are back on the menu.
Try any of these burgers with a lettuce wrap for a healthier, crispy exterior that holds everything together.
23. Triple Meat Whataburger
21g Net Carbs
63g Fat
65g Protein
24. Jalapeno & Cheese Whataburger
22g Net Carbs
32g Fat
34g Protein
25. Bacon & Cheese Whataburger
21g Net Carbs
37g Fat
39g Protein
26. Avocado Bacon Burger
11g Net Carbs
52g Fat
37g Protein
Bunless Chicken Options at Whataburger
There are plenty of protein packed keto friendly Whataburger options in their chicken category but if you opt for one of their sandwiches, don't forget to skip the bun.
Each of the following are listed with their bun-less nutritional information so be sure to pass on that to avoid breaking ketosis. These chicken sandwiches, strips, bites, and fajita tacos have great sources of nutrients, vitamins, and protein.
27. Whatachick'n' Sandwich With Whatasauce
14g Net Carbs
22g Fat
32g Protein
28. Whatachick'n' With Mayonnaise
12g Net Carbs
28g Fat
32g Protein
29. Grilled Chicken Sandwich With Whatasauce
3g Net Carbs
14g Fat
32g Protein
30. Grilled Chicken With Mayonnaise
1g Net Carbs
20g Fat
32g Protein
31. Spicy Chicken Sandwich
9g Net Carbs
26g Fat
31g Protein
32. Whatachick'n' Strips (3)
29g Net Carbs
27g Fat
24g Protein
33. Whatachick'n' Bites (6)
23g Net Carbs
19g Fat
30g Protein
34. Chicken Fajita Taco
28g Net Carbs
11g Fat
29g Protein
Keto Friendly Sides
Anyone checking out this Whataburger keto menu and following the keto diet for weight loss is likely questioning can I eat French fries and lose weight? Though fries can be had in moderation on keto, Whataburger's fries and serving sizes are too carb heavy.
We will offer a caveat that if you split small fries with someone or save half for later, you'll be under 16g net carbs. Their fries do have gluten cross-contamination though, so those with gluten intolerance and wondering are Whataburger fries gluten free may want to pass on these.
For fully keto approved sides, check out these two choices:
35. Medium Onion Rings
29g Net Carbs
17g Fat
4g Protein
36. Apple Slices
7g Net Carbs
0g Fat
0g Protein
Keto Approved Dipping Sauces & Dressings
This isn't a full list of condiments, add-ons, sauces and dressings but can provide you with a few great low carb options. We're happy to report for those curious is ranch keto that yes, in moderation ranch is fine for keto.
Each of the following are by serving sizes of one pouch.
37. Buffalo Sauce
2g Net Carbs
1.5g Fat
0g Protein
38. Buttermilk Ranch
3g Net Carbs
25g Fat
1g Protein
39. Cream Gravy
8g Net Carbs
3g Fat
0g Protein
40. Creamy Pepper Sauce
4g Net Carbs
24g Fat
1g Protein
41. Jalapeno Ranch
2g Net Carbs
30g Fat
0g Protein
Dessert With Minimal Carbs
Though Whataburger low carb dessert options are unfortunately minimal unless shared or divided, they do have one option in the dessert category that can satisfy your sweet tooth and is still keto approved.
42. Fruit Chews
19g Net Carbs
0g Fat
1g Protein
How To Order a Keto Approved Meal at Whataburger
We'll walk you through plenty of tips, tricks, and advice to ensure you're prepared to order a great-tasting keto meal at Whataburger no matter what you're craving.
On the keto diet, unhealthy fast food should be kept to a minimum but we all want to splurge from time to time or enjoy the convenience. Just be sure not to swing through Whataburger's drive thru too often as eating fast food regularly may contribute to drastic weight gain, obesity, and over-consuming calories due to the large (and often inconsistent) serving sizes that make nutrition information difficult to properly measure or track.
Trans fats tend to be abundant in fast food as well and can be very damaging to one's body and overall health.6
That being said, Whataburger won't ruin ketosis or weight loss if enjoyed in moderation and only occasionally, so we will explain how to order a keto approved meal at Whataburger and keep carbs low.
Whataburger keto tips for ordering:
Ask for a water or a drink low in carbs and sugar
Avoid ketosis-breaking shakes and malts
Check carbs on sauces, condiments, and dressings
Opt out of "add ons" unless free of carbs as these can add up quickly
Pass on the dessert menu (with the exception of fruit chews)
Save carbs by skipping the bun on all burgers and sandwiches
High Carb Whataburger Menu Items To Avoid
Those questioning "what should I avoid at Whataburger when on the ketogenic diet" are best off checking the nutrition menu or our keto menu items above to ensure that what they're ordering is low carb and will not break ketosis, as the daily carb limit is just 30 to 50 grams of net carbs.
Even if working out 7 days a week and getting enough sleep, your body cannot function at its best or maintain ketosis without you being mindful of what you're putting into your body. Be sure to watch out for trans fats as these can cause chronic illness, cardiovascular disease, and fatty liver.
Instead, it's best to seek out unsaturated fats on keto as these can have positive health benefits especially in contrast to trans and saturated fats.7 One of the best sources of healthy unsaturated fat is avocado, so we recommend Whataburger's amazing avocado bacon burger.
Aside from trans fats and high carbs, Whataburger menu items that should be limited or avoided include:
Adding high carb sauces or dips
All burgers (unless ordered without a bun)
All shakes and malts
Every dessert except for fruit chews
Everything from the "Jr. All Time Favorites & Seasonal Sandwiches" category
The entire "All Time Favorites & Seasonal Sandwiches" section
Though Whataburger healthy options may seem hard to find, our condensed menu of the best low carb and delicious menu items can help you navigate ordering while enjoying plenty of the best Whataburger keto sides, salads, and sandwiches.
Frequently Asked Questions
What Are 4 Keto Whataburger Chicken Options With the Fewest Carbs?
The 4 best chicken dishes with the lowest carb counts are the Bunless Grilled Chicken Sandwich with mayo (1g net carbs), the same chicken sandwich but with Whatasauce and no bun (3g net carbs), the bunless Spicy Chicken Sandwich (9g net carbs), and the Whatachick'n' with mayo–don't forget to hold the bun (12g net carbs).
Are Any Whataburger Shakes or Malts Keto-Friendly?
Unfortunately none of Whataburger's shakes or malts are even close to being approved for keto, since just half of one would kick most people out of ketosis. The only truly ketogenic dessert item on the menu is the Fruit Chews.
However, we will say that the hot apple pie, chocolate chunk cookie and sugar cookie are all just over 30g net carbs so depending on your daily carb limit you could potentially enjoy one if you want to dedicate the whole day's carbs to one indulgent dessert or simply save half for tomorrow.
Are There Any Whataburger Burgers That Are Keto Compliant?
None of the Whataburger burgers are approved for the keto diet if ordered as they are, but there is good news: most burgers should be keto if bunless as Whataburger's buns are a whopping 37g net carbs each. Just be cautious with the sauce carb count but burgers are okay if you hold the bun.
1Tendaishe Gwini. "orange and white stop sign on white snow photo – Free Abilene …" Unsplash, 5 February 2020. Accessed 26 April 2023. <https://unsplash.com/photos/Wq5bLmHPTvU>
2mikeuk. (n.d.). Canva. Retrieved April 29, 2023, from <https://www.canva.com/photos/MAEEUSx4-so-fast-food-burger-and-fries/>
3Lane, M., Davis, J., Beattie, S., Gomez-Donoso, C., Loughman, A., O'Neil, A., Jacka, F., Berk, M., Page, R., Marx, W., & Rocks, T. (2020, November 9). Ultraprocessed food and chronic noncommunicable diseases: A systematic review and meta-analysis of 43 observational studies. Obesity Reviews, 22(3), e13146. <https://pubmed.ncbi.nlm.nih.gov/33167080/>
4U.S. Department of Agriculture. (2020, October 30). Roll, white, hamburger bun. Food Data Central. Retrieved March 21, 2023, from <https://fdc.nal.usda.gov/fdc-app.html#/food-details/1100687/nutrients>
5Start photographer, enjoy learning and editing photos. Thank you for your support! "Lettuce wrapped keto diet burger." Canva. Accessed 26 April 2023. <https://www.canva.com/photos/MADsaEWbyFI-lettuce-wrapped-keto-diet-burger/>
6Stender, S., Dyerberg, J., & Astrup, A. (2007, April 24). Fast food: unfriendly and unhealthy. International Journal of Obesity, 31(6), 887-890. <https://pubmed.ncbi.nlm.nih.gov/17452996/>
7Harvard School of Public Health. (2023). Emphasizing unsaturated fats on a ketogenic diet. The Nutrition Source. Retrieved March 21, 2023, from <https://www.hsph.harvard.edu/nutritionsource/2019/08/16/emphasizing-unsaturated-fats-keto-diet/>