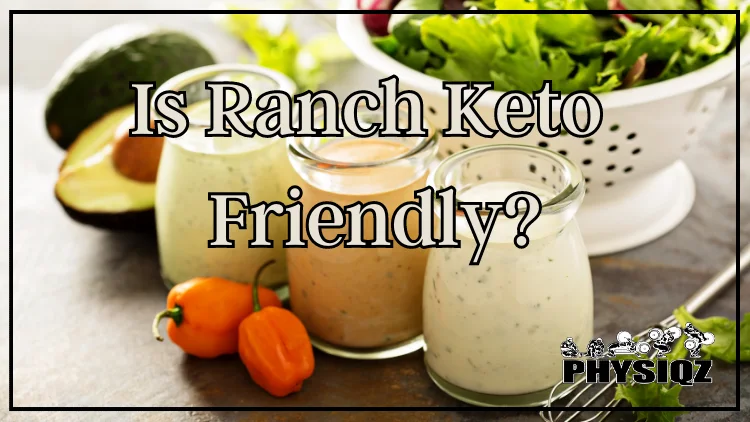 Is ranch keto friendly, or do certain brands of ranch like Hidden Valley have hidden carbs?
When dieting, especially on keto, it's important to inspect the nutritional label for added sugar, carbs, and even serving sizes to be sure ranch is actually keto.
Luckily, we'll cover whether or not ranch is keto, if certain brands are more keto than others, the carb contents of those brands, if ranch is a healthy option for weight loss diets, and even provide a homemade keto ranch recipe for keto-ers who prefer to have full control of the ingredients and carb contents of their ranch.
How Many Carbs Does Ranch Have?
The number of carbs in ranch depends on the brand and ingredients present. For example, buttermilk is a common ingredient in ranch dressings and that alone has a high carb content at 12 grams per serving. Additionally, added sugar can also contribute to a higher number of carbohydrates.
Brands and types made with buttermilk and sugar will have a higher carb content than those made without buttermilk and no added sugar. Looking at some of the most popular brands we can compare the net carb content for each serving size.
These brands are: Hidden Valley, Kraft, and Newman's Own.
Hidden Valley= 1 net carb per two tablespoons
Kraft= 2 net carbs per two tablespoons
Newman's Own= 2 net carbs per two tablespoons
Is Ranch Dressing Keto? Is Ranch Dressing Keto Friendly?
Sometimes yes, sometimes no. Is ranch keto depends on the amount of sugar, if buttermilk is used, and serving sizes. We will go over some of the best brands and other options that can make ranch keto-friendly such as light versions and homemade dressing.
It is important to keep in mind that the flavors of some of the light and low-fat ranch dressings may not be comparable to the original ranch but it is something each person can decide what works best for them.
When Is Ranch Keto Friendly
When someone is looking at the nutrition facts and ingredients, one will quickly be able to determine if the ranch dressing is keto-friendly. Some of the key things to look out for when making this determination are sugar content, the amount of buttermilk used and serving sizes.
Some of the most common ingredients in traditional ranch dressing are mayonnaise, eggs, and buttermilk which are all high in fat. Mayonnaise and eggs alone would fit into a keto diet due to the high-fat nature of the diet.1 Additionally, while the buttermilk is high in fat, it also is high in the number of carbs which would make buttermilk alone not a great keto-friendly option.
Unfortunately, most store-bought ranch dressings have added sugar and high amounts of buttermilk which contribute to higher carb content and potentially make the brand not be keto-friendly, unless enjoyed in a small amount.
When looking for a keto-friendly ranch dressing, one should check the sugar and fat content and the number of carbs.
One should also remain skeptical of light and low-fat options as those may have additional preservatives or other artificial ingredients that although may be keto-friendly, may not be a healthy option.
Additionally, it has been found that often low-fat options actually have higher sugar contents which could make the item no longer keto-approved.2
Is Lite or Sugar-Free Ranch Dressing Keto?
Again, it depends. When looking at lite and sugar-free ranch dressings, one still needs to be very aware when looking at the ingredients list as lite options can still be high in sugar. These options can also have a lot of added unhealthy ingredients and preservatives.
If the ingredient list is full of names you can't pronounce, one should be very weary about whether the product is keto-friendly or overall healthy.
There are some store-bought sugar-free and lite ranch dressings that would be keto-approved with an ingredient list full of good and healthy items. For example, Primal Kitchen has a ranch dressing that is made with avocado oil (which is another great keto-approved oil), is sugar and dairy free, with no artificial ingredients.
This could be a great keto-approved and healthy ranch dressing to try out.
Is Hidden Valley Ranch Dressing Keto Friendly?
Hidden Valley Ranch Dressing is one of the most popular brands people recognize and often what they first think of when looking for a ranch dressing. So it makes sense that one on the keto diet would wonder, is Hidden Valley Ranch Dressing keto-friendly?
When looking at the nutrition label of a hidden valley ranch bottle at first glance due to its low carb count of 2 carbs per 2 tablespoons it would be keto-approved.
But, it is essential to note that the dressing does have sugar and buttermilk which can contribute to higher carb content.
Additionally, the carb count could significantly increase if more than 1 serving size of the dressing is consumed so one needs to remain mindful and aware of how much ranch they intend to consume to ensure it would fit into their keto diet plan.
Is Ranch Healthy on a Diet? Is It Bad or Good for Weight Loss?
Alongside wondering is ranch keto, one may also question if it's a healthy option and good for weight loss. Ranch dressing is something that can be enjoyed while on a diet and losing weight but it needs to be done mindfully and in moderation.
When choosing a condiment while on a diet and pursuing weight loss there are a few different things to consider from total calories to ingredients present.
The biggest red flag one will see with ranch dressing is it has a fairly high caloric density. When the goal is weight loss, it is imperative to remain in a calorie deficit and include a wide range of healthy foods to see the number on the scale move down.
Additionally, saturated fats are present in most store-bought ranch dressings which can be difficult for the body to metabolize which could lead to weight gain. Furthermore, the consumption of saturated fats has been shown to lead to a greater risk of coronary heart disease.3
Choosing a well balanced diet with the healthier fats of unsaturated and monounsaturated fats would be a great option to ensure one is following a health conscious diet plan.
Below we will break down the nutrition information and ingredient list of the popular ranch brand: Hidden Valley.
Hidden Valley Ranch Nutrition Information:
Ingredients:
Vegetable Oil (Soybean and/or Canola
Water
Buttermilk
Sugar
Salt
Natural Flavors
Egg Yolk
Vinegar
Spices: Dried Garlic and Dried Onion
Corn Starch
Xanthan Gum
Citric Acid
Natamycin and Mixed Tocopherols (Vitamin E) Added to preserve freshness
Nutrition Facts (for serving size of 2 tablespoons (30mL)):
Calories: 110
Fat: 12g
Saturated fat: 1.5g
Trans fat: 0g
Cholesterol: 5mg
Sodium: 240mg
Total Carbohydrate: 2g
Fiber: 0g
Total Sugars: 1g
Protein: 0g
Vitamin D: 0mg 0%
Calcium: 9mg 0%
Iron: 0mg 0%
Potassium: 17mg 0%
When looking at the ingredients list of the ranch dressing, what stands out as a potential red flag for an unhealthy ingredient would be the vegetable oil.
When looking for a keto-approved dressing, it would be ideal to find one that has a healthier oil that has a wide range of health benefits alongside being composed of a greater amount of unsaturated or monounsaturated fats such as avocado oil or olive oil.
The sugar found in ranch dressing will also contribute to higher carb content and consumption of sugar has been linked to weight gain and obesity.4
Additionally, buttermilk being present can contribute to a higher carb amount so one following a keto diet plan should look for a ranch dressing that doesn't use buttermilk or remain very conscious of the amount of the dressing they are consuming.
The amount of sodium present in the serving size is also something to make note of. At 240mg of sodium per 2 tablespoons, it can quickly add up. The recommended daily sodium intake per the Dietary Guidelines for Americans is 2,300mg per day.
In conclusion, things to look out for when choosing a ranch dressing brand and deciding whether to include it in your weight loss diet plan are the number of calories present, sodium, sugar, and fat content.
Specifically, when following a keto plan and determining is ranch keto, remain mindful of whether or not buttermilk is present. While looking at the nutrition information for 1 serving size, ranch dressing would fit into a keto diet but it is important to enjoy it mindfully and in moderation.
Keto-Approved Ranch Dressing Brands
With ranch being such a popular dressing and dipping sauce, there is a wide range of brands one could find at their local grocery store that will be keto-approved. Some of the following options include ranch dressings made from olive oil and avocado oil.
There are some that are sugar-free and even some have zero net carbs per serving which make all of the brands on this list great keto-friendly options!
Tessemae's Organic Creamy Ranch Dressing= 1 net carb per two tbsp
Primal Kitchen Ranch Dressing and Marinade with Avocado Oil= 2 net carbs per two tbsp
Bolthouse Farms Classic Ranch Yogurt Dressing= 3 net carbs per two tbsp
Walden Farms Ranch Dressing= 0 net carbs per two tbsp
Newman's Own Avocado Oil & Extra Virgin Olive Oil Dairy Free Ranch= 0 net carbs per two tbsp
How To Make Keto Friendly Ranch Dressing at Home
When choosing foods while on a keto diet the only way to be sure of all of the ingredients and nutrition information is to make it homemade. A keto ranch dressing trick is turning to homemade to make sure one has total control of what they are consuming.
Below is a quick and easy homemade keto-approved ranch dressing. This can be used as a tasty dipping sauce for veggies, enjoyed with keto-friendly wings, or make a great dressing for salad.
The recipe makes 12 servings. 1 serving size is 2 tablespoons.
Ingredients
1 cup mayonnaise (pro tip: choose a mayonnaise made with avocado or olive oil)
½ cup sour cream (for a higher protein option sub plain greek yogurt)
½ cup heavy cream (for a dairy-free option use unsweetened almond milk)
2 teaspoons lemon juice
1 teaspoon dried dill
1 teaspoon dried chives
1 teaspoon garlic powder
1 teaspoon onion powder
Sea salt and black pepper to taste
Instructions & Steps
This dressing is very quick and easy to make and should take less than 5 minutes. There are 2 options to prepare the ranch.

Blender: Add all of the ingredients to a blender and blend on low until all of the ingredients are completely mixed.
Mason jar: Add all of the ingredients to a mason jar and shake until everything is well mixed.

While the keto-approved homemade ranch dressing can be enjoyed immediately, put it in the refrigerator for at least 30 minutes for the ranch to thicken and to allow the flavors to all come through.
Nutritional information
A study has shown that there is a relationship between self-reported nutritional factors and weight loss so remaining mindful of nutrition information can have a lot of benefits when weight loss is the goal.5
Below is a breakdown of the nutritional information for the homemade keto-approved ranch dressing. With this homemade ranch dressing having only 1.5 grams of net carbs per serving one won't have to question is ranch keto and can enjoy!
The recipe makes 12 servings and the nutrition information below is for 1 serving size which is 2 tablespoons.
Calories: 126
Carbs: 1.7g
Net Carbs: 1.5g
Fat: 12.7g
Sugar: 1g
Protein: 0.5g
Fiber: 0.2g
Sodium: 162mg
Ranch dressing is a popular, fan favorite condiment that's used for a topping on salads, dipping sauces for veggies and wings, and so much more. Enjoying a homemade ranch and being aware of the ingredients of store-bought options is a sure fire way to no longer wonder is ranch keto.
Frequently Asked Questions About Is Ranch Keto?
Buttermilk Ranch: Is It Keto?
Buttermilk by itself would not be keto-friendly because of the high number of carbohydrates present at 12 grams per serving and the added sugar. Ranch dressing containing buttermilk often will have a higher carb content because of this so while it could be keto-friendly, it needs to be enjoyed in moderation to make sure you don't exceed your carb count for the day and knock yourself out of ketosis. 
Is Kraft Ranch Keto Approved?
Kraft ranch contains 2 grams of net carbs and 11 grams of fat per 2 tablespoons so if one is able to stick to 1 serving size kraft ranch is something that could fit into a keto meal plan.
1Masood, W., Annamaraju, P., & Uppaluri, K. R. (2022). Ketogenic Diet. StatPearls. <https://www.ncbi.nlm.nih.gov/books/NBK499830/>
2Nguyen, P. K., Lin, S., & Heidenreich, P. (2016). A systematic comparison of sugar content in low-fat vs regular versions of food. Nutrition & Diabetes, 6(1). <https://www.ncbi.nlm.nih.gov/pmc/articles/PMC4742721/>
3Yanping, L., Hruby, A., Bernstein, A. M., Ley, S. H., Wang, D. D., Chiuve, S. E., Sampson, L., Rexrode, K. M., Rimm, E. B., Willett, W. C., & Hu, F. B. (2015). Saturated Fat as Compared With Unsaturated Fats and Sources of Carbohydrates in Relation to Risk of Coronary Heart Disease: A Prospective Cohort Study. National Library of Medicine, 66(14), 1538-1548. <https://www.ncbi.nlm.nih.gov/pmc/articles/PMC4593072/>
4Malik, V. S., Schulze, M. B., & Hu, F. B. (2006). Intake of sugar-sweetened beverages and weight gain: a systematic review. <https://pubmed.ncbi.nlm.nih.gov/16895873/>
5Mitchell, E. S., Yang, Q., Ho, A. S., Behr, H., May, C. N., DeLuca, L., & Michaelides, A. (2021). Self-Reported Nutritional Factors Are Associated with Weight Loss at 18 Months in a Self-Managed Commercial Program with Food Categorization System: Observational Study. Nutrients, 13(5), 1733. <https://www.ncbi.nlm.nih.gov/pmc/articles/PMC8160976/>