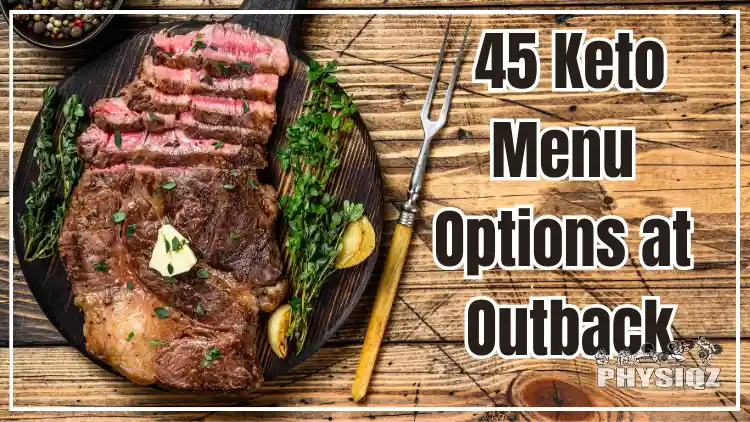 Eating keto at Outback Steakhouse doesn't have to be complicated, simply choose from these 45 menu options seen here to take the guess work out of it.1
Below you will find every single low carb Outback Steakhouse option along with the amount of carbs in each, from appetizers and main courses, to sides and dessert.
Aside from offering the full ketogenic menu, we'll explain how to make your order keto compliant with several tips and tricks that minimize the amount of carbs in certain dishes so you don't have to be worried about being kicked out of ketosis. There is also a sample order for those who can't decide what to choose!
Are There Suitable Low Carb Keto Outback Steakhouse Options?
The keto diet guidelines call for a daily carb limit of 30-50 grams of net carbs per day and thankfully Outback Steakhouse has dozens of menu items (even without including the drink menu) that fit within just 30g net carbs each to ensure you remain under the lower limit of that range.
The following compiled list of Outback's low carb keto options can be very beneficial to one's health. A review of keto, physical activity and body composition and their impact on each other determined that limiting carbs and focusing on high fat and moderate protein consumption can effectively prevent or decrease negative effects of many diseases.
Ketosis is effective in preventing these diseases and health conditions by lowering total body mass and specifically fat mass. The keto diet can likely help one avoid these long term and potentially life threatening health issues such as heart disease, heart attacks, strokes, and sleep apnea even more efficiently than low fat diets can.2
Furthermore–since Outback is obviously known for their steaks–it's important to note the role of meat in a healthy diet. Though red meat was long believed to be unhealthy, the data used to make such an assessment is weak, unfounded, and unconfirmed by further research.
Instead, red meat is extremely rich in vitamins, minerals, nutrients, amino acids, and protein–iron, zinc, and vitamin A are especially abundant.4
45 Outback Keto Menu Items (Everything Keto at Outback)
For anyone stressed about ordering keto at Outback Steakhouse or knowing what's low carb and what isn't, feel free to reference our compiled list of keto Outback options in every category before you head to dinner or even at the table. That way you'll always be prepared and won't risk getting bumped out of ketosis.
Keto Approved Aussie-Tizers
Let's begin with which appetizers or more aptly named "Aussie-Tizers" are keto at Outback Steakhouse. Unfortunately though the calories in Outback bread are reasonable at 370 per serving, the carbs in that single serving can bump you out of ketosis instantly so the table bread should be skipped on keto.
Those wondering are chicken wings good for weight loss may be surprised to learn that the wings are lowest in fat but since fat is needed on keto and each flavor has over 45 net carbs per serving, those on keto should pass on the wings as well. Thankfully the following two Aussie-Tizers are fully ketogenic:
1. Grilled Shrimp on the Barbie (26g Net Carbs)
2. Seared Peppered Ahi (27g Net Carbs)
Ketogenic Soups & Side Salads & Side Salad Dressings
Anyone questioning how can I slim down in 10 days would benefit from checking out the light and refreshing soup and salad keto options at Outback as they'll each provide filling ingredients packed with nutrients without adding many carbs or calories.
3. Tasmanian Chili Crock (5g Net Carbs)
4. House Salad Without Dressing (8g Net Carbs)
5. Caesar Salad With Caesar Dressing (7g Net Carbs)
6. Blue Cheese Wedge & 6 oz. Sirloin (8g Net Carbs)
So Many Ways to Steak (Keto Friendly)
Though the reputation of red meat consumption and chronic disease is very negative, that myth has since been debunked; steak and other red meats are absolutely packed with health benefits from protein to vitamins and nutrients–plus all of the options listed below are both low carb and keto friendly.5
7. Victoria's Filet Mignon 11 oz. (1g Net Carbs)
8. Outback Center Cut Sirloin 12 oz. (1g Net Carbs)
9. Ribeye 15 oz. (1g Net Carbs)
10. Classic Prime Rib 24 oz. (0g Net Carbs)
11. Outback Style Prime Rib w/ Au Jus & Creamy Horseradish 16 oz. (9g Net Carbs)
12. Bone In Ribeye 18 oz. (3g Net Carbs)
13. Prime NY Strip 16 oz. (0g Net Carbs)
14. Melbourne Porterhouse 22 oz. (1g Net Carbs)
Keto Compliant Steak 'N' Mate Combos
Meat and fish are staples of the keto diet and Outback Steakhouse has plenty of great tasting choices that make it hard to pick just one–thankfully you don't have to with these combos.
15. Sirloin 8 oz. & 5 oz. Grilled Chicken (18g Net Carbs)
16. Sirloin 12 oz. & ½ Rack Ribs (26g Net Carbs)
17. Ribeye 15 oz. & 4 Grilled Shrimp on the Barbie (26g Net Carbs)
18. Filet 9 oz. & Lobster Tail (3g Net Carbs)
Keto Steakhouse Potatoes
Keto meals often exclude potatoes because starches are loaded with carbs, but thankfully the
Outback keto menu does have one option. If you're wondering are mashed potatoes good for weight loss, they are nutrient rich and low calorie; just be careful with added condiments.
19. Homestyle Mashed Potatoes (25g Net Carbs)
Classic Low Carb Sides
Some keto approved, fresh and low carb vegetables are listed below and make for great sides to a heavier meal–not to mention being full of healthy and rejuvenating vitamins and nutrients.
20. Fresh Mixed Veggies (11g Net Carbs)
21. Green Beans (6g Net Carbs)
22. Broccoli (8g Net Carbs)
23. Seasonal Veggies (9g Net Carbs)
Premium Keto Approved Sides
Even the premium sides at Outback are keto friendly. It helps that they are each seasoned perfectly and very satisfying.
24. Loaded Mashed Potatoes (18g Net Carbs)
25. Creamed Spinach (18g Net Carbs)
26. Asparagus (3g Net Carbs)
The Ketogenic "Not" Steaks
Those who opt for something other than steak don't have to go hungry at Outback Steakhouse with several amazing and low carb main course variations to choose from.
27. Bloomin' Fried Chicken (26g Net Carbs)
28. 2 Caramel Mustard Glazed Pork Chops (18g Net Carbs)
29. Outback Ribs ½ Rack (25g Net Carbs)
30. Alice Springs Chicken (12g Net Carbs)
31. 2 Grilled Pork Chops (24g Net Carbs)
Keto From the Sea
Not only are these fish options ketogenic, but they are perfectly prepared to satisfy your hunger and taste buds without worrying about the carbs.
32. Toowoomba Salmon (6g Net Carbs)
33. Perfect Grilled Salmon (1g Net Carbs)
34. Lobster Tails (0g Net Carbs)
35. Grilled Shrimp on the Barbie (2g Net Carbs)
Big Bowl Salads That Won't Break Ketosis
Those who are on keto at Outback certainly aren't restricted to the salad section but they do have low carb options so you won't be kicked out of ketosis with any of the following. Not only is ranch keto in moderation, but Outback's ranch is extra creamy and delectable.
Just be aware of the caveat that some of their other dressings or add-ons can add up carbs quickly.
36. Aussie Cobb (13g Net Carbs)
37. Brisbane Caesar w/ Dressing & Shrimp (2g Net Carbs)
38. Ranch Dressing–2 oz. (2g Net Carbs)
39. Blue Cheese Dressing–2 oz. (1g Net Carbs)
40. Caesar Dressing–2 oz. (2g Net Carbs)
Keto Lunch Choices
Outback's lunch menu doesn't disappoint–these four tasty choices are protein-heavy and will keep you energized and full without breaking ketosis.
41. Chicken on the Barbie–5 oz. (17g Net Carbs)
42. Grilled Shrimp on the Barbie–6 Each (26g Net Carbs)
43. Alice Springs Chicken–5 oz. (10g Net Carbs)
44. Bloomin' Fried Chicken–Lunch (13g Net Carbs)
Low Carb Sweet Finish
Outback Steakhouse only has one low carb dessert but we can't even be too upset about it since their indulgent chocolate tower is keto compliant.
45. Chocolate Tower (12g Net Carbs)
How To Make Your Order Keto Compliant at Outback (Low Carb Tips & Tricks To Maintain Ketosis)
There are several ways to ensure your order is within keto guidelines and daily carb limits when dining at Outback Steakhouse or getting takeout. Aside from clean eating, regular exercise, and practicing weight loss affirmations, practical ways to lose weight and maintain ketosis include being mindful of checking nutritional information on all foods and drinks (including condiments) and tracking net carbs to ensure ketosis is not broken.
Those on keto at Outback should also be aware of the risks of sugary drinks as these can deteriorate mental health in teens and young adults and increase both stress and depression.6 Sugar loaded drinks and trans fats can also lead to early heart disease, heart attacks and cancer in addition to raising the glycemic index (blood sugar), often breaking ketosis.
Therefore, it is always wise to check the nutrition menu before going or reference our Outback keto menu above. Though it's not an exhaustive menu of every single keto approved item, it can provide a great starting point for meal ideas.
Other tips and tricks for eating keto at Outback Steakhouse include:
Ordering meats dry (as sauces are often packed with sugar and carbs)
Choosing low carb salads, fish or meats for the main course
Passing on or minimizing appetizers and desserts
Opting for low carb sides like veggies and side salads
Using keto friendly dressings
Sharing a carb heavy dish or saving half for the following day
High Carb Dishes, Drinks & Sides To Avoid at Outback Steakhouse
It can be tough to determine what to avoid at Outback Steakhouse when on the keto diet, so we created the following guidelines to make it easier. Try to avoid the following when in ketosis:
Alcohol
Appetizers (Unless Shared)
Desserts (Except for the Chocolate Tower)
High Carb, Sugary Salad Dressings, Sauces and Condiments
Overly Sweet Soft Drinks
Starchy, Carb Loaded Potatoes
Low Carb Sample Order at Outback
If you have made it this far and remain unsure of what to choose, try out one of our low carb sample orders at Outback Steakhouse that we've carefully curated for you.
Our first keto meal option is a massive 24 oz. Classic Prime Rib or 22 oz. Melbourne Porterhouse with a Brisbane Caesar Salad with dressing and shrimp for a total of just 2-3g net carbs.
If that's not quite what you're craving, we suggest you check out the 9 oz. Filet & Lobster Tail or with a side of asparagus for a mere 6g net carbs.
A third keto meal option for seafood lovers would be the Perfect Grilled Salmon and Lobster Tails duo at 1g net carbs.
Now that you're equipped with the essentials for how to keep your order low carb, keto friendly and flavorful, we hope you enjoy trying out the best of what's keto at Outback.
Frequently Asked Questions
What Are the 3 Lowest Carb Entrees at Outback Steakhouse?
The top 3 lowest carb entrees at Outback Steakhouse are the Classic Prime Rib (0g net carbs), the Prime NY Strip (0g net carbs), and the Perfect Grilled Salmon (1g net carbs). There are plenty of other entrees for just a few net carbs as well.
Are All of the Outback Soups and Side Salads Keto Approved?
Outback keto menu options include all soups and side salads except for the baked potato soup bowl and French onion soup–though the baked potato soup cup is just within the daily keto carb limit if you choose to use your entire carb allowance for the day on soup.
Can I Order Dessert at Outback Steakhouse Without Being Kicked Out of Ketosis?
Yes, having dessert at Outback is an option even for those on keto, but you will be limited to the Chocolate Tower (not a bad limit, eh?) unless you split another dessert choice with someone to decrease the carb count.
Does Outback Steakhouse Have Any Low Carb Alcoholic Beverages?
Outback Steakhouse actually has a lot of keto friendly drinks of both the non-alcoholic and alcoholic varieties.
Some of our top recommendations are Heineken Light (0g net carbs), Kentucky Bourbon Barrel (<1g net carbs), Blueberry Desert Pear Burst Cocktail (0g net carbs), or the Outback Manhattan (<4g net carbs).
However, there are hundreds of drinks that are low carb at Outback so be sure to review the nutritional menu before your next visit.
1Изображения пользователя Vladimir Mironov. "Grilled Ribeye Steak." Canva. Accessed 26 April 2023. <https://www.canva.com/photos/MAEQ5OWVz0Y-grilled-ribeye-steak/>
2Ashtary-Larky, D., Bagheri, R., Bavi, H., Baker, J., Moro, T., Mancin, L., & Paoli, A. (2021, 12 July). Ketogenic diets, physical activity and body composition: a review. The British Journal of Nutrition, 127(12), 1898-1920. <https://www.ncbi.nlm.nih.gov/pmc/articles/PMC9244428/>
3Alena Haurylik. "Steak with mashed potatoes and broccoli." Canva. Accessed 26 April 2023. <https://www.canva.com/photos/MAD30XEhKWw-steak-with-mashed-potatoes-and-broccoli/>
4Klurfeld, D. (2018, July 7). What is the role of meat in a healthy diet? Animal Frontiers, 8(3), 5-10. <https://www.ncbi.nlm.nih.gov/pmc/articles/PMC7015455/>
5Giromini, C., & Givens, D. (2022, July 12). Benefits and Risks Associated with Meat Consumption during Key Life Processes and in Relation to the Risk of Chronic Diseases. Foods, 11(14), 2063. <https://www.ncbi.nlm.nih.gov/pmc/articles/PMC9318327/>
6Ra, J. (2022, December 22). Consumption of sugar-sweetened beverages and fast foods deteriorates adolescents' mental health. Frontiers in Nutrition, 9. <https://www.ncbi.nlm.nih.gov/pmc/articles/PMC9817134/>
7Jancouver. "Steak and Lobster." Canva. Accessed 26 April 2023. <https://www.canva.com/photos/MAEJF-rgVuY-steak-and-lobster/>