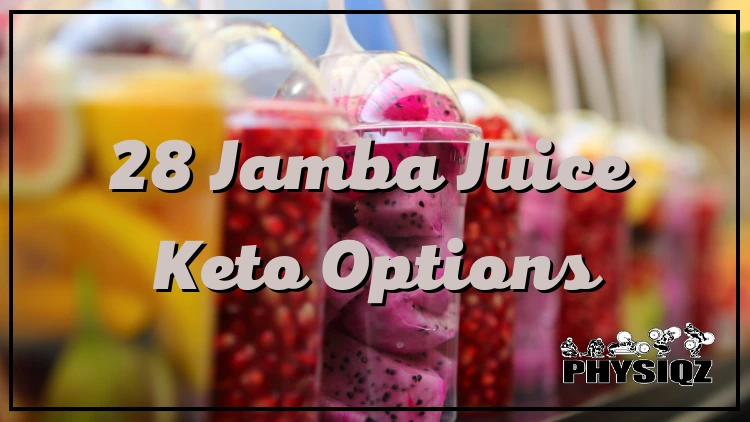 When eating at Jamba Juice, keto or not, avoiding sugar is in everyone's best interest and even more so on a low carb diet.8
However, the popular smoothie shop has 28 keto options that can be eaten and there's even 2 smoothies that are keto-ish.
Of course, eating keto isn't always easy but luckily we've compiled the best low carb Jamba Juice menu items to take the guess work out of it — although some menu items should be chosen and eaten with caution since many are a days worth of carbohydrates.
Is Jamba Juice Keto Friendly?
While fruit smoothies can be an excellent source of micronutrients, they are typically high in sugar and low in fat and protein – not exactly keto-friendly.1 For this reason, low-carb Jamba Juice options are limited.
Even if you order a small size, their Classic smoothies have between 50-80 grams of net carbs each!
To stay in ketosis, it's important to limit total daily carbs to 50 grams. In order to stay healthy, those 50 grams of carbs need to be 'spent' on foods that are rich in micronutrients and fiber.
This is of particular importance because low-carb diets are at greater risk of being nutritionally inadequate in terms of fiber, necessary vitamins, minerals, and iron.2 While Jamba Juice smoothies aren't totally lacking in nutrition, there are probably better options.
That being said, we understand that sometimes, you don't get to pick where you eat. If you're heading to Jamba Juice with friends, family, or coworkers, here are 28 delicious options you can order that won't wreck your keto progress.
Wondering about the nutrition content of other popular shakes? Learn more about HerbaLife shakes carbs here.
28 Keto Options at Jamba Juice (Tastiest Low Carb Menu Items)
Let's dial in on the best Jamba Juice keto choices in every menu category. Items are ranked in order from fewest to most carbs within each category.
Check out is Vitamin Water keto for more information on bottled keto drinks that may be available at your Jamba Juice location.
Iced Beverages
Jamba juice is known for their smoothies but truth be told, their caffeinated drinks are absolutely delicious and caffeine is also an appetite suppressant.
1. Gotcha Matcha (Medium)
70 calories

6g net carbs

5g fat
4g protein
If you enjoy the grassy, fresh taste of matcha, this delicious low calorie drink provides a nice boost of caffeine! Plus, research shows that regularly drinking matcha can boost cognitive function and reduce the risk of disease.3
2. Bold 'n Cold Brew (Medium)
45 calories

9g net carbs

0g fat
0g protein
This simple cold brew is lightly sweetened with agave nectar (5 grams total sugar content). You can order it without any sweetener and add your own keto-friendly sweetener after the fact to cut back on the sugar content. This is probably the best approach, as agave nectar has a high glycemic load.
3. Gotcha Matcha With Sweet Cloud Whip (Medium)
160 calories

19g net carbs

7g fat
4g protein
Jamba Juice makes their own creamy plant-based coconut milk whip. It's lightly sweetened, so it can fit within a keto diet with some planning. For this drink, they mix Gotcha Matcha with Sweet Cloud Whip to make a delicious iced matcha latte.
4. Bold 'n Cold Brew With Sweet Cloud Whip (Medium)
140 calories

23g net carbs

7g fat
0g protein
With 23 grams of net carbs, this is the iced drink that's the least keto-friendly. Ordering it without the added agave will save 2 grams of net carbs.
Bowls
Currently, there are no Jamba Juice keto bowls. While omitting high-carb toppings like granola and bananas might bring the carb count under 50 grams, there is no customizable nutrition information available on their website currently.
Order with caution! Try upping the ice or frozen ingredients in a keto smoothie recipe to create a thicker texture, then add keto-friendly toppings like coconut flakes and toasted nuts to make your own keto bowl at home.
But for those on the go, looking for a quick and easy order, you may look at Cava keto friendly bowls instead.
Fresh Juice N' Shots
These shots pack a powerful punch of vitamins, minerals and phytonutrients and are some of the lowest carb items on the menu.
5. Wheatgrass Shot
10 calories

1g net carbs

0g fat
1g protein
Freshly juiced wheatgrass is a great plant-based source of iron. While the flavor is definitely vegetal, if you take it like an actual shot it's not so bad!
6. Ginger Lemon Cayenne Shot
15 calories

4g net carbs

0g fat
1g protein
This spicy juice shot may improve immune health. Fresh lemon, ginger root, and cayenne pepper make for a bracing, refreshing flavor combo.
7. Ginger Orange Cayenne Shot
25 calories

6g net carbs

0g fat
1g protein
A little bit milder than the previous option, orange juice replaces lemon juice in this shot.
8. Purely Carrot™ (Small) –
180 calories

30g net carbs

1g fat
4g protein
This vivid orange juice is made with one ingredient – carrots! It's a great source of fiber, vitamin A, and vitamin K. If you love the flavor and natural sweetness of carrots, you will enjoy this juice.
9. Great Greens (Small)
140 calories

30g net carbs

1g fat
4g protein
Green juice is a great source of micronutrients. This blend includes spinach, cucumber, apples, and lemon. Spinach has a mild flavor, so it's barely discernible in this drink.
10. Veggie Vitality (Small)
190 calories

36g net carbs

1g fat
4g protein
The classic combo of apple, spinach, and carrot squeezed juices is a perennial, well-balanced favorite.
11. Orange Carrot Twist™ (Small)
200 calories

41g net carbs

1g fat
4g protein
If the flavor of straight carrots is too overwhelming, try this carrot orange blend. It's sweet, tart, and earthy. It's also a great source of vitamin C!
12. Cucumber Orange Cooler (Small)
190 calories

44g net carbs

1g fat
3g protein
Made with oranges, apples. cucumbers, and lemon, this fruit and veggie blend is tart and rejuvenating.
Grab N' Go
In a rush? Jamba Juice's keto Grab N' Go items are a great way to avoid long service times and start your day while still remaining in ketosis.
13. Honest™ – Green Tea
35 calories

9g net carbs

0g fat
0g protein
Choose this bottled organic green tea, slightly sweetened with honey, if your Jamba Juice location doesn't carry Gotcha Matcha (which is slightly more keto-friendly).
14. Honest™ – Half and Half
50 calories

12g net carbs

0g fat
0g protein
This bottled mixture of organic unsweetened iced tea and lemonade is a moderately sweet beverage choice with a nice little boost of caffeine.
15. Off the Eaten Path Chickpea Veggie Crisps
130 calories

15g net carbs

4.5g fat
4g protein
Flavored with purple sweet potato and green peas, this unique type of chips is a relatively healthy choice if you're craving something crunchy and salty.
16. Off the Eaten Path Hummus Crisps
130 calories

16g net carbs

5g fat
3g protein
Compared to other chips, these crisps, made with chickpea flour, aren't too high-carb. They boast a wonderful Rosemary & Olive Oil flavor.
17. Siren Lemon Poppy Seed Protein Bites
220 calories

17g net carbs

12g fat
10g protein
As far as keto ways to scratch a lemon poppy seed craving, these bites aren't too bad!
18. Siren Brownie Protein Bites
210 calories

17g net carbs

11g fat
10g protein
These vegan protein bites are chewy, chocolatey, and sweetened with monk fruit, which is a keto-approved sweetener.
19. 88 Acres Dark Chocolate Sea Salt Bar
200 calories

19g net carbs

11g fat
6g protein
Craving chocolate? This seed and oat bar includes both organic dark chocolate and organic cocoa butter for an indulgent, authentic chocolate flavor.
20. 88 Acres Triple Berry Crumble Bar
190 calories

20g net carbs

9g fat
6g protein
Surprisingly keto-friendly, this seed and oat bar is a good Jamba Juice keto snack. It's made with sunflower seeds, pumpkin seeds, and flaxseeds, all excellent plant-based fat sources.
Handwiches
Handwiches are ideal for sandwich lovers and surprisingly, their bread doesn't have too many carbs.
21. Classic Sausage, Egg + Cheese
320 calories

13g net carbs

23g fat
12g protein
It's rare to find a sandwich that's keto with the bread, but this breakfast sandwich has a surprisingly good nutrition profile. It's made with sausage, eggs, white cheddar, and a sprouted grain bun.
22. Impossible™
220 calories

14g net carbs

12g fat
11g protein
While the sausage sandwich will give you more fat, this plant-based version is still a great option as well.
Egg Bakes
Eggs are a staple breakfast food that contains plenty of protein, nearly no carbs by themselves, and healthy fats. Thus, you can eat Jamba Juice's Egg Bakes guilt free.
23. Spring Veggie
200 calories

7g net carbs

14g fat
10g protein
This sous vide style egg bite, made with eggs, greek yogurt, montamore cheese, artichoke hearts, and red bell peppers, is both tasty and one of the most keto-friendly items on the menu.
Baked Goods
It's rare you see wraps and waffles on a keto menu, but Jamba Juice is one of the few where you can indulge in these items while on a low carb diet.
24. Turkey Sausage Wrap
320 calories

29g net carbs

15g fat
17g protein
Turkey sausage, egg whites, and American cheese get wrapped in a tortilla to make this breakfast favorite.
25. Belgian Waffle
310 calories

38g net carbs

15g fat
5g protein
Jamba Juice recently jumped on the waffle trend by featuring Belgian waffles as sides and bowl toppings. While the carb count on this waffle is high, it's a toasty and tasty vanilla-flavored treat.
26. Cheddar Tomato Twist
250 calories

40g net carbs

6g fat
9g protein
This breadstick style snack, made with tomato paste and asiago cheese, is similar in flavor to pizza!
Lowest Carb Jamba Juice Smoothies
While there aren't really any Jamba Juice keto smoothies, research does indicate that fruit smoothies may induce a lower glycemic response compared to a similar serving of whole fruit.4 So, if you must have some fruit, one of these smoothies might be a better choice than the equivalent quantity of whole fruit.
Keto-Ish Jamba Juice Smoothie Option #1: Kids Strawberries Gone Bananas™
Ultimately, these kids smoothies are lower in carbs than other Jamba Juice smoothies simply because they're smaller portions. Flavored with strawberries, bananas, and an apple-strawberry juice blend, the classic flavor combo is hard to beat.
27. Kids Strawberries Gone Bananas™
150 calories

33g net carbs

0g fat
1g protein
Keto-Ish Jamba Juice Smoothie Option #2: Kids Blueberry Strawberry Blast-Off™
This antioxidant-rich smoothie is made with a mixed berry juice blend, plus whole blueberries, bananas, and strawberries. If there's a smoothie from the regular menu that you'd rather have, enjoy a 10 oz. serving for a similar nutrition profile.
28. Kids Blueberry Strawberry Blast-Off™
190 calories

43g net carbs

0g fat
1g protein
While the smoothies at Jamba Juice aren't exactly keto-friendly, keto dieters can still make a snack at Jamba Juice work. And if a Jamba Juice location is nearby, be sure to check out Tropical Smoothie keto options instead.
The important thing is to pay attention to total net carbs consumed throughout the day and choose a Jamba Juice keto drink or snack that will be worth the carbs.
Frequently Asked Questions
What Is the Lowest Calorie Jamba Juice Option?
A freshly squeezed juice shot, containing between 10-25 calories, is definitely the lowest calorie choice at Jamba Juice. The Great Greens juice in a size small is only 140 calories. In general, order a small size beverage and choose juices instead of smoothies to keep calories as low as possible.
Are There Any Jamba Juice Low Carb Smoothies?
Not really. The lowest carb option is a kids smoothie, clocking in at between 33-43 grams net carbs. Most of those carbs come from sugar, so these drinks are quite high on the glycemic index.
You're better off making your own low-carb smoothies at home.
How Can I Make Keto-Friendly Smoothies?
It's easy to make high-fat, low-carb smoothies at home. Choose ingredients like heavy cream, frozen avocado chunks, peanut butter, full-fat coconut milk, and coconut oil (learn more about the best coconut oil for keto here) as the foundation of your smoothies, then add spinach, keto-friendly sweeteners, lemon juice, berries, unsweetened chocolate, or vanilla extract for extra flavor.
Matcha powder is an excellent addition too if you love that green tea taste (green tea is one of our drinks to reduce belly fat in 4 days!).
Are There Any Jamba Juice Keto Drinks?
The Gotcha Matcha and Bold 'n Cold Brew are each under 10 grams of net carbs. Otherwise, Jamba Juice drinks will set you back at least 30 grams of net carbs per serving. You could make this work in a keto diet, but it's not ideal.
1Bestwick C, Scobbie L, Milne L, Duncan G, Cantlay L, Russell W. Fruit-Based Beverages Contain a Wide Range of Phytochemicals and Intervention Targets Should Account for the Individual Compounds Present and Their Availability. Foods. 2020 Jul 7;9(7):891. doi: 10.3390/foods9070891. PMID: 32645879; PMCID: PMC7404635. <https://www.ncbi.nlm.nih.gov/pmc/articles/PMC7404635/>
2Dowis K, Banga S. The Potential Health Benefits of the Ketogenic Diet: A Narrative Review. Nutrients. 2021 May 13;13(5):1654. doi: 10.3390/nu13051654. PMID: 34068325; PMCID: PMC8153354. <https://www.ncbi.nlm.nih.gov/pmc/articles/PMC8153354/>
3Kochman J, Jakubczyk K, Antoniewicz J, Mruk H, Janda K. Health Benefits and Chemical Composition of Matcha Green Tea: A Review. Molecules. 2020 Dec 27;26(1):85. doi: 10.3390/molecules26010085. PMID: 33375458; PMCID: PMC7796401. <https://www.ncbi.nlm.nih.gov/pmc/articles/PMC7796401/>
4Crummett LT, Grosso RJ. Postprandial Glycemic Response to Whole Fruit versus Blended Fruit in Healthy, Young Adults. Nutrients. 2022 Oct 30;14(21):4565. doi: 10.3390/nu14214565. PMID: 36364827; PMCID: PMC9657402. <https://www.ncbi.nlm.nih.gov/pmc/articles/PMC9657402/>
5alexandercreative. "Fruit Smoothie." Canva, Accessed 6 April 2023. <https://www.canva.com/photos/MAEEYRom84I-fruit-smoothie/>
6pawopa3336. "Pouring smoothie." Canva, Accessed 6 April 2023. <https://www.canva.com/photos/MAC-uBkIhok-pouring-smoothie/>
7Petra Malaeru's Images. "Refreshing Strawberry Blueberry Smoothie." Canva, Accessed 6 April 2023. <https://www.canva.com/photos/MAE52kQ0QjA-refreshing-strawberry-blueberry-smoothie/>
8"Canva Photos." Canva. Accessed 22 April 2023. <https://www.canva.com/photos>