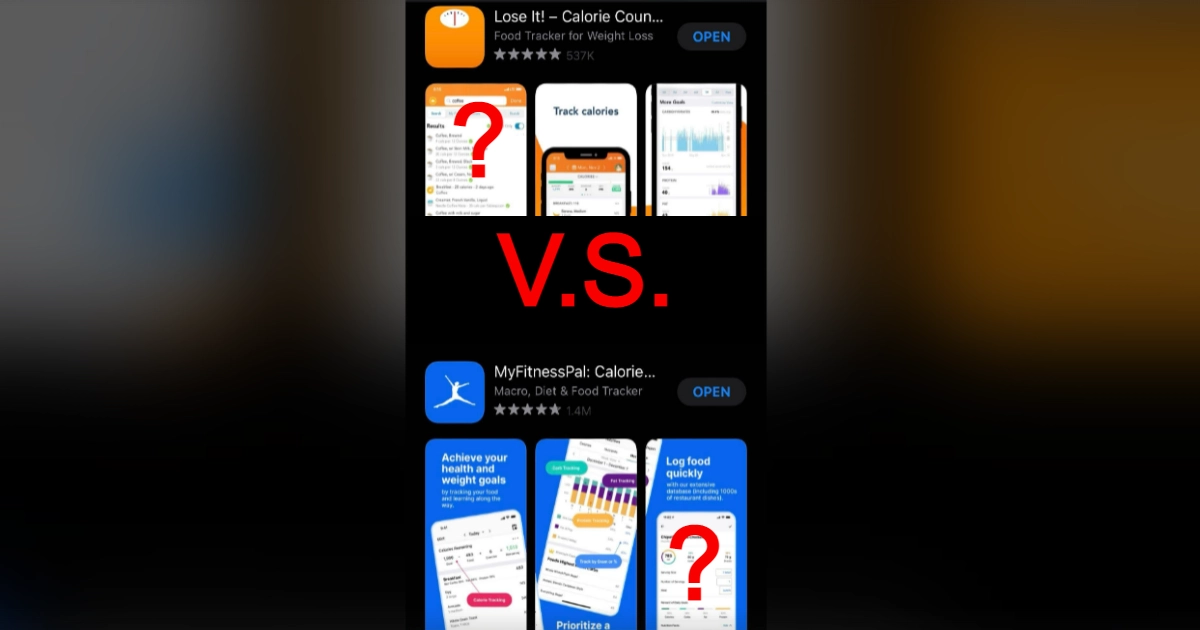 Two of the most popular fitness or food tracking apps are Lose It and MyFitnessPal but which is better: Lose It vs MyFitnessPal?
As a matter of fact, both apps are intuitive to use and great for anyone looking to track their food and work towards their exercise goals, but when figuring out which is best, we must divulge the free versions, the premium versions, as well as provide alternative apps users may want to try instead.
An Overview of Fitness Apps
Some people aren't familiar with fitness apps. Therefore, it's beneficial for them to learn what they are and how they function before downloading one.
Fitness apps are programs that help individuals pursue health objectives like sticking to a diet plan, exercising, or training for a sports competition. Many of them can be downloaded on smartphones, but some fitness apps can be accessed through smartwatches or bracelets.
What's wonderful about fitness apps is that no two are exactly alike. While some can assist users in counting calories and steps, others can perform functions like customize workout routines, play music, and even suggest healthy food recipes.
Lose It vs MyFitnessPal: A Detailed Breakdown
When it comes to Lose It vs MyFitnessPal, price, coaching features, and other beneficial attributes are keys to a good fitness app.
Below are tables that compare their components:
| | | |
| --- | --- | --- |
| Features & Benefits | Lose It | MyFitnessPal |
| Free Version | Yes | Yes |
| Premium Price: | $39.99/year | $79.00/year |
| Available on Google Play | Yes | Yes |
| Available on the Apple Store | Yes | Yes |
| Syncs with Other Fitness Apps | Yes | Yes |
| Community Forum | Yes | Yes |
| Nutrition Tracking | Yes | Yes |
| Coaching Services | Yes | Yes |
| Language Options Other Than English | Yes | No |
| Offers Recipes | Yes | Yes |
| Food Diary | Yes | Yes |
| Macronutrient Tracking | Yes | Yes |
| Micronutrient Tracking | No | Yes |
| Weight Tracking | Yes | Yes |
| Goal-Setting Features | Yes | Yes |
| Barcode Scanner | Yes | Yes |
| Water Intake Tracker | Yes | Yes |
| Exercise Sessions | Yes | Yes |
| Recipe Sharing | Yes | No |
| Calorie Counter | Yes1 | Yes2 |
Lose It vs MyFitnessPal: Which App Has Better Features?
So far, the competition between Lose It and MyFitnessPal is pretty steep. After all, both come with weight tracking, food diaries, and the ability to sync with other apps.
Additionally, Lose It and MyFitnessPal offers several exercise sessions to select from, an online forum, and a water intake tracker, and they're both available on iPhone and Android.
However, one app has to have better features than the other. For instance, one downside to MyFitnessPal is that it's only available in English. It would be tough for those who speak little or no English to use it.
In contrast, Lose It accommodates the language set on someone's phone depending on the language available like Japanese, Portuguese, and German. That said, it'll default to English if an individual's phone is in a language not available in Lose Its database.3
Another downside to MyFitnessPal is that while someone can follow recipes on its blog, they can't share one with fellow forum members. Lose It offers recipes on its blog as well as recipe-sharing capabilities. So, in the user experience (UX) category, Lose It takes home the gold.
Which Has Better Coaching: Lost It vs. MFP (My Fitness Pal)?
Both Lose It and MyFitnessPal gives users access to coaching services where health professionals like weight loss coaches, trainers, and doctors can sign up via Ascend for Lose It app to monitor their client's progress and message them in real time to assist them with any issues.4
MyFitnessPal allows customers to receive coaching in a specific niche if they select a certain plan. Nonetheless, MyFitnessPal lacks the one-on-one coaching feature that Loses It provides.
Sure, a person can inquire about certain topics with other forum members. But, sometimes it's helpful to consult a professional. After all, they're likely to possess more knowledge and expertise in a health-related subject than a layperson or forum user, so Lose It wins as far as coaching goes.
Overall: Lose It is the Best in Class
Between these two apps, Lose It is the best. Why? It's the ideal app for people to consider because it offers personal coaching, has non-English language options, better user experience, and it's more affordable.
MyFitnessPal Premium vs Lose It Premium
As previously mentioned, Lose It and MyFitnessPal offer premium versions and free ones, and the premium versions have much more to offer users than their free counterparts.
Sure, the basic versions cost individuals nothing to use and are extremely helpful for most users, but their features are very limited and bombarded with ads, which many people find annoying.
Therefore, prospective customers may want to consider a free trial using one of the premium options. Here's a comparison of Lose It Premium and MyFitnessPal Premium:
| | | |
| --- | --- | --- |
| Features & Benefits | Lose It Premium | MyFitnessPal Premium |
| Ad-Free | Yes | Yes |
| Steps Tracking | Yes | Yes |
| Body Measurement Feature | Yes | Yes |
| Food Library Database | Yes | Yes |
| Personalized Weight Loss Plans | Yes | Yes |
| Blood Glucose & Blood Pressure Goals | Yes | Yes |
| Weekly Feedback Reports | Yes | Yes |
| Meal Planning | Yes | Yes |
| DNA Food Recommendations | Yes | No |
| Progress Photos | Yes | Yes |
| Pregnancy Mode | Yes | No |
| Diet-Based Meal Plans | No | Yes |
| App 101 Course | No | Yes |
| Friend Invite Capabilities | Yes | Yes |
| Simultaneous Access to Several Plans | Yes | No |
| Free Trial Length | 7 Days | 1 month |
Key Differences Between Lose It & MyFitnessPal Premium Versions
There are some distinct differences between Lose It Premium and MyFitnessPal Premium. With that said, what's considered a drawback for one person may not be a big deal to someone else:
Price: This is the obvious one. Lose It Premium costs approximately $40.00 annually, and MyFitnessPal Premium is about $80.00 annually.
Free Trial: Both Lose It Premium and MyFitnessPal Premium have free trials, allowing potential customers to test drive them before subscribing. However, Lose It's trial lasts only a week while MyFitnessPal's trial is a month long.5,6
Pregnancy Mode: Pregnant women concerned about calories can benefit from this Lose It Premium feature. Once they speak with their doctor regarding their calorie intake, they can log in to their account and adjust their calorie budget accordingly. MyFitnessPal Premium doesn't have this.
DNA Food Recommendations: Lose It Premium provides food suggestions based on an individual's genetic makeup by remembering their daily food consumption routine.7 (Users need to upload data from their AncestryDNA or 23andme profiles to benefit from this feature.) This is another feature MyFitnessPal Premium lacks.
Diet-Based Meal Plans: People who follow certain diets like vegan, vegetarian, or someone thinking about eating broccoli to lose weight, unfortunately, won't find such diet-based meal plans via Lose It Premium. When it comes to Lose It vs MyFitnessPal for keto or other specialized meals, MyFitnessPal is the victor in this department.
App 101 Course: It's crucial for users to know what they're getting into prior to paying for an app (or any) subscription. MyFitnessPal offers MyFitnessPal 101, an introductory course open to both free and paid members.8 There aren't any equivalent features offered by Lose It.
Simultaneous Access to Several Programs: What's convenient about Lose It Premium is that someone can access many sorts of programs under one price. MyFitnessPal Premium isn't so convenient. If a person wants to join an MFP plan like Healthy Kickstart or Support Your Immune System, they can only sign up one at a time.9
Similarities of Lose It Premium & MyFitnessPal Premium
Even though these apps possess some differences, Lose It Premium and MyFitnessPal Premium have a lot in common. Here's a list of the features they share:
No Advertisements: Advertisements can be a major nuisance, especially when someone's trying to focus their attention on an important matter. Fortunately, they're something paid users don't have to deal with.
Steps Tracking: Both apps include built-in pedometers, which saves customers from buying separate ones.
Body Measurements Feature: Users of either program can enter measurements of body parts like thighs and hips to aid them in meeting their personal goals.
Food Library Database: Lose It Premium and MyFitnessPal Premium each offer a vast food library that allows members to add foods as well as share them with fellow users.
Personalized Weight Loss Plans: These apps let users create a plan based on calorie intake, proteins, and other aspects to help them lose weight.
Blood Glucose/Blood Pressure Goals: Through Lose It Premium and MyFitnessPal Premium, people can enter their glucose or blood pressure measurements to monitor them. (This feature is particularly valuable for those with diabetes.)
Weekly Feedback Reports: What are better motivators than weekly feedback reports? Best of all, users can print them out as Excel files to have on hand. They can look them over if they're considering giving up on weight loss.
Meal Planning: "You are what you eat," as they say. These apps create meal plans predicated on an individual's eating habits and recipes can be added to either's meal plan.
Progress Photos: Sometimes, it's best for someone to get a visual of how they're doing in their weight loss journey. Progress photos uploaded on Lose It Premium or MyFitnessPal Premium are private, but members can share them if they wish.
Friends Invite Capabilities: Users can encourage their buddies to lose weight by inviting them to join Lose It or MyFitnessPal. As long as they know their friends' email addresses, members can send them invites via their contact list.
Lose It Premium is the Best in Price
Lose It Premium wins hands down price-wise. If someone opts for this service, they'd be spending $40.00 less per year than with MyFitnessPal. Sometimes, Lose It Premium runs specials allowing patrons to pay less than its usual price.
MyFitnessPal Premium Has a Better User Interface for Analyzing Macro & Micronutrients
What MyFitnessPal Premium lacks in affordable pricing, it makes up for in tracking macronutrients and micronutrients.
While a user can track proteins, carbs, and other macronutrients with Lose It Premium, they won't be able to check vitamins and minerals with it due to limitations within their food database. MyFitnessPal Premium lets customers adjust micronutrient goals through their profiles.
Lose It App Is The Overall Winner for the Premium Version
In the battle of Lose It vs MyFitnessPal, Lose It is the overall winner. And, what makes it better than MyFitnessPal? It's simply due to features, convenience, and affordability.
While MyFitnessPal provides various programs to join at no additional cost, a prospective user can only sign up for one at a time. Also, $80.00 a year is expensive for many people. Therefore, Lose It is the overall winner of the two.
Why MacroFactor May Be Better Than Both Lose It & MyFitnessPal
Most of this article has been covering Lose It vs MyFitnessPal but there's a third contender that may be better than the other apps combined: MacroFactor, an app created by software experts and sports/nutrition specialists.
How is MacroFactor the best of the three? True, it does have the same features as other fitness apps. Still, MacroFactor possesses many components that set it apart from Lose It and MyFitnessPal.
Unlike typical weight loss apps, MacroFactor allows users to organize their macros based on programs like Manual and Coached styles or their personal diet plans. In addition, the app includes a smart history feature that memorizes what and when a person eats something.
One of MacroFactor's distinguishing features is its smart algorithms. Every week, they adjust someone's macro and calorie recommendations, even if they're not always meeting their weight or diet goals. That's because the algorithms' adjustments are predicated on how an individual's body is responding in relation to their weight inputs, calorie consumption, and caloric expenditure.
Another feature may be its best one: the fact that it abides by a coaching-neutral approach. In other words, MacroFactor doesn't judge others' choices since everyone's fallible – their smart algorithm allows you to skip a day of tracking, and it'll automatically adjust accordingly. Besides, the last thing someone needs is their nose rubbed in their mistakes, especially if they consume French fries now and then.
Or in other words, it focuses on guiding people without using shamed-based approaches.
Though it's pricier than Lose It at approximately $72.00 a year, MacroFactor costs less than MyFitnessPal. It offers a two-week free trial for those undecided about becoming permanent users.10
Whether a person wants accurate readings of steps taken, data on micronutrients, or a better meal plan, it's essential that they find the right app for their health objectives. While MacroFactor may be our choice, when choosing between Lose It vs MyFitnessPal, Lose It comes out on top for both the free and premium versions of each app.
FAQ
What's the Difference Between Lose It vs Noom vs MyFitnessPal
Several differences are present among Lose It, Noom, and MyFitnessPal. For one, Noom is the most expensive of the three since it costs about $200.00 a year. (Lose It Price: $40.00/year and MyFitnessPal Price: $80.00.) Plus, Noom provides educational yet fun lessons based on behavioral science and psychology. It even offers free personal coaching and an option for employers to assist employees in becoming healthier.11
Should I Use MyFitnessPal vs FatSecret vs Lose It
Unlike MyFitnessPal and Lose It, there's no free trial for FatSecret since it costs nothing at all. This makes it perfect for those on a budget. However, it doesn't provide any coaching services, which may disappoint someone who prefers a personal trainer or other health professionals to help guide them.12 Also, some users state that its calorie count isn't always accurate or reliable.
What Other Fitness Apps Should I Try in the MyFitnessPal vs LoseIt Comparison?
Here's a sample of fitness apps people can try out:
Apple Watch lets wearers read email and place phone calls. It can double as a fitness watch to track someone's daily activity.
LifeSum assists users in dieting and healthy eating through meal plans, water intake trackers, and other features.
MyNetDiary allows individuals to select diets like vegan and keto as well as set health targets.
MacroFactor is an app that permits someone to see algorithmic data on their health goals and provides coaching.
Should I get a Paid Fitness App off the Bat?
Both free and paid fitness apps have their pros and cons. What's great about free apps is they obviously cost people nothing to use. But, free apps tend to provide limited features. If an app is part of a free trial, one has little choice but to sign up for a paid service unless they cancel. Paid fitness apps offer diverse features that can better help members, though they can be very expensive depending on their prices even when viewing cost-free options like Lose It vs MyFitnessPal or alternatives.
1Lose It. (2022). Lose It, Weight Loss That Fits. Lose It. 21 July 2022. Web. <https://www.loseit.com/>
2MyFitnessPal. (2022). MyFitnessPal. MyFitnessPal. 21 July 2022. Web. <https://www.myfitnesspal.com/>
3Lose It. (2022). Change Language. Lose It Support. 22 July 2022. Web. <https://help.loseit.com/hc/en-us/articles/115010943408-Change-Language>
4Ascend for Lose It. (2022). How It Works. How Ascend Works. 22 July 2022. Web <https://www.ascendapp.com/how-ascend-works/>
5Lose It. (2022). Starting a Free Trial of Lose It Premium. Lose It Support. 22 July 2022. Web. <https://help.loseit.com/hc/en-us/articles/360045660713-Starting-a-Free-Trial-of-Lose-It-Premium>
6MyFitnessPal. (2022). Starting Your Free Trial Today. Premium. 22 July 2022. Web. <https://www.myfitnesspal.com/premium?source=home_logged_out>
7Mobile App Daily. (2021). Lose It – A Personalized Weight Loss App. App Review. 22 July 2022. Web. <https://www.mobileappdaily.com/app-review/lose-it-health-tracker-app>
8MyFitnessPal. (2022). Are MFP Plans Free to Join? Articles. 22 July 2022. Web. <https://support.myfitnesspal.com/hc/en-us/articles/360032270492-Are-MFP-Plans-free-to-join->
9MyFitnessPal. (2022). MyFitnessPal Plans. Articles. 22 July 2022. Web <https://support.myfitnesspal.com/hc/en-us/articles/360032270512-MyFitnessPal-Plans>
10MacroFactor. (2022). MacroFactorApp. MacroFactor. 22 July 2022. Web. <https://macrofactorapp.com/macrofactor/>
11Noom. (2022). Noom. Noom. 22 July 2022. Web. <https://www.noom.com/>
12FatSecret. (2022). FatSecret. FatSecret. 22 July 2022. Web. <https://www.fatsecret.com/>
13alvarez. "Woman monitoring her workout progress on fitness app." Canva. Accessed 6 April 2023. <https://www.canva.com/photos/MAEJM1QocxM-woman-monitoring-her-workout-progress-on-fitness-app/>
14Lund, Jacob. "Man Using Fitness App on Phone during Break." Canva. Accessed 6 April 2023. <https://www.canva.com/photos/MACvZ4Jv8ZA-man-using-fitness-app-on-phone-during-break/>