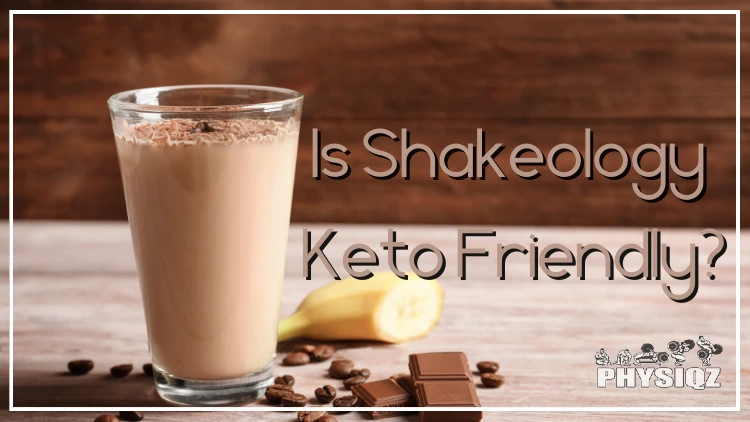 Is Shakeology keto friendly, or is it low carb?
The truth of the matter is that Shakeology is only somewhat keto so it's a yes and no answer. The reason for this is because keto dieters can eat anywhere from 20-50 grams of carbs per day but some Shakology protein shakes border the lower limit.
Or in other words, Shakeology meal replacement shakes can be consumed on keto since it contains less than 20 grams of carbs, but they aren't the best keto choice. All in all, keto dieters should proceed with caution when it comes to Shakeology meal replacement shakes and may want to consider the lower carb alternatives seen here instead.
Additionally. we'll cover how to consume Shakeology in moderation while on keto, if other Beach Body products are keto or not, and show you how to make your own low carb protein and/or meal replacement shake at home with.
Amount of Carbs in Shakeology: How Many Carbs in Shakeology?
Shakeology's four most popular flavors, Chocolate, Vanilla, Cafe Latte, and Strawberry, each contain between 15-18 grams of carbohydrates. Keto dieters typically consume 20-50 grams of carbohydrates per 2,000 calories in order to remain in ketosis, a state in which the body utilizes dietary fat as its primary energy source instead of carbohydrates.1
Obviously, one serving of Shakeology constitutes a large percentage of a keto dieter's daily carbohydrate intake.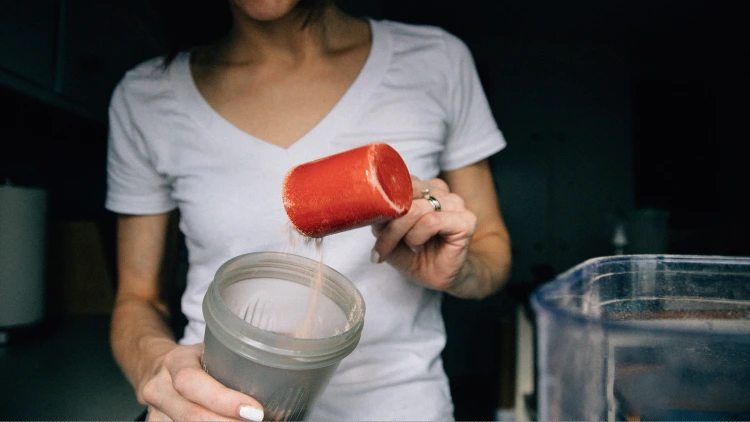 However, many people on the keto diet track net carbs instead of total carbs. Net carbs are found by subtracting the total fiber content of a food from the total carbohydrate content.
The reasoning behind this is that fiber is not digested by the body, so it shouldn't count toward total carb intake. Each Shakeology shake contains 6 grams of fiber, which brings the net carbs to 9-12 grams per shake.
Ultimately, either of these approaches can be used to figure out how many carbs are in Shakeology.
Shakeology Nutritional Information
Shakeology's tagline is "your daily dose of dense nutrition". While this is certainly a marketing ploy, as far as processed foods go, Shakeology is a reasonably high quality nutrition source.
Here are the macronutrient profiles of the four most popular Shakeology flavors:
| | | | | |
| --- | --- | --- | --- | --- |
| Shakeology Nutrition | Chocolate Shakeology | Vanilla Shakeology | Cafe Latte Shakeology | Strawberry Shakeology |
| Calories | 160 | 140 | 160 | 140 |
| Carb Grams | 18 | 15 | 18 | 15 |
| Net Carb Grams | 12 | 9 | 12 | 9 |
| Fiber Grams | 6 | 6 | 6 | 6 |
| Fat Grams | 2.5 | 2 | 2 | 2 |
| Protein Grams | 17 | 17 | 17 | 17 |
All Shakeology flavors provide vitamin A, vitamin C, vitamin D, vitamin B6, folate, selenium, chromium, a proprietary antioxidant blend, and a proprietary probiotic and digestive enzyme blend. These are part of Shakeology's appeal, but also a big reason why these shakes are so expensive.
Learn more about what vitamins help with weight loss here.
In addition, Shakeology is a source of alpha-linolenic acid, a source of plant-based omega-3s. Shakeology's Proprietary Superfood Blend, included in all of their shakes, contains matcha green tea, ashwagandha root, chlorella, and a selection of adaptogenic mushrooms plus other superfoods that vary with each flavor.
Is Shakeology Keto Friendly?
To remain in ketosis, dieters need to eat no more than fifty grams of carbohydrates per day.2 Sinking one-fifth to one-third of that daily carbohydrate allotment in a small shake is probably not the best choice for satiation and adherence.
Those carb grams might be better spent on more voluminous foods like vegetables, berries, or keto bread products.
If carefully consumed in small servings, Shakeology can fit into a keto regimen, but other low-carb shakes will provide the same nutrition benefits without blowing through so many carbohydrates.
So is Shakeology keto friendly? Not really, but if someone is committed to including it in their keto diet, it can be done. Before starting any protein shakes diet plans, be sure to consult with a medical professional.
The Best Low Carb Alternatives to Shakeology
Thankfully, keto dieters have many delicious Shakeology alternatives available! The twelve options listed below are sold online or at supermarkets and health food stores and they offer many of the same superfoods, probiotics, and micronutrients found in Shakeology.
There are lower and higher calorie options, based on an individual's exercise demands, daily calorie requirements, and whether the shake is actually replacing an entire meal or not. The macronutrients listed for each brand are for a one scoop serving.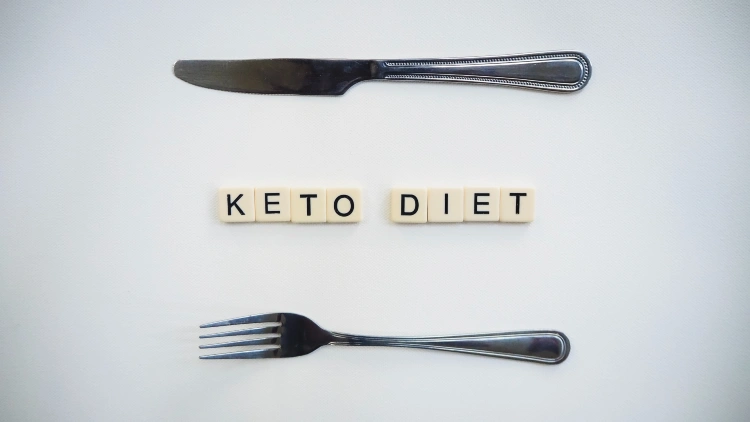 To learn more about low carb diets, check out Low Fat vs. Low Carb Diets: Answer Probably Never Expected.
Ample Low Carb Meal Shake: This real-food meal replacement shake is an excellent source of protein. It's free of soy, gluten, and GMOs.
Dieters can get 15% off if they choose to subscribe to Ample Meal Shake deliveries.
Calories

: 200

Carbs

: 6 grams (3 grams of net carbs)

Protein

: 13 grams

Fats

: 14 grams
This option is a good source of vitamin A, vitamin D, calcium, and magnesium. It's made with grass fed whey protein and egg white protein, both of which promote enhanced muscle building compared to lower quality proteins.3
It also provides six different strains of probiotics.
Left Coast Keto Shake: This shake is an excellent source of healthy fats, and its rich chocolate flavor is well-reviewed. Left Coast suggests using this powder as a coffee creamer, meal replacement, or protein shake.
Calories

: 125

Carbs

: 5 grams (2 grams of net carbs)

Protein

: 7 grams

Fats

: 10 grams
This shake is a good source of iron and the collagen it contains may improve hair, nail, and skin health. Follow a reviewer's recommendation and mix with ground flaxseed for additional health benefits (learn more about how to eat flaxseed for weight loss).
KetoLogic Keto Meal: This popular option has helped many people lose hundreds of pounds. It's naturally flavored and doesn't have a gritty or chalky texture.
It's even endorsed by Tim Tebow!
Calories

: 90 calories

Carbs

: 4.5 grams (3.5 grams net carbs)

Protein

: 4 grams

Fats

: 7.5 grams
Packed with a huge variety of essential minerals, KetoLogic Keto Meal provides dieters with zinc, selenium, vitamin A, iodine, and more.
Primal Kitchen Collagen Fuel: This brand is sweetened with monk fruit extract, which many people who dislike the taste of low-carb sweeteners really love. It comes in fun flavors like Peanut Butter, Snickerdoodle, Matcha, and Keto Latte.
Coconut milk powder adds a creamy texture.
Calories

: 70

Carbs

: 1 (0 net carbs)

Protein

: 11 grams

Fats

: 2.5 grams
This brand has one of the lowest carb counts on this list, but it doesn't provide many additional micronutrients or superfoods.
Ambronite Keto Meal Shake: Ambronite claims that their shakes will quench hunger for four hours. They are high in both fiber and fat, which can help dieters feel fuller longer.
This shake is made with plant protein instead of whey protein.
Calories

: 200

Carbs

: 2 grams (-2 grams net)

Protein

: 9 grams

Fats

: 15 grams
The ingredient list on this shake is impressive. It includes chia seed, spirulina, ProbioVita™ live bacterial cultures, and a variety of vegetable powders.
Chia seeds may help promote immune system functioning and help with controlling diabetes.4
Proganics Vegan Keto Meal Replacement: These organic shakes are made in Australia with plant-based protein. They are also sweetened with organic monk fruit concentrate.
If ensuring the sustainability and quality of ingredients is of primary importance, this brand is the best option.
Calories

: 274

Carbs

: 11 grams (6 grams net)

Protein

: 15 grams

Fats

: 20 grams
Proganics includes probiotics and digestive enzymes in their shakes. This brand is also a good source of MCTs (medium chain triglycerides), a type of dietary fat that may enhance weight loss results.5
Keto Chow Ultra-Low Carb Meal Replacement: This brand has a side variety of tantalizing flavors like Pistachio, Irish Cream, and Lemon Meringue. Keto Chow shake mixes are fat free, but they encourage people to add their own favorite fat source to their shakes.
Try coconut cream, heavy cream, or even butter.
Calories

: 125

Carbs

: 8 grams (1 gram net)

Protein

: 26 grams

Fats

: N/A
Keto Chow claims that their shakes provide ⅓ of a dieter's daily essential vitamins and minerals. They're a particularly great source of vitamin D and potassium.
Ancient Nutrition Keto Protein: Produced by Dr. Axe, a keto influencer with a huge following, this product contains caffeine in addition to collage protein, which makes it a great pre-workout option.
Calories

: 160

Carbs

: 2 grams (1 gram net)

Protein

: 18 grams

Fats

: 10 grams
Ancient Nutrition Keto Protein includes chicken bone broth protein concentrate, which may support gut, skin, and joint health. It also features fermented superfoods like turmeric root, ginger root, apple cider vinegar and ashwagandha root.
Pre-fermentation may make these products easier for the body to digest and utilize.
SlimFast Keto Shake Mix: This well-known brand is readily available at most supermarkets and the price point is lower than most of the other options listed here. If cost is an issue, choose this option and focus on meeting micronutrient requirements with other whole foods.
Calories

: 95

Carbs

: 4.5 grams (3.5 grams net)

Protein

: 4 grams

Fats

: 7.5 grams
Despite the lower price, this product actually provides some micronutrients, including iron, vitamin D, and potassium. It's made with an MCT oil blend that includes palm oil, coconut oil, and grass fed butter.
TransformHQ Low Carb Meal Replacement Shake: Stop asking "Is Shakeology keto friendly?" and start drinking this delicious low carb meal replacement. This product has over 500 positive product reviews from people who appreciate the superior texture and flavor.
It comes in tempting flavors like Pineapple Whip, Blueberry Cheesecake, and Chocolate Peanut Butter.
Calories

: 170

Carbs

: 11 grams (5 grams net)

Protein

: 20

Fats

: 6 grams
This shake includes 13 vitamins and minerals per serving, as well as a proprietary prebiotic fiber designed to quash hunger.
Perfect Keto Whey Protein: Perfect Keto is "protein designed for keto and low-carb lifestyles". Their shakes are made with grass fed whey protein isolate, which is a great choice for dieters with muscle building goals.
Calories

: 110

Carbs

: 3 grams (2 net)

Protein

: 15 grams

Fats

: 4 grams
This simple product contains only whey protein, MCTs, and stevia. Despite the basic ingredient list, it does still contain some minerals like potassium and chloride, which may help with exercise performance.
Sated Keto Meal Shakes: These meal shakes come with two separate components: a powder and a bottle of MCT oil. Combine on the go for a balanced, nutrient dense meal replacement.
Dieters can adjust the ingredients to make a shake that's higher or lower in calories. This is a higher carb option, but when combined with the MCT oil these shakes are high in fat and protein as well, which makes them an effective replacement for an entire meal.
The macronutrients listed below are for just the powder component of the Sated kit.
Calories

: 120

Carbs

: 18 grams (12 net)

Protein

: 18 grams

Fats

: 3 grams
With 27 essential vitamins and minerals, Sated has one of the most impressive micronutrient profiles on this list. They also include a combination of fast-digesting whey and slow-digesting casein powder, which may promote prolonged fullness.
How To Make Your Own Low Carb Version of Shakeology That's Even Healthier
Is Shakeology keto friendly? Not really, but by making your own version of Shakeology, you can select high quality ingredients and control the nutritional content to meet your goals.
This shake is less processed than Shakeology, cheaper, and nearly as easy to make! This recipe as written makes a shake that contains approximately 220 calories, 8 grams of fat, 6.5 grams of net carbs, 3 grams of fiber, and 32 grams of protein. It's a good source of calcium, iron, potassium, and vitamin D.
It includes one teaspoon of spirulina, an antioxidant-rich superfood that is available at many supermarkets and health food stores.6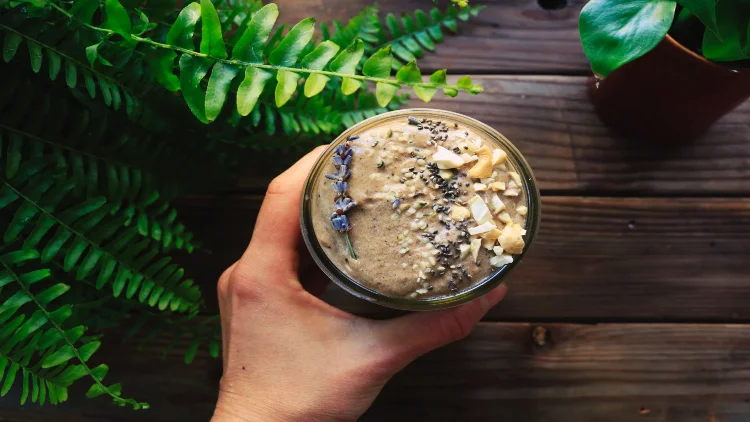 Use any low-carb milk that you prefer, and click here to find out the answer to the question "Is almond milk good for weight loss?".
Homemade Low-Carb Keto Shakeology Recipe
12 ounces unsweetened vanilla almond milk
1 scoop whey isolate protein powder
1 scoop collagen powder
1 tablespoon raw cacao powder
1 teaspoon spirulina powder
Powdered stevia or other calorie-free sweetener of choice, to taste
Shake all ingredients together well in a shaker bottle, or blend with a handful of ice in a blender. Enjoy immediately!
To increase the calorie content, add a keto fat source like heavy cream, full fat coconut milk, or even avocado.
How To Make Shakeology and Ketosis Work + What You Need To Know
Determined to include Shakeology in the keto diet? Despite the amount of carbs in Shakeology, this is possible.
Follow these tips to seamlessly integrate Shakeology and ketosis:
Mix half a serving of Shakeology with pure whey protein or collagen peptides to create a lower-carb, higher protein version of Shakeology.
Utilize an IIFYM (If It Fits Your Macros) approach to accurately allot your daily carbohydrate budget to Shakeology.
Consume Shakeology immediately before or after a hard workout so the body can process the carbohydrates right away instead of storing them for later.
Sip Shakeology throughout the day instead of drinking it all at once to blunt the effect of the carbohydrates on ketosis.
Asking can you be in ketosis and still not lose weight? Try eliminating higher carb foods like Shakeology first to see if that's the source of the plateau.
While Shakeology, the popular meal replacement sold by BeachBody, may be a good source of micronutrients, each shake contains 9-12 grams of net carbs. By choosing lower-carb meal replacement shake alternatives, keto dieters can stop wondering "Is Shakeology keto friendly?" and start enjoying shakes that truly align with their goals.
Frequently Asked Questions About Is Shakeology Keto Friendly?
What Shakeology Flavor Has the Least Amount of Carbs?
Vanilla and Strawberry Shakeology have 9 grams of net carbs each, while Chocolate and Cafe Latte Shakeology have 12 grams of net carbs each. In general, the lighter/fruitier flavors tend to have lower carb counts.
How Much Sugar Is in Shakeology?
Each Shakeology shake contains five grams of sugar. This sugar comes from both organic cane sugar and fruit powders.
Is Beachbody Energize Keto Friendly?
Is Beachbody Recover Keto Friendly?
BeachBody Recover is essentially a straightforward protein shake, designed to be consumed immediately after exercise to enhance muscle recovery, but each serving contains 10 grams of carbohydrates, so keto dieters should choose a lower-carb protein shake alternative. Learn more about when to drink protein shakes for weight loss here.
Is Vegan Shakeology Keto Friendly?
The carbohydrate content of Vegan Shakeology is identical to regular Shakeology, so the advice and suggestions in this article apply equally to Shakeology's vegan products. Experiment with both vegan and whey protein to see which the body digests best.
1Masood W, Annamaraju P, Uppaluri KR. Ketogenic Diet. [Updated 2022 Jun 11]. In: StatPearls [Internet]. Treasure Island (FL): StatPearls Publishing; 2022 Jan-. Available from: <https://www.ncbi.nlm.nih.gov/books/NBK499830/>
2Batch, J. T., Lamsal, S. P., Adkins, M., Sultan, S., & Ramirez, M. N. (2020). Advantages and Disadvantages of the Ketogenic Diet: A Review Article. Cureus, 12(8), e9639. <https://doi.org/10.7759/cureus.9639>
3Lim, M. T., Pan, B. J., Toh, D. W. K., Sutanto, C. N., & Kim, J. E. (2021). Animal Protein versus Plant Protein in Supporting Lean Mass and Muscle Strength: A Systematic Review and Meta-Analysis of Randomized Controlled Trials. Nutrients, 13(2), 661. <https://doi.org/10.3390/nu13020661>
4Ullah, R., Nadeem, M., Khalique, A., Imran, M., Mehmood, S., Javid, A., & Hussain, J. (2016). Nutritional and therapeutic perspectives of Chia (Salvia hispanica L.): a review. Journal of food science and technology, 53(4), 1750–1758. <https://doi.org/10.1007/s13197-015-1967-0>
5Mumme, K., & Stonehouse, W. (2015). Effects of medium-chain triglycerides on weight loss and body composition: a meta-analysis of randomized controlled trials. Journal of the Academy of Nutrition and Dietetics, 115(2), 249–263. <https://doi.org/10.1016/j.jand.2014.10.022>
6Finamore, A., Palmery, M., Bensehaila, S., & Peluso, I. (2017). Antioxidant, Immunomodulating, and Microbial-Modulating Activities of the Sustainable and Ecofriendly Spirulina. Oxidative medicine and cellular longevity, 2017, 3247528. <https://doi.org/10.1155/2017/3247528>
7Higgins, S., Straight, C. R., & Lewis, R. D. (2016). The Effects of Preexercise Caffeinated Coffee Ingestion on Endurance Performance: An Evidence-Based Review. International journal of sport nutrition and exercise metabolism, 26(3), 221–239. <https://doi.org/10.1123/ijsnem.2015-0147>