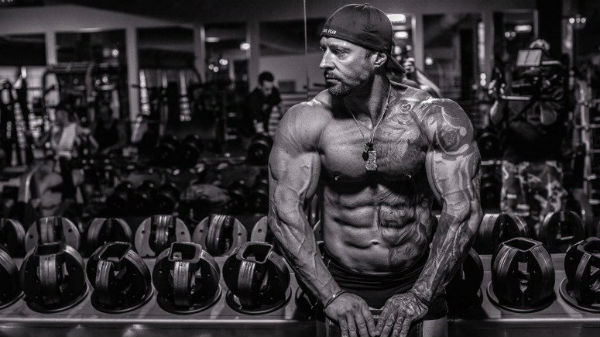 One of the biggest misconceptions in the fitness community is the idea that you can crunch your way to a chiseled set of abs. Unfortunately, people who choose to follow this advice are often left "out in the rain" with no results to show for it. Bottom line, it takes a much more specialized program to get washboard abs.
Performing the correct ab exercises is important, but using the proper eating program (notice how I didn't say diet?) is also critical. Without a doubt, the easiest way to shred pounds of fat is intermittent fasting. For a full, free guide on melting away fat with a scientific approach to fasting, click here.
BUT, this article isn't about eating, it's about building a beach-worthy set of abs! The following exercises have been tested with countless clients and athletes. Bottom line, they work.
Hanging Ab Raises

Hanging Leg Raise
Find a squat rack or pull-up bar. Make sure whatever you choose can safely support your body weight. Next, take a grip slightly wider than shoulder width. Then, keeping your knees and feet together, lift your legs in the air while squeezing your abs. To make it even harder, keep your legs straight.
Plank Knee Tucks

Plank Knee Tuck Done From The Hands Instead Of Forearms
Get into a plank position, resting your weight on your forearms. Once there, make sure your back is flat and your core is tight. Then, bring one knee up and out towards your face as if you are trying to touch your chin. Move your knee back into its original spot, and then repeat with the other side.
V-Ups

V-Up Done Perfectly
The final time-tested exercise for building a rock-hard set of abs and obliques is the v-up. These burn, but if you can stick with it, you'll feel the fat burning itself off! First, lie down on a mat or other comfortable surface. Next, extend your arms above your head while keeping your legs straight. At this point, you should be in a "pencil position" on the ground. Then, as you initiate the exercise, bring your legs and torso up as if you were creating a "V" with your body. Bring your legs and arms back to the ground, and repeat.
Beware: these exercises are definitely more advanced—they will burn much more than traditional "crunches" that don't do much of anything. Stick with it though, and you will witness results in just 2 weeks!
Here is what the full workout should look like:

Looking to build a thick chest, bumpy back, and big arms as well? Subscribe to our email list below so that we can have your permission to send you a FULL 10-week training program absolutely free!